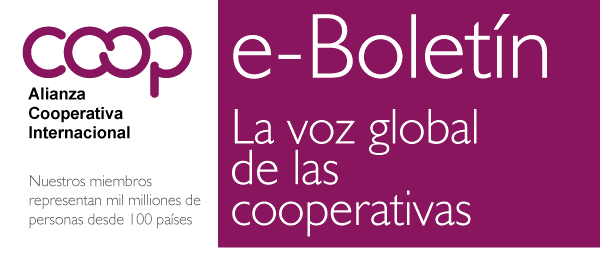 | | |
| --- | --- |
| | |
Estimados cooperadores:

Aprovecho esta oportunidad para dar cordialmente la bienvenida a la Sra. Monique Leroux, que fue elegida Presidenta de la Alianza en nuestra Asamblea General de Antalya, Turquía.

En la conferencia sobre el clima COP21, celebrada la semana pasada, los representantes de la Alianza señalaron que las cooperativas son una palanca sólida para alcanzar una economía sostenible. Crédit Coopératif organizó una conferencia sobre la sociedad civil y la transición climática en la sede de la UNESCO. Encuentren todas las noticias en: www.ica.coop/climate.

Este e-Boletín también incluye un resumen de nuestra Conferencia Global, donde 1052 delegados de 79 países se reunieron para pasar una semana intensa pero alegre, además de compartir conocimientos y establecer redes de contactos. Podrán encontrar todas las presentaciones aquí. ¿Asistieron a la Conferencia del Mundo del Trabajo? Continúen el diálogo en la próxima conferencia internacional sobre la investigación cooperativa en Almería, España.

Este mes el e-Boletín incluye noticias de nuestra región africana, con informes sobre la Conferencia Ministerial de Cooperativas de África y sobre la conferencia sobre Economía Social y Solidaria en Marruecos. Estos eventos permiten que las cooperativas puedan alzar su voz y pedir una mayor inclusión de la perspectiva cooperativa. En la cumbre del B20 de Antalya, la delegación cooperativa recordó a los líderes del B20 el impacto y las necesidades del movimiento cooperativo.

Estamos encantados de ver que las cifras del Monitor cooperativo mundial aumentan año tras año. El volumen global de facturación anunciado en Antalya es de 2,4 billones de dólares estadounidenses, que equivale a un aumento del 7% desde el pasado año. Ayude al Monitor. Envíe sus cifras cooperativas para la edición de 2016.

Charles Gould
Director General
Alianza Cooperativa Internacional
Queridos cooperantes:

Ha sido un placer poder conocer a muchos de ustedes en nuestra conferencia mundial y en la asamblea general en Antalya, Turquía. 1052 delegados de 79 países son la prueba de que el nuestro es un mensaje de esperanza y de paz a través de la cooperación. Las cooperativas tienen el poder de Actuar, y éste es también el tema de la Cumbre Internacional de las Cooperativas (del 11 al 13 de octubre de 2016). Nuestra próxima asamblea general se celebrará en Quebec el 10 de octubre de 2016.

Como recién elegida presidenta de la Alianza, me centraré en emplear todo lo necesario para favorecer la inter-cooperación, asegurar una mayor representación internacional para que las cooperativas pueda crecer y prosperar. Es mi intención desarrollar estrategias multisectoriales para fomentar la inter-cooperación entre regiones, sectores y cooperativas de todos los tamaños, tanto a nivel nacional como a nivel internacional.

En el reciente cumbre B20 en Antalya alzamos nuestras voces e hicimos un llamamiento para mejorar el reconocimiento del modelo cooperativo. Fue un placer observar que nuestro modelo se recibe por lo general de forma positiva y que nuestras propuestas son claras. El nivel de concienciación que hemos logrado nos sitúa en primera línea para las reuniones B20 de China en 2016.

La Alianza sigue representando al movimiento en tribunas internacionales de alto nivel. En la cumbre del clima que se ha celebrado en París, hemos presentado con orgullo la moción adoptada por los miembros de la Alianza en la asamblea general. Exhortamos a los líderes mundiales para que tomen medidas efectivas y ambiciosas contra el cambio climático. Nosotros, las cooperativas, representamos empresas centradas en las personas, y somos aliados fundamentales para construir un mundo mejor.

Una parte importante de la promoción de la importancia de las cooperativas, ¡es la de afirmar con confianza nuestro impacto económico! Es justo lo que desempeña el nuevo Monitor Cooperativo Mundial.. Es un orgullo poder afirmar que las 300 mayores cooperativas han registrado un aumento de facturación del 7%. Es importante seguir mencionando que las cooperativas tienen una facturación global de 2,4 billones y 250 millones de personas trabajan para una cooperativa o se ganan la vida gracias a ellas. ¡Ayúdenos a promocionar el caso cooperativo, enviándonos tus datos para el Monitor de 2016!

Durante nuestra próxima reunión del Consejo de Administración en Sydney (Australia), quiero aprovechar de la oportunidad y conocer a los cooperantes de la región. Mientras tanto, no duden en mandarme sus consejos o sugerencias a leroux@ica.coop.

Monique Leroux
Presidenta
Alianza Cooperativa Internacional
| | |
| --- | --- |
| | |
| | |
| --- | --- |
| | |
| | |
| --- | --- |
| | |
Informe de la Conferencia Cooperativa Ministerial de África

Cooperantes y políticos de alto nivel se reunieron en Botsuana el 13-14 de octubre para la Conferencia Cooperativa Ministerial anual de África. El tema de la conferencia fue "La contribución de la cooperativas en la agenda de la unión Africana 2063: la África que queremos".

Los participantes fueron divididos en siete comisiones para analizar las siete aspiraciones incluidas en la Agenda 2063. Para alcanzar una África prospera basada en el crecimiento inclusivo y el desarrollo sostenible, sugirieron aumentar el conocimiento sobre el modelo cooperativo e incorporarlo en los currículos escolares. Las cooperativas también deberían crear sinergias fuertes con otros accionistas, dijeron.

Otra recomendación fue asegurar un buena gobernabilidad, democracia, respeto para derechos humanos y las normas legislativas a través de las cooperativas, particularmente en los sectores tales como las viviendas, el salud, el ahorro y el crédito e información y tecnología de comunicación. Recalcaron que las cooperativas necesitan estructuras normativas en las cuales pueden funcionar. Leer más
| | |
| --- | --- |
| | |
Las 300 cooperativas más grandes del mundo tienen una facturación de 2.3 billones de dólares

La cooperativa global y sectores mutuos han continuado a crecer, llegando a una facturación total conjunta de 2,205.70mil millones de dólares en el 2012 a 2,360.05mil millones en el 2013.

La cuarta edición del Monitoreo Cooperativo Global (World Co-operative Monitor) ha sido publicada. Los resultados fueron publicados en la Conferencia Global de la Alianza Cooperativa Internacional en Antalya, Turquía por Gianluca Salvatori, el director ejecutivo del Instituto Europeo de Investigación sobre las Cooperativas y la Economía Social (Euricse). El monitoreo está producido conjuntamente por la Alianza y Euricse, colectando y analizando datos económicos y sociales sobre las cooperativas.

El monitoreo de este año examina los datos de 2013, y la base de datos total en ese año excedió 2,829 cooperativas de 76 países con una facturación total de 2,950.82 mil millones de dólares. Fue compilada de las clasificaciones y listas existentes, datos de investigadores y organizaciones y datos publicados directamente por las organizaciones a través del cuestionario del Monitoreo Cooperativo Global. La encuesta fue completada por 200 cooperativas de 54 países. Leer más
Las cooperativas suben la voz en la Cumbre B20 en Antalya

Los representantes de las empresas cooperativas han participado en la Cumbre B20 en Antalia, Turquia, el 14 de Noviembre. En la Cumbre, que precedió la reunión de G20, pidieron una inclusión mayor de la perspectiva cooperativa y el reconocimiento de su modelo empresarial especifico en las recomendaciones del B20 al G20. Esta fue la segunda participación del movimiento cooperativo en el B20, después de la inclusión de Andrew Crane de Australia en 2014.

Los delegados de las cooperativas recordaron a los líderes del B20 el tamaño e impacto del sector cooperativo global, citando del mas reciente Monitoreo Cooperativo Global (World Co-operative Monitor 2015), que muestra un crecimiento de 7% en la facturación de las 300 cooperativas más grandes, conjuntamente sumando 2,4 billones de dólares. Además, 250 millones de personas están empleados por u organizan sus vidas a través de una cooperativa. Leer más
La Alianza Cooperativa Internacional pide a los jefes de Estado que adopten medidas efectivas y ambiciosas contra el cambio climático

Ante la Conferencia sobre el Cambio Climático de las Naciones Unidas en París, la Alianza Cooperativa Internacional ha pedido a los líderes mundiales que tomen medidas efectivas y ambiciosas contra el cambio climático. La Asamblea General de la Alianza, que se reunió en Antalya a principios de este mes, ha publicado una declaración en la cual subraya que las cooperativas son empresas sostenibles que juegan un papel importante en la implementación de los Objetivos de Desarrollo Sostenible.

La declaración también explica cómo la contribución de las cooperativas ya ha sido reconocida en varias iniciativas políticas globales, tales como el documento final de Río+20, el documento de la conferencia El Financiamiento para el Desarrollo y la Agenda de Desarrollo Sostenible de la ONU para 2030.

"Las cooperativas son activas en varios sectores de la economía, tales como en la agricultura, en el retail, en los seguros, las viviendas, los bancos y la energía, entre otros, y por lo tanto pueden ser un vehículo para implementar los Objetivos de Desarrollo Sostenible en varios campos, incluyendo la lucha contra el cambio climático. "La Alianza Cooperativa Internacional ha pedido a los miembros que continúen y aumenten sus iniciativas de lucha contra el cambio climático," dice el documento. Leer más
Llamada para papeles para la Conferencia Internacional de Investigación en Almería

Investigadores y académicos están invitados a enviar papeles para la Conferencia Internacional de Investigación sobre las cooperativas en Almería, España, 24-27 de mayo 2016. El evento, organizado por la Universidad de Almería (UAL) y UAL-Coexphal Chair en Almeria, está dirigido a los investigadores, legisladores, practicantes y estudiantes en las cooperativas, empresas sociales y la economía social.

La conferencia estará enfocada en explorar las varias etapas de la creación cooperativa, transición y transformación y discutir las estrategias que las cooperativas, instituciones y las medidas que los elaboradores de políticas legisladores pueden tomar para responder adecuadamente a cambios como estos y etapas de desarrollo. Mayor información sobre la conferencia está disponible en línea.
¿Por qué usted debería organizar un evento paralelo en la Cumbre 2016?

Desde 2012, la Cumbre invita a las asociaciones, cooperativas, mutuales y negocios a realizar eventos paralelos al programa principal. ¡Descubra por qué las organizaciones participantes aprovechan esta increíble oportunidad…!

"Con ocasión de la Cumbre Internacional de Cooperativas 2014, el Consejo Quebequense de la Cooperación y la Mutualidad tomó la iniciativa de ofrecer visitas guiadas de las cooperativas en la ciudad de Quebec. Las experiencias y comentarios fueron muy positivos. Muchos participantes dijeron que habían ganado mucho sobre ideas y nuevos enfoques. La experiencia y el saber hacer de la red cooperativa y mutualista quebequense son evidentes", dijo Gaston Bédard, director ejecutivo, Consejo Quebequense de la Cooperación y la Mutualidad. Leer más
Construir un mundo mejor: nueva campaña mundial para las cooperativas

La Alianza Cooperativa Internacional ha lanzado una nueva campaña mundial para promover la identidad cooperativa, tratando sobre el tema: "Construyendo un Mundo Mejor Ahora". La campaña incluye un video útil el cual los cooperativos están invitados a personalizar. El video ha sido lanzado en cuatro países: los Estados Unidos, Argentina, India y Japón, con diez otros potencialmente a ser parte en enero del año siguiente. Visite: http://buildingabetterworldnow.coop/.
Nuevo nombramiento de IFRS para abrir la puerta para un mayor dialogo entre los reguladores y las instituciones cooperativas financieras

Isabelle Ferrand, directora financiera en la Confederación Nacional de Crédito Mutual (Confédération Nationale du Crédit Mutuel) ha sido nombrada para representar la Alianza Cooperativa Internacional en el Consejo Consultivo sobre los Estandartes Internacionales de Presentación de Informes Financieros (IFRS). Este es un logro importante para el movimiento cooperativo porque puede ayudar obtener una mayor inclusión de la perspectiva cooperativa y un reconocimiento mayor del modelo empresarial especifico de las cooperativas.

La nominación de la Sra. Ferrand es algo nuevo para la Alianza, que ahora tendrá una representación permanente dentro del Consejo. La contabilidad ofrece una manera estandarizada para que las empresas, inversores y reguladores describan el rendimiento de una entidad. Los estandartes de contabilidad presentan parámetros de informes financieros con un número de reglas que deben respectadas por la entidad cuando se trata de redactar el informe financiero, lo que asegura una estandarización a través del mercado. Leer más
Yochai Benkler: las cooperativas pueden aprender algo del movimiento de las comunes

Yochai Benkler ha estado estudiando las comunes y la cooperación desde hace 20 años. En la Conferencia Global de la Alianza en Antalya, Turquía, analizó cómo la ética de la producción peer-to-peer podría estar conectada a la realidad de las cooperativas.

El Profesor Benkler enseña en la escuela de Derecho de Harvard y comenzó a investigar en la Wikipedia cuando sólo tenía seis meses. Benkler tiene conexiones con el movimiento cooperativo porque ha sido miembro y tesorero de Kibbutz Shizafon, una comunidad cooperativa en Israel.

Explicó cómo el auge del movimiento de la cultura gratuita estaba basado en la idea de que existe una manera de construir una riqueza compartida sin tener derechos de autor exclusivos. Leer más
Raj Patel: El valor de nada y la necesidad de un modelo empresarial diferente

Un escritor galardonado, Raj Patel, comenzó su discurso en la Conferencia Global de la Alianza haciendo referencia a cómo los Pioneros de Rochdale habían fundado el movimiento cooperativo moderno porque no tenían acceso a alimentos baratos.

Su último libro, El Valor de Nada, alienta a las personas a repensar la noción del valor haciendo un mayor énfasis en los recursos necesarios para sobrevivir, en lugar de inflar el precio de productos sin los que uno puede vivir. Raj Patel es un partidario de los modelos económicos democráticos descentralizados, tales como las cooperativas.

"Estoy conmovido por el movimiento cooperativo. Compro en tiendas cooperativas, viajo en taxis de cooperativas, mi casa es propiedad de una cooperativa y tomo cerveza cooperativa," dijo Raj Patel. Leer más
Las cooperativas contribuyen al mundo laboral

Alrededor de 100 practicantes e investigadores cooperativos del mundo se reunieron en Antalya para la conferencia 'Las Cooperativas y el Mundo Laboral' donde hablaron sobre cómo las cooperativas pueden contribuir al mundo laboral. La conferencia internacional de investigación sobre las cooperativas y el mundo laboral fue organizada por la Organización International del Trabajo (OIT) junto con la Alianza Cooperativa internacional.

Numan Ozcan, director de país de la oficina de la OIT en Turquía, fue uno de los oradores principales en la conferencia. En su discurso subrayó la contribución significativa de las cooperativas a la creación de trabajo decente. Según el Sr. Ozcan, las cooperativas son muy importantes para el mandato de la OIT, como empresas y organizaciones. "Cuando hablamos de trabajo decente en la OIT, nos referimos a los derechos en el trabajo, a las oportunidades de empleo (no solo a más empleos, sino a empleos con mejores condiciones), a aumentar la protección social y fortalecer el diálogo social con respecto a las problemas laborales," dijo. Leer más
¿Pueden las cooperativas redefinir la sostenibilidad?

La sostenibilidad fue unos de los temas más discutidos en la Conferencia Global de la Alianza Cooperativa Internacional en Antalya, Turquía. Varias de las sesiones incluyeron exposiciones por parte de las cooperativas que operan de una manera sostenible.

Ben Reid, director ejecutivo de la Cooperativa Midcounties del Reino Unido, explicó cómo el desarrollo sostenible era un criterio importante para las donaciones benéficas de Midcounties, con un 9% de sus ganancias atribuidas para varios proyectos, incluso proyectos en la comunidad. La cooperativa ofrece oportunidades para que los empleados sean voluntarios y también recicla un 83% de sus desperdicios.

Otro participante en el debate sobre la sostenibilidad, Rhiannon Colvin, habló sobre su trabajo en Altgen, una cooperativa que ayuda a jóvenes de 18-29 años acrear sus cooperativas de trabajo. Piensa que las cooperativas deberían "pensar sobre una nueva economía, en lugar de medir las cosas". Leer más
Las cooperativas son el modelo para la África más allá de 2020

El modelo cooperativo está ayudando a las personas a través de África superar barreras y construir vidas mejores. La política y ex Ministra de Desarrollo de Empresas Pequeñas y Medias, Sitthembiso Nyoni, fue una de las oradoras principales en la Conferencia Global de la Alianza en Antalya. Habló sobre el papel de las cooperativas en responder a los desafíos a los cuales se enfrenta la África, incluyendo el cambio climático.

"El cambio climático pone la más grande amenaza al desarrollo humano y nuestra supervivencia. El resultado no es sólo el recalentamiento, sino también inundaciones, sequías, y otros cambios que significan que las personas tienen que luchar para sobrevivir, con un impacto en la suministración de agua y alimentos. En Zimbabue el gobierno a construido presas pequeñas y grandes y las cooperativas se han aprovechado de esto para crear empresas de irrigación, producción de alimentos y pescado, dijo. Leer más
Oficial de la FAO recalca el papel de las cooperativas en erradicar el hambre

La Organización de las Naciones Unidas para la Agricultura y la Alimentación (FAO) ve las cooperativas como un jugador crucial en ayudar a erradicar el hambre para el año 2030. En un discurso en la Conferencia Global de la Alianza Cooperativa Internacional en Antalya, Turquía, Marcela Villarreal de la FAO recalcó los pasos principales que las cooperativas pueden tomar para cumplir este objetivo.

"La agricultura es riesgosa y frente al cambio climático se está convirtiendo en algo aún más riesgoso. ¿Entonces, qué pueden hacer las cooperativas? Sabemos que las cooperativas pueden y ofrecen soluciones efectivas para cada uno de los problemas a los cuales se enfrentan los agricultores," dijo la Sra. Villareal. Las cooperativas pueden ayudar a disminuir los costos de transporte, acceder a financiamiento y aporte, reducir las perdidas asociadas a la cosecha y dar a los agricultores una voz en el proceso político, añadió. "Las cooperativas son una forma efectiva de responder a los riesgos a los cuales se enfrentan los agricultores y crear resiliencia y ayudarles escapar este círculo vicioso." Leer más
Las cooperativas toman acciones para proteger los derechos de tenencia

El 10 de noviembre los cooperantes se reunieron en un taller interactivo en Antalya, Turquía, para discutir su participación en la implementación de las Orientaciones Voluntarias sobre la Gobernabilidad Responsable de la tenencia de la Tierra (Voluntary Guidelines on the Responsible Governance of Tenure of Land, Fisheris and Forests - VGGT).

La VGGT puede ayudar las cooperativas a proteger su propiedad y acceder a los derechos de recursos naturales necesarios para su éxito. Debido al hecho de que las orientaciones están en este momento implementadas por los gobiernos y actores no estadales, el taller ofreció una oportunidad importante para aprender sobre VGGT y sus implicaciones para las cooperativas, tanto como comenzar una discusión importante sobre cómo las cooperativas necesitan participar en el proceso de implementación. Leer más
| | |
| --- | --- |
| | |
Proyectos ONG Perú - Cooperativa de confección

Este vídeo muestra un proyecto de educación en Perú de la ONG Manos Unidas. La cooperativa de confección en Lima acoge a 10 mujeres y les permite tener un formación e ingresos para su día a día. Ver en YouTube

Un mensage de Navidad desde COLAC

El gerente de la Confederación Latinoamericana de Cooperativas de Ahorro y Crédito (COLAC), Hernando Vélez Uribe, saluda con mucho aprecio a todos cooperativistas de América y comparte un abrazo de Navidad, con el deseo de que estas fiestas sean un motivo de regocijo y alegría con sus familiares, en sus empresas y comunidades. Ver en YouTube
Está recibiendo este correo electrónico porque se ha suscrito al e-Boletín de la Alianza. Para contribuir con una noticia, evento o imagen al e-Boletín de la Alianza ponte en contacto con el equipo editorial; edigest@ica.coop
Derechos de autor © 2005-2015 la Alianza Cooperativa Internacional
Co-operative House, Avenue Milcamps 105, 1030 Bruselas, Bélgica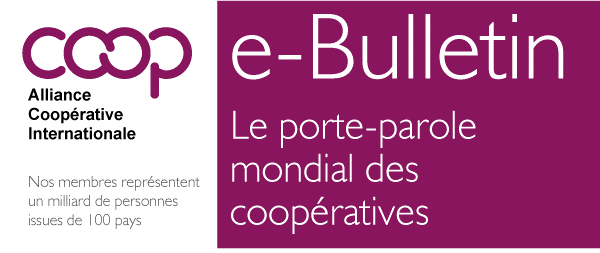 | | |
| --- | --- |
| | |
Chers coopérateurs,

Je profite de cette occasion pour accueillir chaleureusement Mme Monique Leroux, qui a été élue Présidente de l'Alliance lors de notre Assemblée générale à Antalya, en Turquie !

Lors de la Conférence COP21 sur le climat la semaine dernière, les représentants de l'Alliance ont souligné le rôle de puissant levier joué par les coopératives pour atteindre une économie durable. Le Crédit Coopératif a organisé une conférence sur la société civile et la transition climatique au siège de l'UNESCO. Toutes les informations sur www.ica.coop/climate.

Vous trouverez également dans cet e-Bulletin un résumé de notre Conférence mondiale, où se sont réunis 1052 délégués venant de 79 pays, pour une semaine aussi intense que réjouissante de partage de connaissances et de mise en réseau. Retrouvez ici l'ensemble des présentations. Vous avez participé à la conférence "Wordl of Work" (le monde du travail)? Poursuivez le débat au cours du colloque international de récherche sur les coopératives à Almería, en Espagne.

L'e-Bulletin de ce mois comprend des articles de notre région Afrique, avec des rapports de la conférence ministérielle sur les coopératives en Afrique et de la conférence sur l'économie solidaire au Maroc. Ces événements permettent aux coopératives de faire entendre leur voix et de plaider pour une plus grande prise en compte de l'approche coopérative. Au cours du Sommet B20 d'Antalya, la délégation coopérative a rappelé aux dirigeants du B20 l'impact et les revendications du mouvement coopératif.

Nous nous réjouissons de voir croître année après année les chiffres de l'Observatoire mondial des coopératives. Le chiffre d'affaires mondial de 2 400 milliards d'USD annoncé à Antalya équivaut à une augmentation de 7 % par rapport à l'an dernier. Merci de soutenir l'Observatoire - envoyez les chiffres de votre coopérative pour l'édition 2016.

Charles Gould
Directeur général
Alliance coopérative internationale
Chers coopérateurs,

Rencontrer autant d'entre vous lors de notre conférence mondiale et de notre assemblée générale à Antalya, en Turquie a été un véritable plaisir. Votre participation: 1 052 délégués issus de 79 pays constituent un témoignage que notre message est un message d'espoir et de paix par le biais de la coopération. Les coopératives ont le pouvoir d'agir et ceci est donc également le thème du Sommet international des coopératives (du 11 au 13 octobre 2016). Notre prochaine Assemblée générale se déroulera à Québec, le 10 octobre 2016.

En ma qualité de présidente nouvellement élue, je me concentrerai sur le déploiement de tous les outils nécessaires pour favoriser l'inter-coopération, et de garantir une représentation internationale plus forte afin que les coopératives grandissent et prospèrent. J'ai la ferme intention de développer des stratégies multisectorielles qui encouragent la coopération entre les régions, les secteurs et les coopératives de toutes tailles, tant au niveau national qu'international.

Lors du récent sommet B20 à Antalya nous avons fait entendre notre voix, et nous avons plaidé pour une plus grande reconnaissance du modèle coopératif. Nous avons été ravis de voir que notre modèle est, de manière générale, très bien accepté, et que nos propositions ont été dûment prises en compte. La sensibilisation que nous avons déjà réalisée, nous place en pôle position pour les réunions de 2016, qui se dérouleront en Chine.

L'Alliance continue de se faire le porte-parole du mouvement, dans les plateformes internationales de haut niveau. Début décembre, lors du sommet COP21 sur le climat à Paris, nous avons fièrement mis en lumière la motion adoptée par les membres de l'Alliance à l'Assemblée générale. Nous appelons les dirigeants du monde à prendre des mesures efficaces et ambitieuses pour lutter contre le changement climatique. Nous, les coopératives, en tant que entreprises axées sur l'humain, nous sommes un allié indispensable pour la construction d'un monde meilleur.

Plaider pour les coopératives, c'est aussi clamer notre impact économique! C'est exactement ce que fait le nouvel Observatoire mondial des coopératives. Je suis fière de souligner que les 300 plus grandes coopératives enregistrent une augmentation de 7% du chiffre d'affaires. Mentionnez, chaque fois que vous le pouvez, que les coopératives génèrent un chiffre d'affaires mondial de 2 400 milliards et emploient ou font vivre 250 millions de personnes à travers le monde. Aidez-nous à plaider pour les coopératives, envoyez-nous vos données pour les intégrer au Moniteur de 2016!

La prochaine réunion du Conseil d'administration se tiendra à Sydney (Australie) vers la fin février. Je souhaite saisir cette occasion et rencontrer les membres dans la région. D'ici là, n'hésitez pas à envoyer vos suggestions et vos commentaires à leroux@ica.coop

Monique Leroux
Présidente
Alliance coopérative internationale
| | |
| --- | --- |
| | |
| | |
| --- | --- |
| | |
| | |
| --- | --- |
| | |
Rapport de la conférence ministérielle sur les coopératives en Afrique

Coopérateurs et hauts représentants politiques se sont réunis au Botswana les 13 et 14 octobre pour la conférence ministérielle annuelle sur les coopératives en Afrique. Cette année, le thème de la conférence fut : « La contribution des coopératives à l'Agenda de l'Union africaine pour 2063: L'Afrique que nous voulons. »

Les participants étaient répartis en sept commissions travaillant sur les sept composantes de l'Agenda 2063. Dans l'objectif d'une Afrique prospère grâce à une croissance inclusive et un développement durable, ils ont suggéré de faire connaître davantage le modèle coopératif et de l'intégrer aux programmes scolaires. Les coopératives doivent également établir des synergies fortes avec d'autres acteurs clés, ont-ils affirmé.

Une autre recommandation visait à garantir une bonne gouvernance, un respect démocratique des droits humains et de l'état de droit à travers les coopératives, en particulier dans les secteurs du logement, de la santé, de l'épargne/crédit ainsi que des technologies de l'information et de la communication. Ils ont rappelé que les coopératives ont besoin de lois et de politiques leur étant favorables, afin de pouvoir fonctionner dans un cadre réglementaire adéquat. Lire la suite
| | |
| --- | --- |
| | |
Le chiffre d'affaires des 300 premières coopératives atteint 2 300 milliards de dollars É.-U.

Les secteurs des coopératives et des mutuelles poursuivent leur croissance à l'échelle mondiale, avec un chiffre d'affaires total des 300 plus grandes coopératives passé de 2 205,7 à 2 360,05 milliards de dollars É.-U. entre 2012 et 2013.

La quatrième édition de l'Observatoire mondial des coopératives a été publiée. Les résultats ont été présentés lors de la Conférence mondiale de l'Alliance coopérative internationale, à Antalya, par Gianluca Salvatori, directeur général de l'Institut européen de recherche sur les coopératives et les entreprises sociales (Euricse). L'Observatoire est le produit d'un partenariat entre l'Alliance et l'Euricse, qui collectentet analysent les données sociales et économiques des coopératives.

L'édition de cette année de l'Observatoire a analysé des données depuis 2013. L'ensemble de la base de données de cette année dépasse toutes les précédentes éditions, atteignant 2 829 coopératives de 76 pays, pour un chiffre d'affaires total de 2950,82 milliards de dollars É.-U. Lire la suite
Les coopératives font entendre leur voix au Sommet B20 à Antalya

Les représentants des entreprises coopératives qui ont participé au sommet du B20 à Antalya, en Turquie, en amont des réunions du G20, ont appelé à une plus grande intégration de l'approche coopérative et de la reconnaissance de la spécificité de leur modèle d'entreprise dans les recommandations du B20 pour le G20.

Les délégués représentant les coopératives ont rappelé aux dirigeants du B20 la taille et l'influence du secteur coopératif à l'échelle mondiale, en citant l'édition 2015 récemment publiée de l'Observatoire mondial des coopératives, lequel indique une croissance de 7% du chiffre d'affaires des 300 premières coopératives, qui cumulent 2 400 milliards de dollars É.-U. En outre, 250 millions de personnes sont employées ou organisent leur existence à travers une coopérative. Lire la suite
L'Alliance appelle les chefs d'État à prendre des mesures efficaces dans la lutte contre le changement climatique

Au cours de la Conférence de la COP21, les délégations de la Fédération internationale des coopératives et mutuelles d'assurance (ICMIF) et de l'Alliance coopérative internationale ont formellement prié les chefs d'État de convenir de mesures efficaces et ambitieuses contre le changement climatique. Elles ont souligné les qualités exceptionnelles dont sont dotées les coopératives et qui en font un levier puissant et actionnable à long terme permettant de bâtir une économie plus durable. L'Assemblée générale de l'Alliance, qui s'est tenue à Antalya le 13 novembre, a formulé une déclaration dans laquelle elle rappelle que les coopératives sont des entreprises durables, qui jouent un rôle majeur dans la réalisation des Objectifs de développement durable.

La déclaration précisait également que la contribution des coopératives est d'ores et déjà reconnue à travers plusieurs initiatives politiques de portée mondiale, notamment le document final du Rio+20, le document final sur le financement du développement, et l'agenda 2030 de l'ONU pour le développement durable. Lire la suite
Organisez une séance parallèle au prochain Sommet international des coopératives

Alors que l'on se prépare au Sommet international des coopératives, les participants qui ont animé des manifestations parallèles nous font part de leurs expériences. Ces évènements, bien que tous uniques, donnent aux délégués la possibilité d'étoffer leur réseau, de développer des intérêts communs, de partager leurs expériences et de mettre leur organisation en avant.

Karen Miner, directrice, Formation à la gestion coopérative de l'Université Sainte-Marie de Halifax (CA) témoigne: « Dès le Sommet de 2012, nous avons fait preuve de créativité quant aux manières de s'engager auprès de coopératives, et d'apprendre aux côtés des nombreux coopérateurs réunis à Québec. En 2014, nous avons saisi l'opportunité d'organiser des événements complémentaires (les « rendez-vous »), en parallèle du programme du Sommet. Ce fut une occasion exceptionnelle de réunir des collègues pour la mise en réseau (réception) et des séances de travail (Consortium de formation sur les entreprises coopératives). »

Les séances parallèles au Sommet sont nommées des "Rendez-vous", et prennent des formes diverses: réunions, forums de discussions, ou événements sociaux. Pour de plus amples informations sur la manière de procéder ou sur d'autres témoignages, consultez le site web du Sommet ou contactez Lara Edmond: rendezvous@intlsummit.coop.
Appel à contributions pour le colloque international d'Almeria

Chercheurs et universitaires sont invités à soumettre des propositions de contributions pour le colloque international sur les coopératives qui aura lieu à Alméria, en Espagne, du 24 au 27 mai 2016. Cet évènement, organisé par l'Université d'Alméria (UAL) et la chaire UAL-Coexphal à Alméria (Espagne) s'adresse aux chercheurs, décideurs politiques, praticiens et étudiants travaillant sur les coopératives, les entreprises sociales et l'économie sociale.

Le colloque analysera en détail les différentes étapes de la création, de la transition et de la transformation des coopératives, et sera l'occasion de débattre des stratégies que les coopératives, les décideurs politiques et les institutions coopératives peuvent privilégier pour gérer de façon adéquate de telles étapes et évolutions de développement. Plus d'informations en ligne sur le colloque
La nouvelle nomination à l'IFRS favorisera un dialogue plus fécond entre les organismes de contrôle et les institutions financières internationales

Isabelle Ferrand, direction financière à la Confédération Nationale du Crédit Mutuel, a été nommée pour représenter l'Alliance coopérative internationale au Conseil consultatif des normes internationales d'information financière (IFRS). Cette grande avancée pour le mouvement coopératif permettra de favoriser une meilleure prise en compte de l'approche coopérative et une plus grande reconnaissance du modèle d'entreprise propre aux coopératives.

La nomination de Mme Ferrand constitue une première pour l'Alliance coopérative internationale, qui aura désormais un représentant permanent au Conseil. La comptabilité permet aux sociétés, aux investisseurs, aux organismes de contrôle et à d'autres acteurs de bénéficier d'une manière standardisée de décrire les performances financières d'une entité. Les normes comptables offrent aux préparateurs d'états financiers une série de règles à respecter lors de l'élaboration des comptes d'une entité, ce qui garantit une harmonisation à travers le marché. Lire la suite
Bâtir un monde meilleur: une campagne mondiale pour les coopératives

L'Alliance coopérative internationale a lancé une campagne mondiale visant à promouvoir l'identité coopérative. La clé de voûte de cette campagne est une vidéo que peuvent personnaliser les coopérateurs. La campagne est actuellement en phase d'essai dans quatre pays: États-Unis, Argentine, Inde et Japon. Dix autres pays pourraient y participer à partir de janvier 2016. Les coopérateurs souhaitant créer leur propre vidéo sont priés de se rendre sur http://buildingabetterworldnow.coop/.
Yochai Benkler : les coopératives ont à apprendre du mouvement des communs

Yochai Benkler étudie les communs et la coopération depuis plus de 20 ans. Lors de la Conférence mondiale de l'Alliance à Antalya, il a abordé la manière dont la production de pair à pair peut être reliée à la réalité des coopératives.

Le professeur Benkler enseigne à la Faculté de droit de Harvard, et a commencé à s'intéresser à Wikipédia alors que le site n'avait encore que six mois. Le mouvement coopératif ne lui est pas étranger, puisqu'il a été membre et trésorier du kibboutz de Shizafon, une communauté coopérative en Israël.

Il a expliqué comment la montée du mouvement pour la culture libre s'était appuyée sur l'idée selon laquelle il est possible de produire des richesses partagées en l'absence de droits d'auteur exclusifs. Le modèle d'analyse de l'acteur rationnel a tendance à supposer que les gens ne coopèrent pas ; or, en réalité, les gens aspirent à coopérer, a assuré Yochai Benkler. Lire la suite
Raj Patel : la valeur des riens et la nécessité d'un autre modèle d'entreprise

Écrivain primé, Raj Patel a commencé son discours à la Conférence mondiale de l'Alliance à Antalya en évoquant la manière dont les Équitables Pionniers avaient fondé le mouvement coopératif contemporain en raison de leur incapacité à accéder à des aliments à bas prix.

Son dernier ouvrage, The Value of Nothing (littéralement « La valeur des riens »), invite le lecteur à repenser les notions de valeur en mettant davantage l'accent sur les ressources nécessaires pour survivre, plutôt que de faire monter le coût des choses dont on peut se passer. Raj Patel plaide pour des modèles décentralisés de démocratie économique, comme le sont les coopératives.

« Je me sens concerné par le mouvement coopératif. Je fais mes courses dans des magasins coopératifs, je me déplace dans des taxis coopératifs, ma maison appartient à une coopérative et je bois de la bière coopérative », a déclaré Raj Patel. Lire la suite
Les représentants de la FAO soulignent le rôle des coopératives dans l'élimination de la faim

L'Organisation des Nations unies pour l'alimentation et l'agriculture considère que les coopératives sont un acteur clé dans l'effort d'élimination de la faim avant 2030. Dans son discours introductif lors de la Conférence mondiale de l'Alliance coopérative internationale à Antalya, Marcela Villarreal, de la FAO, a mis en avant les principales mesures que pouvaient prendre les coopératives afin de participer à la réalisation de cet objectif.

« L'agriculture est une activité à risque, et elle le devient plus encore avec le changement climatique. Que peut faire le mouvement coopératif? Nous savons que les coopératives peuvent apporter et offrent effectivement des solutions efficaces pour surmonter toutes les difficultés que rencontrent les petits exploitants agricoles », a déclaré Mme Villareal. Les coopératives peuvent favoriser la réduction des coûts de transports, l'accès à des ressources et à des financements, la réduction des pertes de cultures et peuvent porter la voix des agriculteurs dans l'arène politique, a-t-elle ajouté. Lire la suite
Les coopératives contribuent au monde du travail

Une centaine de praticiens et théoriciens du monde coopératif du monde entier se sont réunis à Antalya pour la conférence « Les coopératives et le monde du travail », pendant laquelle ils ont débattu des manières dont les coopératives peuvent contribuer à l'avenir de l'emploi. La conférence scientifique internationale sur les coopératives et le monde du travail a été conjointement organisée par l'OIT et l'Alliance coopérative internationale.

S'exprimant lors de cette conférence scientifique à Antalya, Numan Ozcan, directeur national du bureau de l'Organisation internationale du Travail de Turquie, a signalé la remarquable contribution des coopératives dans la création d'emplois décents. Selon M. Ozcan, les coopératives sont essentielles au mandat de l'OIT, à la fois en tant qu'entreprises et en tant qu'organisations.

« Lorsque nous parlons d'emplois décents à l'OIT, nous entendons par là le droit du travail, l'accès à l'emploi (des emplois plus nombreux, mais aussi à de meilleures conditions), l'amélioration de la protection sociale et le renforcement du dialogue social sur les questions liées à l'emploi », a-t-il déclaré. Lire la suite
Les coopératives peuvent-elles redéfinir la durabilité?

La durabilité fut l'un des principaux thèmes abordés lors de la Conférence mondiale de l'Alliance coopérative internationale à Antalya, en Turquie. Plusieurs séances ont permis de présenter des coopératives fonctionnant de manière durable.

Ben Reid, directeur général de Midcounties Co-operative, a démontré que le développement durable couvrait de nombreux domaines des dons de bienfaisance de Midcounties, 9% de leur bénéfice opérationnel étant consacré à de nombreux projets, notamment des subventions communautaires. La société donne la possibilité aux collègues de s'engager et de recycler 83% de leurs déchets. Midcounties co-operative fut également pionnière dans la promotion de la Fair Tax Mark ("Marque de justice fiscale") et dans le soutien aux initiatives en faveur des énergies renouvelables. Lire la suite
Les coopératives sont un modèle pour l'Afrique de l'après 2020

Le modèle coopératif aide les populations d'Afrique à surmonter leurs obstacles et à améliorer leurs conditions de vie. Politicienne et ancienne ministre du Développement des petites et moyennes entreprises du Zimbabwe, Sitthembiso Nyoni s'est exprimée à l'ouverture de la Conférence mondiale de l'Alliance à Antalya. Elle a présenté le rôle incombant aux coopératives pour relever les défis auxquels l'Afrique fait face, notamment le changement climatique.

« Le changement climatique représente la plus grande menace pesant sur le développement humain et notre survie. Il provoque non seulement un réchauffement de la planète, mais aussi des inondations, des sécheresses, et d'autres perturbations obligeant les populations, menacées dans leur accès à l'eau et à l'alimentation, à lutter pour leur survie. Au Zimbabwe, le gouvernement a construit de petits et grands barrages; les coopératives se sont saisies de cette occasion pour développer la pêche, l'irrigation et des entreprises de production alimentaire, a-t-elle déclaré. Lire la suite
Les coopératives prennent des mesures pour protéger les droits fonciers

Le 10 novembre, des coopérateurs se sont réunis lors d'un atelier interactif à Antalya, en Turquie, afin de débattre de leur implication dans la mise en œuvre des Directives volontaires pour une gouvernance responsable des régimes fonciers applicables aux terres, aux pêches et aux forêts (VGGT).

Les VGGT peuvent aider les coopératives à protéger leur propriété et leur droit d'accès aux ressources naturelles nécessaires à leur fonctionnement. Les Directives étant actuellement mises en œuvre par des gouvernements et des acteurs non étatiques, l'atelier a constitué une remarquable occasion pour mieux connaître les VGGT et leurs conséquences pour les coopératives, et pour susciter un débat très utile sur ce dont ont besoin les coopératives pour participer à la mise en œuvre de ce processus. Lire la suite
| | |
| --- | --- |
| | |
| | |
| --- | --- |
| | |
Jeunes leaders 2014 - Xavier Simard

Xavier fait partie de la prochaine génération de gestionnaires de coopérative. En tant que canadien, il a participé au Sommet 2014. Voir sur YouTube

Mme Leroux présente la programmation 2016 du Sommet international des coopératives

Dans cette vidéo Monique F. Leroux présente le 3e Sommet international des coopératives. Voir sur YouTube
Vous avez reçu cet e-mail parce que vous vous êtes abonné(e) à l'e-Bulletin de l'Alliance. Pour contribuer au bulletin de l'Alliance avec une nouvelle, un évenement ou une photo, veuillez contacter l'équipe de rédaction: edigest@ica.coop
Copyright © 2005-2015 Alliance Coopérative Internationale, Co-operative House,
Avenue Milcamps 105, 1030 Bruxelles, Belgique
| | |
| --- | --- |
| | |
Dear co-operators,

I take this opportunity to warmly welcome Ms Monique Leroux, who was elected Alliance President at our General Assembly in Antalya, Turkey!

At last week's COP21 climate conference, Alliance representatives pointed out that co-operatives are a solid lever to achieve a sustainable economy. Crédit Coopératif hosted a conference on civil society and climate transition at the UNESCO headquarters. Find all the news at www.ica.coop/climate.

Also in this eDigest is a recap of our Global Conference, where 1, 000 delegates from 79 countries joined for an intense but joyful week of knowledge sharing and networking. You can find all presentations here. Attended the World of Work conference? Continue the dialogue at the next international co-operative research conference in Almeria, Spain.

This month's eDigest includes news from our Africa region, with reports from the Africa Cooperative Ministerial Conference and the Social and Solidarity Economy conference in Morocco. These events let co-ops raise their voice and ask for greater inclusion of the co-operative perspective. At the B20 Summit in Antalya the co-operative delegation reminded the B20 leaders of the impact and the asks of the co-operative movement.

We are pleased to see the figures of the World Co-operative Monitor rise year over year. The USD $2.4tn global turnover announced in Antalya, is equivalent to a 7% rise since last year. Please support the Monitor. Submit your co-op's figures for the 2016 edition.

Charles Gould
Director-General
International Co-operative Alliance
Dear Co-operators,

It was a pleasure meeting so many of you at our global conference and general assembly in Antalya, Turkey. 1,052 Delegates from 79 countries are a testimony that our message is one of hope, and peace through co-operation. Co-operatives have the power to Act, and this is also the theme of the International Summit of Co-operatives (11 to 13 October 2016). Our next general assembly is to take place in Québec, on 10 October 2016.

As newly elected president of the Alliance, I will focus on deploying all the necessary tools to favour inter-co-operation, ensuring a stronger international representation for co-operatives to grow and flourish. I have the firm intention to develop multi-sector strategies that foster inter-co-operation between regions, sectors and co-operatives of all sizes, both at national and international level.

At the recent B20 in Antalya we have raised our voice, and we have advocated for an improved recognition of the co-operative model. We were pleased to observe that our model is in general very well accepted, and that our proposals are well noted. The awareness we have built, places us in pole position for the 2016 China meetings.

The Alliance continues to speak for the movement at high-level international platforms. At the December climate summit in Paris we have proudly put forward the motion which Alliance Members have adopted at the general assembly. We have urged world leaders to take effective and ambitious measures against climate change. We co-operatives, as people-centred businesses, are an indispensable ally for building a better world.

Part of making the case for co-ops, is to confidently state our economic impact! The new World Co-operative Monitor does just that. I am proud to emphasise that the world's largest 300 co-ops show a 7% turnover increase. Mention on every opportunity that co-ops have a global turnover of 2.4tn, and that 250 million people are either employed in a coop or make their living through one. Help us make co-ops' case, send your data for the 2016 Monitor!

Our next board meeting taking place in Sydney (AU) towards the end of February, I intend to take the opportunity and meet members in the region. In the meantime, please be welcome to send your suggestions and input to leroux@ica.coop.

Monique Leroux
President
International Co-operative Alliance
| | |
| --- | --- |
| | |
| | |
| --- | --- |
| | |
| | |
| --- | --- |
| | |
Reports from the Africa region

Co-operators and high-level politicians met in Botswana on 13-14 October for the annual Africa Cooperative Ministerial Conference. The theme of this year's conference was 'Contribution of Co-operatives to African Union Agenda 2063: The Africa We Want'.

Participants were divided in seven commissions to look at the seven aspirations of the Agenda 2063. To achieve a prosperous Africa based on inclusive growth and sustainable development, they suggested increasing awareness of the co-operative model and incorporating it into the school curriculum. Co-operatives should also create strong synergies with other core stakeholders, they argued. Read more
| | |
| --- | --- |
| | |
Top 300 co-operatives have a turnover of USD $2.3tn

The global co-operative and mutual sectors have continued to grow, with the total turnover of the largest 300 co-operatives increasing from USD $2,205.70bn in 2012 to USD $2,360.05bn in 2013.

The fourth edition of the World Co-operative Monitor has been released. The findings were presented at the International Co-operative Alliance's Global Conference in Antalya by Gianluca Salvatori, the chief executive for the European Research Institute on Cooperatives and Social Economy (Euricse). The Monitor is produced in partnership between the Alliance and Euricse collecting and analysing economic and social data on co-operatives. As well as providing analysis by sector, using the data, the report identifies the Top 300 co-operatives, mutual organisations and non-co-operative enterprises controlled by co-operatives. Read more
Global Campaign: Building A Better World... Now

The International Co-operative Alliance has launched a global marketing campaign to promote the co-operative identity, on the theme of "Building a Better World Now". Central to the campaign is a toolbox video which co-operators are invited to customize. The video is currently piloted in four countries already: USA, Argentina, India and Japan, with another ten potentially signing up in January next year. Visit http://buildingabetterworldnow.coop/.
Co-operatives raise their voice at B20 Summit in Antalya

Representatives of co-operative businesses took part in the B20 Summit in Antalya, Turkey, on 14 November. At the Summit, which preceded the G20 meetings, they called for greater inclusion of the co-operative perspective and for the recognition of their specific business model in the B20 recommendations to the G20. This was the co-operative movement's second year of participating in the B20, following the inclusion of Andrew Crane from Australia in 2014.

Co-operative delegates reminded the B20 leaders of the size and impact of the global co-operative sector, citing from the recently released 2015 edition of the World Co-operative Monitor, which shows 7% growth in turnover for the 300 largest co-operatives alone, aggregating USD $2.4tn. Moreover, 250m people are employed by or organise their living through a co-operative. Read more
The Alliance calls on heads of state to agree effective ambitious measures against climate change

At the COP21 Conference, International Co-operative Alliance representatives have urged heads of state to agree to effective and ambitious measures against climate change. They called attention to unique qualities which make co-operatives a long term and solid lever to achieve a more sustainable economy.

At the Alliance's General Assembly, which met in Antalya, a statement was issued which highlights that co-operatives are sustainable enterprises that play an important role in the implementation of the Sustainable Development Goals.

The statement also explains how the contribution of co-operatives has already been recognised in in several global policy initiatives, such as the Rio+20 outcome document, the Financing for Development Outcome Document and the UN 2030 Agenda for Sustainable Development.

"Co-operatives are active in many sectors of the economy, such as agriculture, retail, insurance, housing, banking and energy, among others, and can therefore be a vehicle to implement the Sustainable Development Goals across different fields, the fight against climate change included.

"The International Co-operative Alliance has urged its members to continue and step up their initiatives to fight climate change," reads the statement. Read more
Organising a side event at the International Summit of Cooperatives

As preparations are underway for the International Summit of Co-operatives, participants that were involved in hosting side events shared their experience. While each event is unique, they all give delegates the chance to network and develop mutual interest, share their experience, and increase awareness of their organisation.

"Starting with the 2012 Summit, we have been creative about how to engage with and learn from so many co-operators being together in Quebec City. In 2014, we embraced the opportunity to organise complimentary events (rendez-vous) around the core Summit program. It was a fabulous opportunity to gather colleagues for networking (a reception) and working sessions (Cooperative Business Education Consortium)." Karen Miner, Managing Director, Co-operative Management Education, Saint Mary's University, Halifax, NS, Canada.

Side events at the Summit are called Rendez-vous, and they can take many forms: meetings, discussion forums and social events. Additional information on how to proceed along with other testemonies is available on the summit's website or by contacting Lara Emond at rendezvous@intlsummit.coop.
New IFRS appointment to open the door for greater dialogue between regulators and co-operative financial institutions

Isabelle Ferrand, Chief Financial Officer at Confédération Nationale du Credit Mutuel has been appointed to represent the International Co-operative Alliance on the International Financial Reporting Standards (IFRS) Advisory Council. This important achievement for the co-operative movement is to obtain greater inclusion of the co-operative perspective and improved recognition of co-operatives' specific business model.

The nomination of Mrs Ferrand is a first for the International Co-operative Alliance, which will now have permanent representation within the Council. Accounting provides companies, investors, regulators and others with a standardised way to describe the financial performance of an entity. Read more
Call for papers for International Research Conference in Almeria

Researchers and academics are invited to submit papers for the International Research Conference on co-operatives in Almería, Spain on 24-27 May 2016. The event, hosted by the University of Almeria (UAL) and the UAL-Coexphal Chair in Almería, Spain, is aimed at researchers, policy makers, practitioners and students of co-operatives, social enterprises and the social economy.

The conference will focus on exploring the various stages of co-operative creation, transition and transformation and to discuss the strategies co-operatives, co-operative institutions and policy makers may take to adequately manage such change and stages of development. More information on the conference is available online.
Yochai Benkler: co-ops can learn from the commons movement

Yochai Benkler has been studying commons and co-operation for over 20 years. At the Alliance's Global Conference in Antalya, Turkey, Prof Bekler looked at how the ethic of peer-to-peer production could be connected to the reality of co-operatives. Yochai Bekler teaches at Harvard Law School and started researching Wikipedia when it was just six months old. He is no stranger to the co-operative movement, having been a member and treasurer of the Kibbutz Shizafon, a co-operative community in Israel.

He explained how the rise of the free culture movement was based on the idea that there is a way to construct shared wealth without having exclusive copyright rights. The rational actor model of analysis would assume that people do not co-operate, but the reality is that people tend to co-operate, said Yochai Benkler. Read more
Raj Patel: The value of nothing and the need for a different business model

An award winning writer, Raj Patel began his speech at the Alliance's Global Conference in Antalya by referring to how the Rochdale Pioneers had founded the modern day co-operative movement because they could not gain access to cheap food.

His latest work, The Value of Nothing encourages people to rethink the notions of value by placing a stronger emphasis on resources needed to survive, as opposed to inflating the cost of things one can live without. Raj Patel is an advocate of decentralised models of economic democracy, such as co-operatives.

"I'm touched by the co-operative movement. I buy from co-op stores, travel with co-op cabs, a co-op owns my house and I drink co-op beer," said Raj Patel. Read more
FAO official highlights the role of co-operatives in eradicating hunger

The United Nation's Food and Agricultural Organisation sees co-operatives as a key player in helping to eradicate hunger by 2030. In a keynote speech at the International Co-operative Alliance's Global Conference in Antalya, Turkey, Marcela Villarreal of the FAO highlighted the main steps co-ops could take to help meet this target.

"Agriculture is risky and in the face of climate change it's becoming even riskier. So what can the co-operative movement do? We know that co-ops can and do offer effective solutions for each and every one of the problems that smallholder farmers face", said Ms Villarreal. Co-ops can help lower transport costs, accessing inputs and finance, reduce crop losses and give farmers a voice in the political processes, she added. "Co-ops are an effective way to address the risks that farmers face and create resilience, and help farmers break out of that vicious cycle."
Co-operatives are contributing to the world of work

Around 100 co-operative practitioners and researchers from across the world met in Antalya for the conference 'Co-operatives and the World of Work' where they discussed how co-ops can contribute to the future of work. The international research conference on co-operatives and the world of work was organised by the International Labour Organisation jointly with the International Co-operative Alliance.

Speaking at a research conference in Antalya, Numan Ozcan, country director of the International Labour Organization's office for Turkey, highlighted the significant contribution of co-operatives to the creation of decent work. According to Mr Ozcan, co-operatives are important to the ILO's mandate both as enterprises and organisations. "When we talk of decent work at the ILO we mean rights at work, employment opportunities (not only more jobs, but also jobs with better terms and conditions), enhancing social protection and strengthening social dialogue on work-related issues," he said. Read more
Can co-operatives redefine sustainability?

Sustainability was one of the main themes discussed at the International Co-operative Alliance's Global Conference in Antalya, Turkey. Different sessions featured presentations from co-operatives conducing in a sustainable manner.

Ben Reid, chief executive of the Midcounties Co-operative explained how sustainable development covered many areas of Midcounties' charitable giving, with 9% of their operating profit being allocated for a number of projects, including community grants. The society provides opportunities for colleagues to volunteer and recycles 83% of their waste. The Midcounties co-operative has also been a pioneer in terms of promoting the Fair Tax Mark and supporting renewable energy initiatives.

In the USA the National Co-op Grocers (NCG), a business services co-operative for retail food co-ops has developed a metrics programme to help their co-ops assess their sustainability based on a common framework. Robynn Shrader, chief executive of NCG, explained how the programme enabled co-ops to compare performance with other co-ops of similar size or operating in the same climate. All data is compiled into graphics, which can be incorporated into annual reporting or websites. Read more
The co-operative is Africa's model beyond 2020

The co-operative model is helping people across Africa overcome barriers and build better lives. Zimbabwean politician and a former Minister of Small and Medium Enterprises Development, Sithembiso Nyoni was a keynote speaker at the Alliance's Global Conference in Antalya.

She talked about the role of co-operatives in tackling the challenges faced by Africa, including climate change. "Climate change is the biggest threat to human development and our survival. It resulted not just in global warming but also in floods, droughts, and other changes leading to people struggling to survive, impacted on our water supply and food. In Zimbabwe the government has built small and big dams and co-ops have taken advantage of this to create fishing, irrigation and food production enterprises, she said.

Another land reform has enabled 500,000 families to engage in agriculture and livestock, leading to an increase in the number of agricultural co-operatives. "Beyond 2020 co-ops have a big opportunity to grow bigger and control agri businesses and the food industry". She added that the governments of Kenya, Tanzania, Ghana and Ethiopia had increased their budget for farmers and co-operatives. "This to me shows that they are looking beyond 2020," she said. Read more
Co-operatives take action to protect tenure rights

On 10 November, co-operators met in an interactive workshop in Antalya, Turkey to discuss their engagement in the implementation of the Voluntary Guidelines on the Responsible Governance of Tenure of Land, Fisheries and Forests (VGGT).

The VGGT can help co-operatives protect their ownership and access rights to natural resources necessary to their success. Because the Guidelines are currently being implemented by governments and non-state actors, the workshop provided an important opportunity to learn about the VGGT and their implications for co-operatives, as well as spark valuable discussion on what co-operatives need to engage in the implementation process.

During the workshop, participants discussed their challenges to tenure, such as political and military conflict, distribution of resources and culture, as well as how the unique identity and positioning of co-operatives could impact implementation of the VGGT. Participants also agreed that awareness raising and training at the co-operative, community and regional levels were needed to further engage in the process.

Participants came from 18 countries from all four regions and represented a variety of primary and apex co-operatives.

The Alliance hosted the workshop in collaboration with the Food and Agriculture Organization of the United Nations (FAO). Learn more about the VGGT and the Alliance's work on the VGGT.



| | |
| --- | --- |
| | |
| | |
| --- | --- |
| | |
Dame Pauline Green Receives the Rochdale Pioneers Award

Dame Pauline Green visited the Rochdale Pioneers Museum on 23 November, the birthplace of the modern Co-operative Movement. Watch on YouTube

Sengul Akcar talks about the Turkish women's co-operative movement

Sengul Akcar, founder of the Foundation for the Support of Women's Work talks about the women's co-operative movement in Turkey. Watch on YouTube
You are receiving this email because you have subscribed to the Alliance's e-Digest.
To contribute with news, event or photos to the e-Digest please contact
the editorial team at edigest@ica.coop.
Copyright © 2005-2014 International Co-operative Alliance, Co-operative House, avenue Milcamps 105, 1030 Brussels, Belgium
Pages