| | |
| --- | --- |
| | |
Dear co-operators,

As we embrace this new year we look forward to key events in 2016. In this e-Digest we feature the World Economic Forum, where our president, Ms Monique Leroux, represented the Alliance. Our very own "Davos" takes place 11 -13 October. We meet in Quebec then, for the International Summit of Co-operatives,.

The Alliance has just now taken part in the B20 kick-off in China. We have continued to make the case for greater inclusion of the co-operative perspective. In the US, Co-operatives are now represented in Congress as well, via the new Congressional Cooperative business caucus.

I am also delighted to announce that the Review of International Co-operation, the Alliance's official journal, has recently resumed publication under the auspices of the Committee on Co-operative Research (CCR). More on the review in this e-Digest.

And while research of this kind showcases the important contribution of co-operatives to the global economy, this e-Digest also includes concrete case studies on how co-operatives are making a difference across the world. In the UK co-ops help communities affected by floods and in Italy social co-operatives are fostering territorial cohesion and development.

Co-operatives indeed have the power to act for a sustainable future – and so we have made this the theme of the 2016 International Day of Co-operatives. I encourage you to mark the date in your calendar; it's on July 2nd, 2016! Celebrate the day with your members and engage your co-operative to act and build a sustainable future.

Charles Gould
Director-General
International Co-operative Alliance
Dear Co-operators and supporters of Co-operatives,

First of all, I extend our very best wishes for the New Year to you, to your families and colleagues - on behalf of myself, the Alliance team and the global co-operative movement.

Each January since 2009, I have taken part in the World Economic Forum. A rendezvous where leading thinkers meet with heads of state and enterprise to discuss issues such as world peace, climate change, democracy, financial inclusion and food security. The WEF represented an opportunity to take part in discussions. My objective in participating to the WEF was to start positioning the Alliance as a strong contributor to help build a better world. (Read my review of the 2016 forum here)

The theme of the 2016 Forum is 'The Fourth Industrial Revolution' – or how technological developments such as the sharing economy create new notions of ownership, and a need for more meaningful social connections. The co-operative model, with its unique take on governance and values, can lead by example by putting people before profit in this revolution.

I am most pleased to unveil the theme of the 2016 International Day of Co-operatives. To be celebrated on the 2nd of July 2016, this year's theme is 'Co-operatives: The power to act for a sustainable future'. Our theme is a nod of support to the UN's Sustainable Development Goals as it is at this time that governments, international bodies and civil society are exploring how to best implement the 2030 Agenda. On the 2016 Day let us speak out loud, on the value of co-operatives' unique approach to sustainable economic, social and environmental development.

While you watch out for the Day's official campaign and logo to be made available for you to use, there are three things that I would like to invite you to do now. One: ask your network to put the day on their calendar; Two: learn about the UN's Sustainable Development Goals; Three: set an ambitious internal target for your organisation to contribute to the Goals and share it with the world through your web site!

Our 2016 theme goes hand in hand with the International Summit of Cooperatives' theme – 'Cooperatives: The power to act'. Taking place from 11 to 13 October 2016, the summit addresses local, national and international impact of co-operatives on issues such as those identified by the United Nations.

Co-operators, politicians, diplomats, representatives from regulatory authorities, and academics, meet every second year at the Summit to discuss challenges and solutions for co-operatives - "to Act". I hope to greet you there this year again. Read the summit's programme here).

Finally, I will preside the Alliance's board meeting in Sydney (AU) 2-3 March, and I look forward to meeting with Asia and Pacific region co-operators during my visit.

Co-operative greetings,

Monique Leroux
President
International Co-operative Alliance
| | |
| --- | --- |
| | |
| | |
| --- | --- |
| | |
| | |
| --- | --- |
| | |
The Alliance welcomes new members

Federation of Peoples' Sustainable Development Cooperative from the Philippines as a Member

FPSDC is a secondary type co-operative with membership composed of NGOs, peoples' organisations (POs), and co-operatives nationwide that provide financial and non-financial services to empower marginalised sectors, ensuring the development of its stakeholders (people), and preservation of the environment while ensuring economic viability in the ultimate hope of promoting harmonious co-existence within and among communities.

In 2014 they had 137 societies, 70% of them co-operatives with 500,000 individual members.Their assets totalled PhP 340.121 million in 2013 (EUR €6,507,650).

Awach Savings and Credit Cooperative (ASCCo) from Ethiopia as a Member

33 female and 8 male members established ASCCo in 2007. They aspire to be the premier savings and credit cooperative in Ethiopia. Their mission is to fulfil the economic needs of members, contribute to the economic development of Ethiopia, encourage savings among members, educate children about saving, and provide loans for members to change their lives and the lives of members. Their members are throughout the country.

In 2013 they had 1,287 individual members and since 2007, the collected savings have reached ETB 16,431,877 (EUR 681,784). Their loan repayment rate is 99 percent which has placed it as one of the most successful community based savings and credit cooperatives in Addis Ababa.

The new membership statistics are therefore: 292 member organisations of which 246 are full members and 46 are Associate Members from 96 countries.
| | |
| --- | --- |
| | |
Regional Consultation: should start up funds replace subsidies?

A two-day Regional Consultation of South Asia Cooperatives was held on 14-15 December in Kathmandu, Nepal. Delegates discussed in earnest the issues relating to the Sustainable Development Goals, in association with the Alliance's Blueprint for a Co-operative Decade. Delegates focused particularly on five themes: Food Sovereignty, New Co-operative Approaches (Innovation), Co-operatives and the Transition of the Informal into the Formal Economy, Regional and Global engagement of Co-operatives, and Enabling Environments. Country presentations by six participating countries in the South Asia Region, namely Bangladesh, Bhutan, India, Maldives, Nepal, and Sri Lanka, were followed by group discussions. Read more

How to improve Value Chain through Fair Trade and Halal Certification?

The Malaysia Business Office of the Alliance for Asia and Pacific has organised a seminar in Kuala Lumpur to explore opportunities to improve value chain through Fair Trade and Halal Certification. The event was attended by 40 participants from 12 countries, namely China, India, Indonesia, Iran, Japan, Korea Mongolia, Nepal, Philippines, Sri Lanka, Singapore and Vietnam. The seminar included presentations from experts in the field, with co-operative practitioners sharing experience and field visits. Read more
| | |
| --- | --- |
| | |
How to implement real changes to build a climate smart future

The International Co-operative Agricultural Organization (ICAO) is excited to report that 2015 was one of our most successful years to date. 2015 was all about climate change and preparing for the UN COP21 conference during which the international future of climate change policy was determined. While climate change is a problem that affects all sectoral organisations, the agricultural sector is particularly burdened with challenges such as food security and climate smart farming. Therefore, 2016 will present the opportunity to implement real programmes and changes to build a climate smart future. Among these opportunities is that of the Food and Agriculture Organization International Year of Pulses. Read more
| | |
| --- | --- |
| | |
B20: China SME Task Force takes input on supporting SMEs including co-ops

By Alliance Director-General, Charles Gould

In Beijing this week for the 2016 kickoff of the B20, the business advisory group to the G20, which China hosts this year, the tenor is provided by the recent movements in the Chinese economy. Net capital outflows from China were almost USD 700 billion last year; another net USD 600 billion is projected to leave this year. En route from the airport to my hotel, the driver spoke the entire way of the Chinese stock market, which has been roiled by sharp declines in recent weeks. Read more
Theme announced for the International Day of Co-operatives

On 2 July co-operatives from across the world will be celebrating the International Day of Co-operatives. This year the day will seek to showcase the contribution of co-operatives to achieving the Sustainable Development Goals.

The theme – "Cooperatives: The power to act for a sustainable future", fits into the United Nations' 2030 Agenda for Sustainable Development adopted in September 2015. The slogan was chosen by the Committee for the Promotion and Advancement of Cooperatives (COPAC), which the Alliance currently chairs.

The 2016 theme also aligns with the slogan for the International Summit of Cooperatives – 'Co-operatives: The power to act', which will be held in Quebec on 11-13 October 2016.

Co-operatives can celebrate the IDC by educating their members about the Sustainable Development Goals and how the sector can achieve them. They can also set ambitious internal targets to contribute to the Sustainable Development Goals, and share their progress with the world. Hosting events celebrating the day and meeting with local and national government officials are other ways of highlighting the day.

More information about the Alliance's activities for the IDC will be available soon.
| | |
| --- | --- |
| | |
The Review of International Co-operation is back!

The Review of International Co-operation, the Alliance's official journal, has resumed publication under the auspices of the Committee on Co-operative Research (CCR).

The Review, first published as the International Co-operative Bulletin in 1907, went on hiatus following the publication of its 2007 centenary edition. Over the past year, the 2012, 2013 and 2014 editions of the Review were published in succession, and planning is under way for the 2015 and 2016 editions.

The three latest editions of the Review share a new design and a renewed mandate: to bridge the gap between co-operative researchers and the broader co-operative movement. Read more
Congressional Business Caucus launched in the USA

The US Congress will from now on have a bipartisan Cooperative Business caucus. The group was formed to promote the co-operative business model as a viable market solution and policy option and inform policymakers about the co-operative alternative.


The launch of the caucus coincided with the 100th anniversary of the National Cooperative Business Association, which will also serve as the group's external partner. Two Congress Representatives have so far joined the caucus. Read more
UK co-operatives support flood-affected communities

Co-operatives from across the UK have responded to floods affecting Northern England. The UK's largest mutual business, Co-operative Group has responded by setting up pop-up shops at flood-damaged stores and providing free deliveries of essentials.

At their pop-up shops in Mytholmroyd and Hebden Bridge, Co-operative employees delivered hundreds of parcels containing tea, coffee, toilet rolls, water and other essentials to residents, nursing homes and others. In Rochdale, the birthplace of the modern co-operative movement, one of the Co-operative's food stores was forced to close when power was cut off due to flooding. Read more



Co-operative Dairy Alliance expected to strengthen Canadian dairy sector

Two of Canada's leading dairy co-operatives have formed a Co-operative Dairy Alliance that could strengthen the country's sector. Amalgamated Dairies Limited (ADL) and Gay Lea Foods Co-operative Limited (Gay Lea Foods) will work co-operatively by sharing process excellence and collaborating on market distribution, delegate and leadership training, research and development and procurement.

Gay Lea Foods is the largest dairy co-operative in Ontario and focuses on butter, cultured products and whipped cream. ADL is a leader in cheese and condensed milk. Read more
UK's Co-operative College launches new membership offer

The Co-operative College in the UK has reformed its structure to become a member led organisation. For nearly 97 years the Co-operative College has been proud of its strong heritage and is building on that to create an exciting future.

"The College of the future will be shaped by members with an equal say on important matters, meaning it's democratic and inclusive. It will be ultimately accountable to members, ensuring their interests are always supported. As we're led by co-operative values and principles, all support will be reinvested in serving the co-operative community. We're excited about our future and we'd love you to be a part of it," said Simon Parkinson, principal and chief executive of the Co-operative College. Read more
Puerto Rico approves law to write off co-operative losses

The governor of Puerto Rico, Alejandro García Padilla, approved a law that sets out new accounting rules for credit and saving co-operatives. The US unincorporated territory finds itself in a severe fiscal crisis and a recession entering its 10th year. The new law aims to strengthen the co-operative financial sector, which was affected by the devaluation of their investments in government bonds.

"The Senate Law 1454 gives the co-operative sector a tool to face the bonds situation. It increases the security of our people's money, who are our members, through an adequate reserve to cope with the situation", William Ortiz Negrón, president of the board of directors of the Co-operative League told La Fortaleza. Read more
Worker, social and producers' co-operatives continue to contribute to the 2030 Agenda

In September 2015, at the United Nations Sustainable Development Summit, world leaders have adopted the 2030 Agenda aiming at achieving targeted Sustainable Development Goals over the next 15 years. To end poverty, promote sustained, inclusive and sustainable economic growth together with inclusive and sustainable industrialization and ensure sustainable consumption and production patterns are some of the goals. Employing 16 million people worldwide, worker, social and producers' cooperatives express their commitment to keep contributing to the goals and targets of the 2030 Agenda. Read more
Social agriculture: social co-operatives in Italy fostering territorial cohesion and development

Social innovation in Italy is making a difference, even in agriculture. Multiple experiences of social agriculture have "sprouted" around the country. Those initiatives closely connect agriculture with the local welfare, making it a tool for territorial cohesion and development. But what is "social agriculture "? According to Federsolidarietà, the largest social cooperative organization in Italy, social agriculture is the activity that connects agriculture together with therapies, social services, care and education. Read more
A new video about young co-operators in the world

Why and first and for most why are youth cooperating? CICOPA and its regional organization in Europe and Mercosur: CECOP-CICOPA Europe and CICOPA Mercosur have produced, with the support of Cooperar, the Cooperative Confederation of the Republic of Argentina, a video that gives the floor to young cooperators in 9 countries around the world. "Young people are the present and future leaders of our cooperative movement; moreover they also hold the tools to transform their reality in a better world. The worker and social cooperatives, as enterprises controlled democratically by their workers, are especially prepared to achieve this goal as they already promote equality, solidarity, social justice: they are present to help us through this change", has declared Manuel Mariscal, President of CICOPA. Read more
| | |
| --- | --- |
| | |
| | |
| --- | --- |
| | |
Co-operative schools: putting values into practice

Co-operative schools: putting values into practice analyses the ways in which co-operative schools have interpreted co-operative values. Watch on YouTube

Blank Space Milwaukee art co-op encourages artists to achieve their dreams

An urban art co-operative in Milwaukee offers studio space and classes to creatives beginning to invest in themselves. Watch on YouTube
You are receiving this email because you have subscribed to the Alliance's e-Digest.
To contribute with news, event or photos to the e-Digest please contact
the editorial team at edigest@ica.coop.
Copyright © 2005-2014 International Co-operative Alliance, Co-operative House, avenue Milcamps 105, 1030 Brussels, Belgium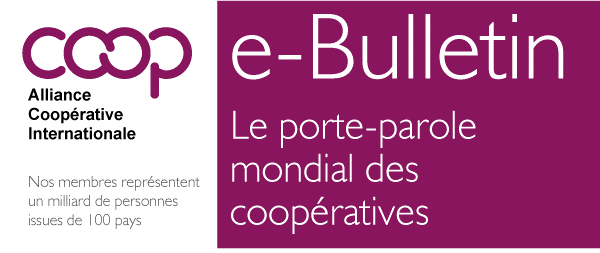 | | |
| --- | --- |
| | |
| | |
| --- | --- |
| | |
Chers amis coopérateurs,

Cette année a été une année particulièrement dynamique et fructueuse pour l'Alliance. L'Alliance a élu une nouvelle présidente, Mme Monique Leroux, nous avons publié une série de rapports majeurs, nous avons renforcé nos liens avec les Nations Unies, la FAO et l'OIT, et nous avons également consolidé notre position dans le cercle des décideurs mondiaux. Notre conférence mondiale, que d'aucuns qualifient de « la meilleure depuis des années », a vu participer 1 000 délégués venus de 79 pays. Vous trouverez ici les photos de cette semaine intense passée à se créer de nouveaux contacts, à rencontrer des amis ainsi que des partenaires commerciaux.

Cette année encore, nous avons publié des rapports innovants. Je pense notamment, et pour ne citer que ceux-là, aux Notes d'orientation pour les principes coopératifs, au Document de gouvernance, à l'Enquête sur le capital coopératif, et à l'Observatoire mondial des coopératives (World Co-operative Monitor). Partagez ces documents avec tout votre réseau !

La recherche coopérative est au cœur de ces rapports et c'est elle qui nous permet de faire valoir les coopératives au niveau mondial. Rencontrez les grands penseurs coopératifs et participez à la prochaine conférence sur la recherche coopérative qui aura lieu à Almeria, en Espagne.

En décembre, les coopérateurs ont participé à des ateliers et des conférences dans le cadre de la conférence de Paris sur le climat, la COP21. Il est à noter que, parmi les points de l'accord conclu à l'issue de la conférence, figurait la nécessité d'une transparence améliorée. Il s'agit là d'un appel auquel les coopérateurs peuvent répondre avec fierté et confiance, puisque l'ouverture et le souci de la communauté constituent le fondement même des coopératives. Lisez toutes les dernières informations sur www.ica.coop/climate.

L'année 2016 nous offrira également l'occasion de nous rencontrer lors du Sommet international des coopératives, qui célèbre cette année son troisième anniversaire. Au fil des ans, le Sommet a grandi pour devenir un évènement incontournable de la communauté coopérative. Découvrez ici le riche programme du Sommet de 2016.

On peut comparer l'avènement d'une nouvelle année à une page blanche, une page qu'il nous revient d'écrire. Le stylo est dans nos mains, et nous allons donc continuer à écrire l'incroyable histoire des coopératives.

À chacun d'entre vous, personnellement, je vous envoie mes meilleurs vœux pour une bonne et heureuse année.

Charles Gould

Directeur général

Alliance coopérative internationale
Chers coopérateurs,

En cette fin d'année 2015, nous arrivons à mi-chemin de la décennie des coopératives. Notre Plan d'action pour une décennie des coopératives, adopté par nos Membres à l'issue de l'Année internationale des coopératives des Nations Unies, met en avant notre stratégie visant à exploiter le contexte actuel, que nous jugeons favorable à la croissance des coopératives.

En 2015, le modèle coopératif a bénéficié d'une reconnaissance accrue. Nous avons maintenu et même approfondi notre engagement auprès des Nations Unies, de la FAO et de l'OIT. Par conséquent, lorsqu'elles ont adopté les Objectifs du Développement durable, les Nations Unies ont spécifiquement reconnu « le rôle du secteur privé, très diversifié, qui compte des micro-entreprises, des coopératives et des multinationales ».

Les coopératives ont également été actives lors du B20, le groupe consultatif d'affaires du G20. Seize représentants de l'Alliance ont participé aux discussions du B20 dans chacun des cinq groupes de réflexion sur la croissance, le commerce et les questions liées à l'infrastructure.

Notre Observatoire mondial des coopératives (World Co-operative Monitor), édition 2015, indique une croissance de 7 % parmi les 300 plus grandes coopératives, soit davantage que d'autres secteurs. Je vous encourage vivement à nous fournir vos données pour l'édition 2016 de l'Observatoire, afin de nous aider à faire valoir notre cause auprès des dirigeants.

Nous avons également assisté au lancement d'une campagne mondiale de marketing, qui a débuté dans quatre pays pilotes et qui, dès janvier, sera étendue à dix pays. Votre organisation coopérative est la bienvenue, si elle souhaite prendre part à cette campagne. Téléchargez les outils de la campagne et utilisez-les pour promouvoir les coopératives dans votre région.

En tant que présidente fraîchement élue à la tête de l'Alliance, permettez-moi de vous remercier, une fois encore, de m'offrir le privilège de servir ce formidable mouvement. L'Alliance a 120 ans d'histoire : 120 années consacrées à se soutenir les uns les autres, à soutenir les coopératives au travers de deux guerres mondiales, à reconstruire des mouvements dévastés par les conflits régionaux et les catastrophes naturelles, à diffuser un message qui a permis aux individus de bâtir leurs moyens de subsistance et leur communauté.

Je suis convaincue que nous entrons dans une ère dans laquelle les coopératives joueront un rôle encore plus grand. Elles contribueront à résoudre certaines des questions les plus pressantes au niveau mondial. Ce sont là véritablement des occasions pour les coopératives de grandir, et je sais que nous pouvons faire la différence si nous conjuguons nos efforts.

La récente campagne électorale a constitué une occasion de réfléchir ensemble à l'avenir de notre mouvement. L'année 2016 verra le temps de transformer ces idées en plan d'action et d'entamer la seconde moitié de la décennie des coopératives avec un enthousiasme renouvelé. J'ai hâte de rencontrer les régions, les secteurs, le Conseil d'administration de l'Alliance et son personnel afin de profiter de l'élan imprimé par la conférence mondiale.

Pour conclure, je souhaite vous remercier, vous les coopérateurs et les amis des coopératives, pour votre participation à ce mouvement et pour votre soutien sans faille.

Je vous adresse mes meilleurs vœux pour l'année nouvelle,

Monique Leroux

Présidente

Alliance coopérative internationale
| | |
| --- | --- |
| | |
| | |
| --- | --- |
| | |
| | |
| --- | --- |
| | |
L'Alliance accueille des nouveaux membres

Association nationale vietnamienne des entreprises coopératives industrielles, artisanales et commerciales (ViCCA) du Vietnam, en tant que Membre.

VICCA est une organisation nationale de coopératives et de petites entreprises active dans les secteurs de l'industrie, de l'artisanat, des consommateurs, de l'approvisionnement et du marketing et des services d'aide au quotidien. VICCA est une association indépendante créée et contrôlée par ses membres. Elle propose de nombreuses aides à ses membres, notamment sous la forme de formations, de promotion des entreprises, d'informations, de protection juridique et de consultance, de comptabilité et de services d'audit, etc.

Centre croate pour l'entrepreunariat coopératif (CCCE) de Croatie en tant que Membre associé.

La loi croate sur les coopératives a été amendée le 29 octobre 2014. Cet amendement a dissous l'Association croate des coopératives. Le Centre croate pour l'entrepreunariat coopératif a été créé par cette loi, comme successeur légal de l'Association croate des coopératives. Ce centre hérite des mêmes droits et obligations que l'Association croate des coopératives.

Le Centre croate pour l'entrepreunariat coopératif est une institution publique, contrôlée par le Conseil administratif, lui-même nommé par le gouvernement de la République de Croatie.

On dénombre 1 069 coopératives en Croatie.

Union nationale des coopératives de consommateurs (CENTROCOOP) de Roumanie, en tant que Membre.

En 2014, cette organisation a vu son affiliation interrompue en raison du non paiement de ses cotisations. Depuis lors, elle a payé ses dettes et son statut de Membre exécutif a donc été restauré. L'organisation s'était affiliée pour la première fois le 19 août 1895.

Dès lors, les nouvelles statistiques sur les membres indiquent :

290 organisations membres, dont 244 sont des Membres exécutifs et 46 des Membres associés, réparties dans 95 pays.
| | |
| --- | --- |
| | |
Actualités de la région des Amériques

L'Uruguay accueillera le 4e Sommet des coopératives des Amériques

C'est l'Uruguay qui accueillera le 4e Sommet des coopératives des Amériques. Le sommet aura lieu en décembre 2016 et rassemblera près de 800 coopérateurs issus de plus de 50 pays de la région des Amériques. Le Sommet est perçu comme un évènement d'importance nationale par le gouvernement uruguayen, qui soutiendra l'évènement. En savoir plus.

Nouvelles recherches sur l'impact économique des coopératives au Canada

De récentes recherches sur l'impact économique du secteur coopératif au Canada montrent que son activité contribue pour plus de 50 milliards $ à l'économie canadienne et emploie plus de 600 000 personnes. En savoir plus.

Nouvelle législation coopérative au Chili prête à entrer en vigueur

Le mois dernier, le sénat chilien a approuvé une nouvelle loi coopérative visant à moderniser le secteur. Le mouvement coopératif comprend 1 300 entreprises et 1,8 million de membres.Une fois promulguée par le président du pays, la loi apportera une série de changements pour les coopératives au niveau juridique. Parmi ceux-ci, l'obligation pour les conseils d'administration coopératifs de représenter proportionnellement l'ensemble de leurs affiliés afin de garantir un meilleur équilibre des genres au sein des conseils d'administration. Les coopératives auront trois ans pour intégrer cette modification à leurs règlements. En savoir plus.

La Coopérative nationale de police d'Equateur devient la première coopérative à recevoir l'homologation coopérative Green Office

La Coopérative nationale de police est devenue la première coopérative à recevoir l'homologation Green Office pour ses bureaux à Quito, en Équateur. Cette homologation indique qu'une entreprise s'attache pleinement à la durabilité environnementale, sociale et économique, a déclaré Manuel Mariño, le Directeur régional des Coopératives des Amériques. En savoir plus.

Près d'un million et demi de personnes sont membres d'une coopérative de consommation en Argentine

Le mouvement coopératif argentin des consommateurs a étoffé ses rangs et compte à présent un million et demi de membres. Les chiffres ont été confirmés par une étude menée par le département coopératif de l'Université nationale du Sud (Universidad Nacional del Sur), avec le soutien de la Fédération argentine des coopératives de consommateurs (FACC). En savoir plus.

Quatre coopératives nommées parmi les meilleures entreprises de Colombie

Quatre entreprises coopératives (Coosalud EPS, Aseguradora Solidaria, Financial Comultrasan et Copservir) ont été incluses dans un classement des meilleures entreprises de Colombie. Coosalud EPS occupe la première place, et Aseguradora Solidaria, la deuxième. Financial Comultrasan et Copservir sont également reprises dans le classement, respectivement aux 13e et 14e places. Le top 15 visait des entreprises qui comptent plus de 500 employés, dont la culture d'entreprise est fondée sur la confiance, et où les employés ont foi en leurs dirigeants et sont fiers de leur métier. En savoir plus.

Le mouvement coopératif représente 4 % du PIB du Panama

Selon le président de l'Assemblée nationale, Rubén de León Sánchez, au Panama, 124 personnes sur 1 000 sont membres de coopératives. M. Sánchez était l'un des orateurs principaux lors de la conférence latino-américaine sur la gouvernance coopérative, qui s'est déroulée le 4 décembre à Panama. Dans son discours, il a fait référence aux dernières statistiques publiées par le ministère des Finances et de l'Économie. Celles-ci indiquent que les coopératives contribuent à l'économie du pays à hauteur de 4 %. Le secteur emploie par ailleurs 12 % de la population économiquement active du pays. En savoir plus.
| | |
| --- | --- |
| | |
Actualités sectorielles: la pêche (decembre 2015)

Éducation et formation des représentants gouvernementaux du Myanmar

Depuis les temps immémoriaux, la pêche joue un rôle essentiel dans la survie de l'espèce humaine, en fournissant à l'homme les protéines animales nécessaires. Cependant, la pêche est aujourd'hui confrontée à une crise sans précédent, et ce dans le monde entier. Parmi les causes de cette crise, on retrouve la flambée des coûts opérationnels engendrée par des prix élevés du pétrole, une diminution considérable des ressources halieutiques, une pollution maritime grandissante et le changement climatique provoqué par l'industrialisation. Lire la suite

Réunions annuelles de 2015 de l'ICFO

Les réunions annuelles de 2015 de l'ICFO (Réunion des membres exécutifs et Réunion générale) se sont déroulées le 10 novembre à Antalya, en Turquie. Au total, 29 personnes issues de 11 pays ont participé aux réunions. La Réunion des membres exécutifs et la Réunion générale ont été combinées en une seule réunion puisque les ordres du jour étaient identiques. Les membres de l'ICFO ont unanimement approuvé la nomination de M. Kim Im-kweon comme successeur à M. Lee Jong-koo, dont la présidence s'est achevée en mars dernier. Lire la suite
| | |
| --- | --- |
| | |
Le Conseil de l'Union européenne adopte les conclusions sur la promotion de l'économie sociale

Cooperatives Europe salue les conclusions du Conseil de l'Union européenne relatives à la promotion de l'économie sociale. Le document, adopté par les ministres européens le 7 décembre, reconnaît le rôle des coopératives et d'autres entreprises sociales dans la réalisation des principaux objectifs européens.

Les conclusions soulignent la contribution des coopératives et des acteurs de l'économie sociale pour atteindre une croissance intelligente, durable et inclusive, des emplois de haute qualité, la cohésion sociale, l'innovation sociale, le développement local et régional et la protection environnementale. Le texte aborde également de nombreuses questions dans le rapport du groupe de travail coopératif « Promouvoir le potentiel des coopératives pour générer une croissance intelligente », publié par la Commission européenne en mars 2015, en particulier des questions liées à l'éducation et à l'accès à des financements. Lire la suite
La nouvelle organisation European Social Enterprise Law Association rassemble des experts juridiques de l'entrepreneuriat social et coopératif

European Social Enterprise Law Association (ESELA) a été inaugurée ce mois-ci à Madrid et rassemble des cabinets d'avocats, des experts juridiques et des universitaires spécialisés dans l'entrepreneuriat social, dont les coopératives. ESELA s'attellera à promouvoir une meilleure compréhension de la relation qui lie le droit et les entreprises sociales, afin de soutenir le développement et la croissance de l'entrepreneuriat social en Europe.

« ESELA est très intéressée par les coopératives en tant qu'agents de l'économie sociale et je suis certain que la plupart de nos cabinets d'avocats spécialisés compteront des coopératives parmi leurs clients et prodigueront des conseils en matière de droit coopératif. J'ose espérer que ESELA contribuera à renforcer les liens et les relations entre les coopératives et d'autres acteurs de l'économie sociale, notamment les nouveaux modèles émergents d'entreprises sociales », a déclaré Luke Fletcher, président d'ESELA. Lire la suite
Le Prix Nobel de la paix forgé à partir de l'or coopératif

C'est une coopérative colombienne qui a fourni l'or utilisé pour façonner le Prix Nobel de la paix de cette année. Lors de cette édition 2015, le Prix Nobel de la paix a été décerné au quartet tunisien pour le dialogue national, qui s'est vu remettre le prix pour son rôle dans la promotion de la démocratie en Tunisie à la suite au Printemps arabe. L'organisation a reçu, le 10 décembre dernier, une médaille d'or marquée de la tête d'Alfred Nobel lors d'une cérémonie à laquelle le roi Harald V de Norvège a assisté.

La médaille est composée d'or équitable certifié Fairmined, provenant de la coopérative colombienne Íquira. Íquira produit 8,5 kilos d'or et 19 kilos d'argent par an. En 2012, elle a entamé une collaboration avec l'Alliance pour une exploitation minière responsable (ARM) afin d'obtenir l'homologation Fairminded. Ce label prouve que les exploiteurs de mines répondent à des critères stricts en matière de pratiques responsables. Lire la suite
Nouvel accord transatlantique entre les coopératives de travail françaises et canadiennes

Les coopératives de travail françaises et canadiennes ont conclu un accord visant à partager leurs bonnes pratiques. La Fédération canadienne des coopératives de travail et la Confédération générale des sociétés coopératives et participatives de France (CGSCOP) sont les deux plus grandes fédérations de coopératives dans leur pays respectif. Cette nouvelle collaboration leur permettra d'échanger leurs savoirs et leur expertise.

« Nous avons déjà prouvé à maintes reprises que l'économie sociale et solidaire est une solution fiable et durable face à l'insécurité financière. Maintenant, il ne nous reste qu'à démontrer concrètement à la population et aux salariés que les Scop sont le modèle d'entreprise du futur », ont commenté Alain Bridault, président de la FCCT, et Patrick Lenancker, président de la CGSCOP. « Grâce à la mutualisation de notre expertise, nous parviendrons à sauver des milliers d'emplois dans les années à venir », ont-ils ajouté. Lire la suite
Comment les coopératives peuvent contribuer à éliminer les violences à l'égard des femmes

Le 25 novembre célébrait la journée internationale pour l'élimination de la violence à l'égard des femmes. Afin de marquer l'évènement, Xiomara Núñez de Céspedes, la présidente du Comité sur l'égalité des genres des Coopératives des Amériques, a lancé un message évoquant le rôle que les coopératives peuvent jouer pour contribuer à éliminer les violences à l'égard des femmes. Les statistiques indiquent qu'une femme sur trois est victime de violences à un moment de sa vie.

« Notre but devrait être de nous concentrer sur la réduction des inégalités et de la pauvreté dans les secteurs les plus marginalisés de nos pays, de promouvoir une éducation systémique qui soit axée sur l'humain, de mener les actions nécessaires pour parvenir à un équilibre des pouvoirs et auquel tous les êtres humains participent, quels que soient leur genre, leur race ou leur obédience religieuse. Lire la suite. Le texte intégral est disponible sur le site web des Coopératives des Amériques (en espagnol).
Les coopératives de l'IFFCO ont fait parvenir de l'aide aux zones inondées en Inde

Suite aux pluies diluviennes qui ont arrosé le sud du pays, la coopérative indienne Indian Farmers Fertilizer Cooperative (IFFCO) a fait parvenir de l'aide aux zones inondées dans l'État du Tamil Nadu.

Les États du Tamil Nadu et d'Andhra Pradesh ont été particulièrement touchés. Environ 300 personnes sont décédées à la suite des inondations et on compte 1,8 million de déplacés. Les inondations ont également généré des retards et des annulations dans le trafic aérien, routier et ferroviaire. Trois millions de personnes ont été privées des services primaires et beaucoup restent coincées dans des zones inondées d'Inde. Lire la suite
Auckland: L'Université d'Auckland mène une étude sur l'innovation au sein des coopératives néo-zélandaises

Une équipe de chercheurs de l'Université d'Auckland, en Nouvelle-Zélande, mène une étude sur l'innovation au sein des coopératives kiwis. Le pays abrite 149 coopératives officielles, qui jouent un rôle important dans l'économie. L'étude est financée par le Fonds IceHouse/Business School de l'Université d'Auckland et se penchera sur la manière dont les coopératives néo-zélandaises opèrent et contribuent à améliorer la compétitivité de leurs membres.

« Plusieurs coopératives renommées de Nouvelle-Zélande, comme Zespri (les kiwis) et Foodstuffs (épiceries), montrent que, grâce à des stratégies axées sur des produits ou des services à valeur ajoutée, à l'innovation, et à l'échange de connaissances, elles peuvent rivaliser avec les grandes organisations et les multinationales du secteur privé. Il existe toutefois de nombreuses idées reçues sur leur niveau d'innovation et leur esprit d'entreprise. Nous souhaitons mieux comprendre les mécanismes qui peuvent rendre les coopératives plus concurrentielles », déclare le Dr Frank Siedlok, l'un des universitaires en charge du projet. Lire la suite
Les coopératives des États-Unis œuvrent à soutenir les agriculteurs au Mozambique

L'Association nationale des entreprises coopératives (NCBA CLUSA) a développé des foires aux semences sur les marchés locaux afin d'aider les agriculteurs du Mozambique à accéder à de meilleures semences et de meilleurs engrais.Le projet SEEDS, financé par l'Agence des États-Unis pour le développement international, lève des investissements du secteur privé auprès de deux entreprises de semences afin d'ouvrir l'accès à des semences de qualité certifiée à 10 000 petits producteurs du nord du Mozambique.

En moyenne, à peine 10 % des 90 000 tonnes de semences plantées au Mozambique chaque année sont homologuées. Les 90 % restants sont des graines gardées par les agriculteurs d'une année à l'autre. Autre défi pour les agriculteurs du pays : la nécessité de se déplacer d'en moyenne 50 km pour atteindre le revendeur de semences le plus proche. Il arrive fréquemment que le temps d'arriver chez le revendeur, celui-ci soit à court de marchandises. Les semences qu'ils achètent sont parfois vieilles, peu fécondes ou non certifiées. Lire la suite
La conférence de recherche de la région Asie-Pacifique se penche sur la gouvernance et la participation coopérative

Cinquante-quatre délégués d'Australie, de Corée, d'Inde, de Malaisie et des Philippines ont participé à la 10e Conférence régionale sur la recherche coopérative de la région Asie-Pacifique. La conférence s'est déroulée à Pune, en Inde, les 5 et 6 novembre.

La conférence s'est intéressée à la gouvernance des coopératives et une trentaine de chercheurs de toute la région y ont fait des présentations. Ils ont examiné une série de questions liées à la gouvernance, notamment le rôle du conseil d'administration et de la direction, le leadership coopératif et l'environnement juridique. Les documents de recherche présentés lors de la conférence seront examinés et certains seront inclus dans un livre qui sera publié sous peu. Lire la suite



| | |
| --- | --- |
| | |
| | |
| --- | --- |
| | |
Mme Leroux présente la programmation du Sommet International des Coopératives de 2016

"Le pouvoir d'Agir des Coopératives" sera le thème du Sommet International des Coopératives de 2016. Le Sommet se tiendra du 11 au 13 octobre 2016. Mme Leroux, fondatrice et présidente du Sommet, en présente aujourd'hui la programmation - Regarder

Contributions des coopératives à la lutte contre le changement climatique

"Contributions des coopératives à la lutte contre le changement climatique" organisé par Coop de France, au Studio TV de La Galerie by World Efficiency le 4 décembre 2015 - Regarder

Projet financé par le compte Agir : le CAUE du Gard

Le Conseil d'Architecture, d'Urbanisme et de l'Environnement accompagne les particuliers et les collectivités dans leur projet d'aménagement, en faveur des économies d'énergie - Regarder
Vous avez reçu cet e-mail parce que vous vous êtes abonné(e) à l'e-Bulletin de l'Alliance. Pour contribuer au bulletin de l'Alliance avec une nouvelle, un évenement ou une photo, veuillez contacter l'équipe de rédaction: edigest@ica.coop
Copyright © 2005-2015 Alliance Coopérative Internationale, Co-operative House,
Avenue Milcamps 105, 1030 Bruxelles, Belgique
| | |
| --- | --- |
| | |
| | |
| --- | --- |
| | |
Dear Fellow Co-operators,

This year has been a very dynamic and fruitful time for the Alliance. The Alliance has elected its new president, Ms Monique Leroux; we have published a series of seminal reports; we have strengthened ties with the United Nations, the FAO and the ILO, and haveconsolidated our position in global decision making fora. Our global conference, referred to by some as "the best in years", saw 1,000 delegates from 79 countries. Find the pictures of this intense week of networking, meeting friends and business partners here.

This year again, we have released groundbreaking reports. I am thinking of the Guidance notes for the Co-operative Principles, The Governance Paper, the Survey of Co-operative Capital, and the World Co-operative Monitor, just to name a few. Please tell your network about them!

Co-operative Research is at the basis of those reports, and ultimately allows us to make our case for a level playing field for co-operatives around the world. Meet up with leading thinkers on co-ops, attend the next international co-operative research conference, taking place in Almeria, Spain.

In December, co-operators engaged in workshops and conferences at the COP21 climate change conference in Paris. Improved transparency is one of the items in the closing agreement - it is a call that we co-operators can answer with pride and confidence, as openness and concern of community are what co-ops are built on. Find all the news at www.ica.coop/climate.

2016 Will again provide the occasion to meet, at the International Summit of Co-operatives, which this year is to celebrate its third anniversary. The Summit has grown year over year, to become a key rendez-vous for the co-operative community. Explore the 2016 Summit's rich programme here.

A new year is like a blank page, and the pen is in our hands. Let's continue to write the compelling story of co-operatives!

To each of you personally, I extend my very best wishes for a happy new year,

Charles Gould

Director-General

International Co-operative Alliance
Dear Co-operators,

With the close of 2015, we reach the mid-point the 'co-operative decade'. Our Blueprint for a Cooperative Decade, adopted by our members at the close of the United Nations International Year of Co-operatives, sets forth our strategy to leverage the conditions that we believe are ripe for co-operative growth.

We saw progress in achieving recognition of the co-operative model in 2015. We maintained and expanded our engagement with the United Nations, FAO and ILO. As a result, the UN, in adopting the Sustainable Development Goals, specifically acknowledged 'the role of the diverse private sector, from micro-enterprises to co-operatives to multinationals'.

Cooperatives actively participated to the B20, the business advisory group to the G20.Sixteen Alliance representatives took on B20 discussions on each of the five task forces on growth, trade, and infrastructure issues.

Our 2015 World Co-operative Monitor shows 7% growth among the 300 largest co-operatives, greater than other business sectors. I strongly encourage you to provide your co-operative data for the 2016 Monitor, and help us make the case for policymakers' support.

We also saw the launch of a global marketing campaign, beginning with four pilot countries and preparing to expand to ten in January. Your co-operative organisation is welcome to participate in this campaign. Download the campaign tools, and put them to work to market co-operatives in your region.

As the newly elected Alliance President, let me thank you, once again, for giving me the privilege of serving this great movement. The Alliance has 120 years of history - 120 years of supporting one another, of sustaining co-operatives through two world wars, of rebuilding movements devastated by regional conflicts and natural disasters, of spreading a message that has allowed individuals to build livelihoods and community.

I believe we are entering an era where co-operatives will play an even greater role. That cooperatives will contribute to solving some of the world's most pressing issues. There are opportunities for co-operatives to grow and I know that together, we can make a difference.

The recent election campaign has been an opportunity to collectively reflect about the future of our movement. 2016 will be the time to put those ideas into an action plan and enter the second half of the 'co-operative decade' with renewed enthusiasm. I look forward to meeting with the regions, the sectors, the Alliance Board and staff to build on the momentum of the last global conference.

In closing, let me thank you, Co-operators and Co-operative enthusiasts, for being part of this great movement, and for your everlasting support. The

Wishing you all the best the New Year can offer,

Monique Leroux

President

International Co-operative Alliance
| | |
| --- | --- |
| | |
| | |
| --- | --- |
| | |
| | |
| --- | --- |
| | |
The Alliance welcomes new members

Vietnam National Industrial, Handicraft and Commercial Coop-Enterprises Association (ViCCA) from Vietnam as a Member.

VICCA is a national organisation of co-operatives and small enterprises in the sectors of industry, handicraft, consumers, supply and marketing and life services. VICCA is an independent association set up and controlled by its members. They supply a full range of support to members including training, business promotion, information, legal protection and consultancy, accounting and auditing services, etc.

Croatian Centre for Cooperative Entrepreneurship (CCCE) from Croatia as an Associate Member.

The Cooperatives Act of Croatia was amended on 29 October 2014. This amendment dissolved the Croatian Association of Co-operatives. The act established the Croatian Centre for Cooperative Entrepreneurship as the legal successor of Croatian Association of Cooperatives and it will take over all the rights and obligations of Croatian Association of Cooperatives.

The Croatian center for co-operative entrepreneurship is a public institution controlled by the Administrative Council appointed by the Government of Republic of Croatia.

There are 1,069 co-operatives in Croatia.

National Union of Consumer Co-operatives (CENTROCOOP) from Romania as a Member.

This organisation was put into cessation of membership in 2014 due to non-payment. They have paid their outstanding amount due and thus have been reinstated as a full Member. Their first affiliation as a member was 19 August 1895.

The new membership statistics are therefore:

290 member organisations of which 244 are full members and 46 are Associate Members from 95 countries.
| | |
| --- | --- |
| | |
News from regions: Americas

Uruguay will host the 4th Co-operative Summit of the Americas

Uruguay will be the host country of the 4th Co-operative Summit of the Americas. The event will take place in December 2016 and will bring together around 800 co-operators from more than 50 countries in the Americas region. The summit is regarded as an event of national importance by the Uruguayan government who will support the event. Read more

New Research on Co-op Economic Impacts in Canada

Recent research on the economic impact of the co-operative sector in Canada shows that its activity contributes over $50 Billion dollars to the Canadian economy and supports over 600,000 jobs. Read more

New co-operative law in Chile is ready to be enacted

Last month the Chilean senate approved a new co-operative law designed to modernise the sector. The Chilean co-operative movement includes 1,300 enterprises with 1.8 members. Read more

National Police Co-operative of Ecuador becomes the first co-operative to receive the Green Office Co-operative certification

The National Police Cooperative (CPN) has become the first co-operative to receive the Green Office certification for its premises in Quito, Ecuador. The certification shows that the enterprise is fully committed to environmental, social and economic sustainability, said Manuel Mariño, Regional Director of Cooperatives of the Americas. Read more

Almost one million and a half people are members of a consumer co-operative in Argentina

The Argentinian consumer co-operative movement has grown to include one and a half million members. The figures were confirmed by a research study conducted by the co-operative department of the National University of South (Universidad Nacional del Sur) with support from the Argentinian Consumer Co-operative Federation (FACC). Read more

Four co-operatives named among the best enterprises of Colombia

Four co-operative enterprises, Coosalud EPS, Aseguradora Solidaria, Financial Comultrasan and Copservir, have been included in a list of the best companies in Columbia. Coosalud EPS occupied the first position, with Aseguradora Solidaria coming second. Also included in the list were Financial Comultrasan (13th) and Copservir (14th). Read more

The co-operative movement contributes 4% to Panama's GDP

In Panama 124 people of every 1,000 are members of co-operatives, according to the president of the National Assembly, Rubén De León Sánchez. Mr Sánchez was a keynote speaker at the Latin-American Conference on Co-operative Governance, which took place on 4 December in Panama. Read more
| | |
| --- | --- |
| | |
News from sectors: fisheries

Education and Training for government officials from Myanmar

Since ancient times, the fisheries have played a crucial role in sustaining human life by providing animal protein. But the world's fisheries are facing an unprecedented crisis caused by skyrocketing operating costs due to high oil prices, dramatic decreases in fishery resources, increasing maritime pollution and global warming due to industrialisation.

2015 ICFO Annual Meetings

2015 ICFO annual meetings (Executive Members Meeting and General Meeting)

were held on 10 November in Antalya, Turkey. A total of 29 persons from 11 countries were present at the meetings. The Executive Members Meeting and General Meeting were combined as one meeting because the agendas of two meeting are identical. The ICFO members unanimously approved of Mr. Kim Im-kweon succeeding to the chairmanship as Mr. Lee Jong-koo's presidency expired last March. Read more
| | |
| --- | --- |
| | |
EU Council adopts conclusions on the promotion of social economy

Cooperative Europe welcomes the European Council's conclusions on the promotion of social economy. The document, which was adopted by European Ministers on 7 December, recognises the role of co-operatives and other social enterprises to achieving key EU objectives.

The conclusions highlight the contribution of co-operatives and social economy actors in attaining smart, sustainable and inclusive growth, high-quality employment, social cohesion, social innovation, local and regional development and environmental protection. Read more
Nobel Peace Prize made from co-op gold

A Colombian co-operative provided the gold for this year's Nobel Peace Prize. The winner of the 2015 Nobel Peace Prize was the Tunisian National Dialogue Quartet, which received the award for promoting peace in Tunisia in the wake of the Arab Spring. The organisation received the gold medal featuring the head of Alfred Nobel on 10 December during a ceremony attended by King Harald V of Norway.

The medal is made out of Fairmined-certified gold from the Íquira Cooperative in Colombia. Íquira produces 8.5 kilos of gold and 19 kilos of silver a year. In 2012 it started collaborating with the Alliance for Responsible Mining in order to obtain the Fairmined certification. This shows that miners meet strict requirements for responsible practices. Íquira is owned by over 30 members who own the land they mine, and also grow coffee, yucca, maize and other crops. Read more
New European Social Enterprise Law Association brings together social enterprise and co-operative legal experts

The European Social Enterprise Law Association (ESELA) was launched this month in Madrid, bringing together law firms, legal experts and academics specialising in social enterprises, including co-operatives.

ESELA will work to promote a better understanding of the relationship between law and social enterprise, with a view to supporting the development and growth of social enterprise across Europe.

"ESELA is very much interested in co-operatives as part of the social economy and I am sure that most of our specialist law firms will have a number of co-operatives as clients and will be advising on co-operative law. I would hope that ESELA would help strengthen the links and relationships between co-operatives and other parts of the social economy, including new and emerging models of social enterprise," said Luke Fletcher, the chair of ESELA. Read more
How co-operatives can help in the elimination of violence against women

25 November marked the International Day for the Elimination of Violence against Women. To highlight the day, the president of the Gender Equality Committee of Co-operatives of the Americas, Xiomara Núñez de Céspedes sent out a message about the role of co-operatives in eliminating the violence against women.

Statistics reveal that one in three women experience violence at some point in their lives.

"Our aim should be to focus on reducing inequality and poverty in the most dispossessed sectors of our countries, promoting a systemic education that places people first, leading initiatives required to achieve a balance of power and in which all human beings participate, no matter their gender, race or religious affiliation. Read more
New transatlantic agreement between French and Canadian worker co-operatives

Canadian and French worker co-operatives have signed an agreement to exchange best practices. The Canadian Federation of Worker Co-operatives and the Confederation of co-operative and participatory societies of France (CGSCOP) are the two biggest co-operative federations in their countries. The new collaboration will enable them to share knowledge and expertise.

"We have already proved many times that the social and solidarity economy is a viable and sustainable solution to financial insecurity. Now we only need to prove to the people and workers that worker co-operatives are the enterprise model of the future," commented Alain Bridault, president of FCCT and Patrick Lenancker, president of CGSCOP. "By sharing expertise we will be able to save thousands of jobs in the following years," they added. Read more
IFFCO co-operative provided relief materials to flooded areas in India

Responding to heavy rainfall in the South of the country, the Indian Farmers Fertiliser Cooperative (IFFCO) provided relief material to flooded areas in Tamil Nadu.

States of Tamil Nadu and Andhra Pradesh particularly affected. Around 300 people have died as a result of the flooding while 1.8m have been displaced. Floods have also caused delays and cancellations to air, road and rail services. Three million people have been cut off from basic services while many continue to be trapped in flooded parts of India. Read more
Auckland University is conducting a research study into the innovation of Kiwi co-operatives

A team of researchers from Auckland University in New Zealand is undertaking a study into the innovation of Kiwi co-operatives. The country is home to 149 registered co-operatives, which play an important role in the economy.

The survey is funded by the IceHouse/University of Auckland Business School research Fund and will look at how contemporary Kiwi co-operatives operate and help improve their members' competitiveness. Read more
Asia-Pacific research conference looks at co-operative governance and participation

Fifty-four delegates from Australia, India, Korea, Malaysia and the Philippines attended the 10th Regional Cooperative Research Conference of the Asia Pacific region. The event took place in Pune, India on 5-6 November.

The conference looked at the governance of co-operatives and features 30 presentations from researchers from across the region. They looked at a variety of governance related issues, including the role of the board and the executive, co-operative leadership and the legal environment. The research papers presented at the conference will be reviewed and some will be included in a book that will be published in the near future. Read more
USA co-operatives working to support farmers in Mozambique

The National Cooperative Business Association (NCBA CLUSA) has developed local market seed fairs to help farmers in Mozambique gain access to improved seeds and fertilisers.

The SEEDS project, funded by the United States Agency for International Development, raises private sector investments from two commercial seed companies to provide expanded access to quality certified seeds for 10,000 smallholder farmers in Northern Mozambique. Read more
| | |
| --- | --- |
| | |
| | |
| --- | --- |
| | |
Monique F. Leroux presents the 2016 Summit programme

Monique F. Leroux, president of the International Co-operative Alliance presenting the programme of the 2016 edition of the International Summit of Co-operatives. Watch on Youtube

Promoting the inclusion of more women members in farmers' co-operatives

In 2014, USAID, through its Agribusiness Market Development activity, sponsored a competition to promote women membership that included 42 farmer co-operative unions and almost 1,700 co-operatives in four regions. As a result, 5,400 new women members joined the co-operatives. Watch on Youtube
You are receiving this email because you have subscribed to the Alliance's e-Digest.
To contribute with news, event or photos to the e-Digest please contact
the editorial team at edigest@ica.coop.
Copyright © 2005-2014 International Co-operative Alliance, Co-operative House, avenue Milcamps 105, 1030 Brussels, Belgium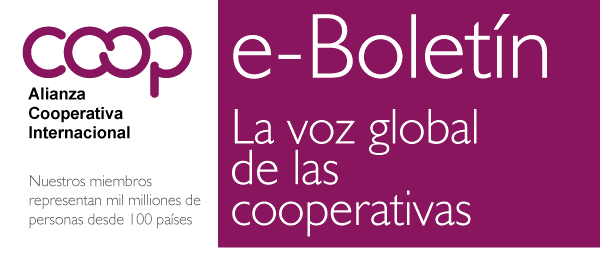 | | |
| --- | --- |
| | |
| | |
| --- | --- |
| | |
Estimados compañeros cooperadores,

Este año ha sido muy dinámico y fructífero para la Alianza, ya que ha elegido a su nueva presidenta, Monique Leroux, ha publicado diversos informes fundamentales; ha fortalecido sus relaciones con las Naciones Unidas, la FAO y la OIT; y ha consolidado su posición en el panorama mundial de toma de decisiones. A nuestra conferencia mundial, que algunos calificaron como «la mejor en años», asistieron 1000 delegados de 79 países. Para ver las fotografías de esta intensa semana de colaboraciones y encuentros con amigos y socios comerciales pulse aquí.

Una vez más, este año hemos elaborado informes innovadores. Me refiero a las Notas de orientación para los principios cooperativos, el informe "La gobernanza cooperativa apta para construir resiliencia frente a la complejidad", la Encuesta sobre el capital cooperativo y el Monitor cooperativo mundial, solo por nombrar algunos. ¡Informe a su red!

La Investigación Cooperativa constituye la base de dichos informes y nos permite, en última instancia, elaborar nuestro planteamiento para la adopción de un entorno en igualdad de condiciones para las cooperativas de todo el mundo. Reúnase con los principales pensadores de las cooperativas y asista a la próxima conferencia internacional de investigación de cooperativas, que tendrá lugar en Almería, España.

En diciembre, los cooperadores participaron en talleres y conferencias en la cumbre sobre el cambio climático COP21 de París. La transparencia mejorada es uno de los elementos en el acuerdo de cierre: es un llamamiento al que nosotros, los cooperadores, podemos responder con orgullo y seguridad, ya que la transparencia y la preocupación comunitaria son la base de las cooperativas. Encuentra todas las noticias en www.ica.coop/climate.

El año 2016 nos brindará de nuevo la ocasión de encontrarnos en la Cumbre Internacional de Cooperativas, que este año celebra su tercer aniversario, y que ha crecido año tras año hasta convertirse en una cita indispensable para la comunidad cooperativa. Explora el amplio programa de la Cumbre de 2016 aquí.

Un año nuevo es como una página en blanco y el bolígrafo está en nuestras manos. ¡Continuemos escribiendo la emocionante historia de las cooperativas!

Les deseo a cada uno de ustedes personalmente mis mejores deseos para un próspero año nuevo.

Charles Gould
Director general
Alianza Cooperativa Internacional
Estimados cooperadores,

Con el cierre del año 2015 alcanzamos el punto medio de la «década cooperativa». Nuestro Plan de Acción para una Década Cooperativa, adoptado por nuestros miembros al término del Año Internacional de las Cooperativas proclamado por las Naciones Unidas, establece nuestra estrategia para fomentar las condiciones que creemos apropiadas para el crecimiento cooperativo.

Hemos visto progresos en la consecución de reconocimiento del modelo cooperativo a lo largo de 2015. Hemos mantenido y ampliado nuestros compromisos con las Naciones Unidas, la FAO y la OIT. De hecho, las Naciones Unidas, al adoptar los Objetivos de Desarrollo Sostenible, reconocieron de forma específica «el papel de un sector privado más diversificado, desde microempresas a cooperativas o multinacionales».

Las cooperativas participaron activamente en el B20, el grupo de asesoramiento empresarial del G20. Dieciséis representantes de la Alianza participaron en debates del B20 en cada uno de los cinco equipos de trabajo en materia de crecimiento, comercio e infraestructuras.

En nuestro Monitor cooperativo mundial de 2015, se muestra un crecimiento del 7 % entre las 300 cooperativas más grandes, mayor que el de otros sectores empresariales. Por ello, les animo encarecidamente a que aporten información sobre su cooperativa para el Monitor de 2016, y que nos ayuden así a lograr el apoyo de los responsables políticos.

También hemos visto el lanzamiento de una campaña mundial de marketing, que comenzó en cuatro países pilotos y que se espera que se extienda a diez en enero. Le invitamos a su organización cooperativa a participar en ella. Descargue las herramientas de la campaña y póngalas en práctica para promocionar las cooperativas en su región.

Como recién elegida presidenta de la Alianza, permítanme agradecerles de nuevo que me hayan brindado el privilegio de servir a este gran movimiento. La Alianza cuenta con 120 años de historia: 120 años apoyándonos los unos a los otros, respaldando a las cooperativas a través de dos guerras mundiales, reconstruyendo movimientos devastados por conflictos regionales y desastres naturales, difundiendo un mensaje que ha permitido a los individuos construir los medios de vida y las comunidades.

Creo que estamos entrando en una era en la que las cooperativas jugarán un papel aún mayor, en la que las cooperativas contribuirán a solucionar algunos de los problemas más urgentes del mundo. Las cooperativas tienen la oportunidad de crecer y sé que juntos podemos marcar la diferencia.

La reciente campaña electoral ha sido una oportunidad para reflexionar colectivamente acerca del futuro de nuestro movimiento. El año 2016 será el momento para poner en práctica esas ideas y entrar en la segunda mitad de la «década cooperativa» con un entusiasmo renovado. Estoy deseando reunirme con las regiones, los sectores, el Comité de la Alianza y el personal para aprovechar el impulso de la última conferencia mundial.

Por último, permítanme expresarles a los cooperadores y a los entusiastas de las cooperativas mi agradecimiento por formar parte de este gran movimiento y por su eterno apoyo.

Les deseo todo lo mejor para este año nuevo.

Monique Leroux

Presidenta

Alianza Cooperativa Internacional
| | |
| --- | --- |
| | |
| | |
| --- | --- |
| | |
| | |
| --- | --- |
| | |
La Alianza da la bienvenida a nuevos miembros

Asociación Nacional para la Cooperación entre Empresas Industriales, Artesanales y Comerciales de Vietnam (VICCA, sus siglas en inglés), de Vietnam como miembro.

VICCA es una organización nacional de cooperativas y pequeñas empresas en los sectores de la industria, la artesanía, el consumo, el suministro, los servicios de marketing y los relacionados con la vida humana. VICCA es una asociación independiente, creada y controlada por sus miembros. Proporciona una completa gama de servicios de apoyo a los miembros, entre los que se incluyen formación, promoción empresarial, información, protección legal y asesoría, contabilidad y auditoría, etc.

Centro Croata para el Emprendimiento Cooperativo (CCCE, sus siglas en inglés), de Croacia como miembro asociado.

La Ley de Cooperativas de Croacia fue modificada el 29 de octubre de 2014. Esta modificación disolvió la Asociación Croata de Cooperativas. Mediante esta Ley se estableció el Centro Croata para el Emprendimiento de Cooperativas como el sucesor legal de la Asociación Croata de Cooperativas, el cual se tenía que hacer cargo de todos los derechos y obligaciones de la anterior asociación.

El Centro Croata para el Emprendimiento de Cooperativas es una institución pública controlada por el Gobierno de la República de Croacia.

Hay 1069 cooperativas en Croacia.

Unión Nacional de Cooperativas de Consumidores (CENTROCOOP), de Rumanía como miembro.

Esta organización cesó como miembro en 2014 debido a impagos. Tras haber pagado el importe que tenía pendiente ha sido reincorporada como miembro de pleno derecho. Su primera afiliación como miembro fue el 19 de agosto de 1895.

Por lo tanto, los nuevos datos estadísticos de los miembros son:

290 organizaciones miembros, de las cuales 244 son miembros de pleno derecho y 46 miembros asociados de 95 países.
| | |
| --- | --- |
| | |
Noticias de la region de las Américas

Uruguay será la sede de la IV Cumbre Cooperativa de las Américas

En Montevideo se realizó el acto de lanzamiento oficial de una nueva edición del mayor evento cooperativo regional que tendrá lugar en dicha ciudad en noviembre 2016. La actividad, realizada el 11 de diciembre pasado, contó con la presencia de representantes de CUDECOOP, INACOOP, Cooperativas de las Américas y autoridades gubernamentales. Leer más

Cooperativa de Policía Nacional de Ecuador es la primera empresa certificada como Oficina Cooperativa Verde

La empresa cooperativa empieza a cosechar importantes ahorros en recursos económicos y factores naturales, al mismo tiempo que cultiva la cultura de eco-eficiencia en el personal de la empresa.

La Cooperativa de Policía Nacional (CPN) se constituye en la primera empresa cooperativa en recibir la certificación como Oficina Cooperativa Verde para su sede matriz en la ciudad de Quito, Ecuador. Leer más

Nueva Ley de Cooperativas en Chile lista para ser promulgada

Por unanimidad, la Sala del Senado aprobó este miércoles 11 de noviembre el proyecto de ley de cooperativas por lo que queda listo para convertirse en ley y ser promulgado. La Subsecretaria de Economía, Katia Trusich manifestó que era un día histórico para el cooperativismo de su país. Leer más

Casi 1 millón y medio de argentinos están asociados a una cooperativa de consumo

El dato surgió como resultado de una investigación sobre el cooperativismo de consumo en Argentina realizado por el Gabinete Cooperativo (GIDECOOP) de la Universidad Nacional del Sur con la colaboración de la Federación Argentina de Cooperativas de Consumo (FACC). Leer más

Cuatro cooperativas entre las 15 mejores empresas para trabajar en Colombia

Coosalud EPS, Aseguradora Solidaria, Financiera Coomultrasan y Copservir, todas entidades cooperativas, ocuparon en su orden el primer, segundo, decimotercero y decimocuarto lugar como las empresas con más de 500 empleados cuya cultura de trabajo es basada en la confianza, donde los empleados creen en sus líderes y se sienten orgullosos de lo que hacen. Leer más

El cooperativismo de Panamá es responsable del 4% del PIB e involucra a más del 12% de la PEA

En Panamá de cada mil miembros de la población económicamente activa, 124 son cooperativistas aseguró el presidente de la Asamblea Nacional, Rubén De León Sánchez, en el marco de una Conferencia Latinoamericana sobre Gobernanza Cooperativa que finalizó este viernes 4 de diciembre. Leer más

Nueva investigación sobre el impacto económico de las cooperativas en Canadá

Una investigación reciente sobre el impacto económico del sector cooperativo de Canadá muestra que su actividad contribuye más de CAD $50 mil millones a la economía del país y apoya más de 600.000 empleos. Leer más



| | |
| --- | --- |
| | |
Noticias de los sectores: el sector pesquero

Educación y formación para las autoridades del gobierno de Myanmar

Desde la antigüedad, el sector pesquero ha jugado un papel crucial en el mantenimiento de la vida humana al proporcionar proteínas animales. Sin embargo, el sector pesquero mundial se enfrenta a una crisis sin precedentes al haber aumentado vertiginosamente los costes de funcionamiento debido a los altos precios del petróleo, a la disminución drástica de los recursos pesqueros, a la creciente contaminación marítima y al calentamiento global por causa de la industrialización. Leer más

Asambleas anuales de la Organización Internacional de Cooperativas Pesqueras (IFCO) de 2015

Las asambleas anuales de la ICFO de 2015 (la Asamblea Ejecutiva de Miembros y la Asamblea General) tuvieron lugar el 10 de noviembre en Antalya, Turquía. Un total de 29 personas de 11 países estuvieron presentes en las asambleas.

La Asamblea Ejecutiva de Miembros y la Asamblea General se unificaron en una sola, ya que las agendas de ambas eran idénticas. Leer más
| | |
| --- | --- |
| | |
¿Cómo están las cooperativas ayudando en la eliminación de violencia contra las mujeres?

El 25 de noviembre ha marcado el Día Internacional de la Eliminación de la Violencia entre las Mujeres. Para marcar el día, la presidente del Comité de Igualdad de Género de Cooperativas de las Américas, Xiomara Núñez de Céspedes ha enviado un mensaje sobre el papel de las cooperativas en la eliminación de la violencia contra las mujeres.

Las cifras muestran que una de cada tres mujeres ha sufrido por violencia en algún momento en sus vidas. "Nuestro objetivo se debe centrar en la reducción de la desigualdad y la pobreza en los sectores más desposeídos de nuestros países, el fomento de una educación sistemática que priorice las personas antes que cualquier otra cosa, llevando a cabo las iniciativas necesarias para lograr un equilibrio en el poder donde participen todos los seres humanos por igual sin importar su género, raza o afiliación religiosa," dijo. Leer más
El Consejo Europeo aprueba conclusiones sobre la promoción de la economía social

Cooperatives Europe recibe favorablemente las conclusiones del Consejo Europeo sobre la promoción de la economía social. El documento, que ha sido adoptado por los ministros Europeos el 7 de diciembre, reconoce el papel de las cooperativas y otras empresas sociales en alcanzar los objetivos de la Unión Europea.

Las conclusiones resaltan la contribución de las cooperativas y los actores de la economía social en alcanzar un crecimiento inteligente, sostenible e inclusivo, un empleo de alto valor, la cohesión social, la innovación social, el desarrollo local y regional y la protección de medio ambiental. El texto también responde a muchos problemas mencionados en el informe del grupo cooperativo de trabajo "Crecer el potencial de las cooperativas para generar crecimiento inteligente y empleo" publicado por la Comisión Europea en Marzo 2015, particularmente en la área de la educación y el acceso al financiamiento. Leer más
El Premio Nobel creado con oro de una cooperativa

Una cooperativa colombiana suministró el oro para el Premio Nobel de este año. La ganadora del premio es el Cuarteto Nacional de Diálogo de Túnez (Tunisian National Dialogue Quartet), que recibió el premio por la promoción de la paz en Túnez después de la Primavera Árabe. La organización recibió la medalla de oro con la cabeza de Alfred Nobel el 10 de diciembre durante una ceremonia en la cual participó el Rey Herald V de Noruega.

La medalla está creada con oro certificado Fairmined de la Cooperativa Íquira de Columbia. Íquira produce 8,5 kilos de oro y 19 kilos de plata cada año. En 2012 ha comenzado a colaborar con la Alianza para Minería responsable para obtener la certificación Fairmined. Esto muestra que los mineros cumplen con requisitos estrictos para prácticas responsables. Íquira es propiedad de más de 30 miembros que son dueños de las tierras que explotan y también cultivan café, yuca, maíz y otros cultivos. Leer más
Nueva Asociación de Derecho de Empresas Sociales Europeas reúne expertos en legislación de empresas sociales y cooperativas

Nueva Asociación de Derecho de Empresas Sociales Europeas (ESELA) fue lanzada este mes en Madrid, reuniendo empresas legales, expertos legales y académicos especializados en las empresas sociales, incluso las cooperativas.

ESELA trabajará para promover una mejor comprensión de la relación entre la legislación y las empresas sociales, con el objetivo de apoyar el desarrollo y crecimiento de las empresas sociales en Europa. "ESELA es muy interesada en las cooperativas como parte de la economía social y estoy seguro que gran número de las empresas de la asociación tienen cooperativas como clientes y ofrecen apoyo en derecho cooperativo. Espero que ESELA ayudará fortalecer las relaciones entre las cooperativas y otras partes de la economía social, incluso modelos nuevos y emergentes de empresas sociales," dijo Luke Fletcher, presidente de ESELA. Leer más
Las cooperativas de los Estados Unido están trabajando para apoyar los agricultores en Mozambique

La Asociación Nacional de Empresas Cooperativas (NCBA CLUSA) de los Estados Unidos ha desarrollado un mercado local de semillas para ayudar los agricultores de Mozambique obtener acceso a mejores semillas y fertilizantes. El proyecto SEEDS, financiado por la Agencia de los Estados Unidos para Desarrollo Internacional, crece la inversión por parte del sector privado con dos empresas comerciales de semillas para ofrecer un mejor acceso a semillas certificadas para 10.000 agricultores de tamaño pequeño en el norte del país.

Como promedio solo un 10% de las 90.000 toneladas de semillas plantadas en Mozambique cada año están certificadas. El resto 90% son semillas retenidas por los agricultores de un año a otro. Otro desafío para los agricultores del país es la necesidad de viajar por promedio 50 millas (80km) a la tienda de semillas más cercana. Leer más
La Cooperativa IFFCO ofreció ayuda en las áreas inundadas de India

Como respuesta a la lluvia en el Sur del país, la Cooperativa de Agricultores de Fertilizantes de India (IFFCO) ha ofrecido materiales de alivio para las áreas afectadas de Tamil Nadu. Los estados Tamil Nadu y Andhra Pradesh fueron particularmente afectados. Alrededor de 300 personas murieron como resultado de las inundaciones, mientras que 1,8 millones han sido desplazados.

Las inundaciones han causado retrasos y cancelaciones a los servicios de transporte aéreo, ferrovial y carretero. Tres millones de personas han perdido acceso a los servicios básicos y muchos más continúan estando atrapados en las áreas de India afectadas por las inundaciones. La federación más grande de cooperativas de productores de fertilizantes, IFFCO incluye 40.000 cooperativas que son miembros. Estas han ofrecido material de alivio valorado Rs 1 crore (USD $150.000). Leer más
Nuevo convenio transatlántico entre las cooperativas laborales Francesas y Canadienses

Las cooperativas laborales Francesas y Canadienses han firmado un convenio para intercambiar mejores prácticas. La confederación Canadiense de Cooperativas Laborales y la Confederación de Sociedades Cooperativas y Participativas de Francia (CGSCOP) son las dos más grandes federaciones cooperativas en su país. La nueva colaboración permitirá que compartan su experiencia y conocimiento.

"Ya hemos comprobado muchas veces que la economía social y solidaria es una solución viable y sostenible para la inseguridad financiera. Ahora solo necesitamos mostrar a la gente y los trabajadores que las cooperativas laborales son un modelo empresarial para el futuro," comentó Alain Bridault, presidente de FCCT y Patrik Lenancker, presidente de CGSCOP. "Al compartir la experiencia vamos a poder preservar miles de empleos en los próximos años," añadieron. Leer más
La Universidad Auckland está llevando a cabo una investigación en la innovación de las cooperativas neozelandesas

Un equipo de investigadores de la Universidad de Auckland está llevando a cabo una investigación en la innovación de las cooperativas neozelandesas. El país tiene 149 cooperativas, que juegan un papel muy importante en la economía. El estudio está financiado por IceHouse – el fondo de investigación de la Universidad de Auckland, y examinará cómo las cooperativas neozelandesas contemporáneas accionan y ayudan a mejorar la competitividad de sus miembros.

"Un número de cooperativas prominentes, tales como Zespri (kiwis) y Foodstuffs (comestibles) muestran que a través de estrategias centradas en mejorar el valor de los productos y servicios, la innovación y compartir experiencias, así pueden competir exitosamente contra las grandes empresas privadas del sector y multinacionales. Aún así, hay muchas ideas equivocadas con respecto a su innovación y espíritu empresarial. Queremos comprender mejor el mecanismo que pueden hacer las cooperativas más competitivas," dijo el Dr. Frank Siedlok, uno de los académicos liderando el proyecto. Leer más
Conferencia de Asia y el Pacífico examina la gobernabilidad de las cooperativas y la participación

Cuarenta y cuatro delegados de Australia, India, Corea, Malaysia y las Filipinas se reunieron para la 10ª Conferencia Regional de Investigación Cooperativa de Asia y el Pacifico. El evento se llevó a cabo en Pune, India el 5-6 de noviembre.

La conferencia se centró en la gobernabilidad en las cooperativas e incluye 50 presentaciones por parte de investigadores a través de la región. Los participantes analizaron una variedad de problemas relacionados a la gobernabilidad, incluso el papel de la junta directiva y el ejecutivo, el liderazgo cooperativo y el medio legislativo. Los documentos de investigación presentados en la conferencia serán analizados y algunos serán incluidos en un libro que será publicado en el futuro cercano. Leer más
| | |
| --- | --- |
| | |
| | |
| --- | --- |
| | |
Noticias de Colombia: Dimensión Cooperativa

El programa de televisión mensual de la Cooperativa UTRAHUILCA. Mes de Diciembre de 2015. Ver en YouTube

Noticias de la Cumbre Bernini

Los Presidentes del Instituto Nacional del Cooperativismo (INACOOP) y de la Confederación Uruguaya de Entidades Cooperativas (CUDECOOP) se refieren a la designación de Montevideo como la sede la IV Cumbre Cooperativa de las Américas (VTV). Ver en YouTube
Está recibiendo este correo electrónico porque se ha suscrito al e-Boletín de la Alianza. Para contribuir con una noticia, evento o imagen al e-Boletín de la Alianza ponte en contacto con el equipo editorial; edigest@ica.coop
Derechos de autor © 2005-2015 la Alianza Cooperativa Internacional
Co-operative House, Avenue Milcamps 105, 1030 Bruselas, Bélgica
Pages