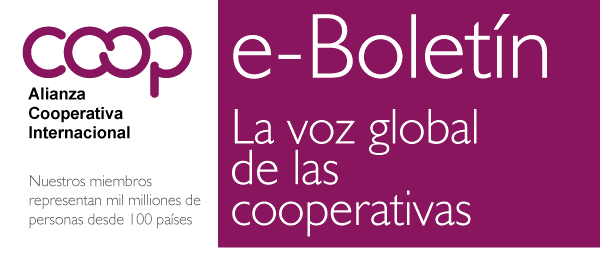 | | |
| --- | --- |
| | |
Queridos cooperantes:

El eDigest de este mes habla de algunos de los principales logros de nuestras oficinas regionales, así como de otros desarrollos importantes llevados a cabo por movimientos cooperativos en distintos países.

Aprendemos cómo dos cooperativas en Italia han establecido nuevas alianzas para extender su potencial de mercado. China e Israel también están poniendo en práctica el principio seis, cooperación entre cooperativas, a través de la organización de un intercambio de visitas, mediante el que los cooperantes de los dos países pueden intercambiar ideas y experiencias.

En los EE.UU., la nueva ley promulgada por el presidente Obama subraya el papel de las cooperativas en la electrificación de África. Se trata de un gran logro para las cooperativas eléctricas rurales que ya trabajan en la ayuda de la electrificación de África.

Junto a la legislación, otra área de especial interés para la Alianza es la de asegurarse de que las cooperativas son tomadas en consideración a la hora de la formulación de políticas. Aplaudimos la declaración del antiguo experto sobre el Cambio Climático de las Naciones Unidas, que estableció que tanto las cooperativas como las mutuas de seguro deberían incluirse en el momento del desarrollo de políticas de desarrollo sostenible. Además, en nuestro informe sobre el problema del capital ha sido publicado recientemente, se identifican las opciones disponibles para las cooperativas que necesitan capital sostenible a largo plazo.

Continuamos trabajando para influir sobre el trabajo de los gobiernos alrededor del mundo. En la región de las Américas, Cooperativas de las Américas ha recopilado una estrategia que estudia las maneras en las que podemos influenciar a los responsables de la toma de decisiones cuando exponen políticas públicas. De forma similar, Cooperatives Europe está trabajando para el establecimiento de una relación más estrecha entre las cooperativas y la Unión Europea. Las cooperativas también fueron representadas por CECOP en el Foro Europeo de Economía Social y Solidaria. Podrá leer más información al respecto aquí.

Al acercarse el Día Internacional de la Mujer, también estudiamos el fortalecimiento de la posición de la mujer en las cooperativas de la región de Asia Pacífico.

Por supuesto, con el fin de construir un fuerte ejemplo para el movimiento, necesitamos mostrar el impacto de las cooperativas a nivel global. Me gustaría aprovechar esta oportunidad para animarles a enviar sus datos y participar en la encuesta del Monitor Cooperativo Mundial – www.monitor.coop.

Charles Gould
Director General
Alianza Cooperativa Internacional
Queridos cooperantes:

Les escribo esta nota desde Sydney, Australia, donde se está reuniendo el consejo de la Alianza. Nuestros directores se han desplazado hasta aquí para hablar con los ejecutivos de las cooperativas líderes en Australia. Este es el primer compromiso real que establecen muchas de las cooperativas australianas con la Alianza. Estoy orgullosa de ellos, ya que desarrollan ideas para la inter-cooperación. Debo agradecer especialmente al Sr. Greg Wall y a su equipo por haber organizado esta oportunidad única.

A principios del mes de febrero, en el club canadiense de Montreal, hice una ponencia sobre la economía ecológica. Compartí con la audiencia, del sector privado y del público, el potencial que muestran las cooperativas de combinar el crecimiento con la sostenibilidad. El mundo actual está en busca de nuevas estrategias globales en materia de medio ambiente, y las cooperativas juegan un papel primordial en ello. Nuestro sector de los Seguros y de las Mutuas está progresando considerablemente en este área y me gustaría felicitares por sus logros. El Grupo Desjardins tiene proyectos en torno al desarrollo sostenible, incluyendo préstamos de eficiencia energética, seguros ecológicos, inversión responsable y, mediante el plan de pensiones, inversiones en activos de energía renovable. Si conoces cualquier tipo de iniciativa de economía ecológica en tu zona, ¡estaremos encantados de que nos lo comuniques! - leroux@ica.coop.

En febrero también me reuní en Londres con los altos ejecutivos de los bancos cooperativos. En esta reunión, estuvieron presentes Desjardins, BPCE, DZ Bank, Credit Mutuel, Norinchukin Bank, RZB, así como delegados de la Asociación Europea de Bancos Cooperativos. Nos reunimos con el presidente del Consejo de Estabilidad Financiera, Mark Carney, para hablar sobre la nueva regulación relativa a la solvencia de los bancos. ¡Me complace poder decir que fue una reunión muy productiva! La Alianza ha llevado a cabo un esfuerzo constante en los últimos años, abriéndose camino en los foros internacionales de toma de decisiones y este acercamiento está dando sus frutos en la actualidad.

Mientras estuve en Londres, tuve el honor de reunirme con el Dr Awasthi, el Director General de IFFCO, la mayor cooperativa de fertilizantes de todo el mundo. Me gustaría dar la enhorabuena y reconocimiento a IFFCO por su visión internacional y dinámica y su valioso apoyo a nuestra campaña de Construir un Mundo Mejor.

El Sr. Ed Mayo, Secretario General de Cooperativas del Reino Unido y presidente del Comité de Comunicaciones de la Alianza, fue el siguiente en reunirse con nosotros. El Sr. Mayo es una fuerza impulsora del rejuvenecimiento del Día Internacional de las Cooperativas. La creación de un perfil de cooperativas a nivel mundial mediante una estrategia dinámica de marketing que involucre nuestras regiones y sectores es verdaderamente una de las prioridades de mi programa. Mi estancia en Londres finalizó con una cena cordial en compañía de Dama Pauline Green. Todos estamos encantados de contar con el apoyo incondicional de Dama Pauline.

Por último, me gustaría recordarles que el día 2 de julio los cooperadores celebrarán el ¡Día Internacional de las Cooperativas! Invitamos a los cooperadores a que envíen fotos para nuestra exposición en la ONU de Nueva York. Encontrarán todos los detalles aquí.

Atentamente,

Monique Leroux
Presidenta
Alianza Cooperativa Internacional
| | |
| --- | --- |
| | |
| | |
| --- | --- |
| | |
| | |
| --- | --- |
| | |
El mes de febrero, la Alianza dio la bienvenida a un nuevo miembro, el Bangladesh Sambaya Bank.

El BSBL es un banco cooperativo cuyos miembros son órganos de gobierno a nivel federal y de distrito, sociedades nacionales, bancos centrales de cooperativas, sociedades centrales de cooperativas, todas las sociedades cooperativas centrales de cultivación de caña de azúcar, todos los bancos hipotecarios cooperativos, y otras sociedades y personas de cooperativas centrales, caso por caso. En el año 2012 contaban con 475 miembros individuales.

Las estadísticas actuales sobre los miembros: 292 organizaciones miembro, de las que 245 son miembros titulares y 47 miembros asociados procedentes de 97 países.
| | |
| --- | --- |
| | |
Noticias de las regiones: Europa

Cooperatives Europe lidera el movimiento cooperativo global hacia una colaboración con la Unión Europea

Durante los últimos ocho años Cooperatives Europe ha promovido el potencial de las empresas cooperativas en el desarrollo y la cooperación ante la Unión Europea. Gracias al trabajo de su Plataforma de Desarrollo de Cooperatives Europe (Cooperatives Europe Development Platform- CEDP), el perfil del movimiento cooperativo en esta área ha sido aumentado considerablemente y se ha alcanzado un mayor reconocimiento político. Leer más



Noticias de los sectores: seguros (febrero 2016)

El oficial anterior del equipo de Cambio Climático de la ONU cree que el sector de seguros debe ser incluido en el diseño de políticas de desarrollo sostenible

En una entrevista exclusiva con ICMIF, el anterior asistente secretario general para el cambio climático de la ONU, Janos Pasztor, habla sobre su análisis del papel del sector de seguros en alcanzar el acuerdo de Paris. Leer más

La directora ejecutiva de Lloyd's, Inga Beale, será la oradora principal de la conferencia de ICMIF sobre el reaseguro mutual

La Federación Internacional de Cooperativas y Mutuales de Seguros (ICMIF) anunció que la directora ejecutiva de Lloyd's, Inga Beale, será la oradora principal de su 23ª reunión de oficiales de reaseguros (MORO). Leer más

Los inversores globales se movilizan para tomar acciones en la Cumbre de Inversores sobre Riesgo Climático

El 27 de enero, ICMIF ha participado en la Cumbre de Inversores sobre riesgo climático: avanzando el Billón Limpio ("Clean Trillion"). Leer más

ICMIF firma el Compromiso para Actuar de Paris

Después de la adopción de un acuerdo nuevo y universal en la Conferencia sobre el Cambio Climático en Paris (diciembre 2015) para limitar el crecimiento de la temperatura global a menos de 2 grados Celsius, ICMIF se ha ingresado en el Compromiso para Actuar de Paris, afirmando el compromiso de la organización con el Acuerdo COP21 de Paris. Leer más


Los aseguradores mutuales: una nueva frontera en la China?

El director ejecutivo de ICMIF, Shaun Tarbuck, formó parte del grupo de expertos para un taller de formación que se llevó a cabo el 15 de enero 2016 en la Asociación de Seguros de China (IAC). Leer más

| | |
| --- | --- |
| | |
Llamada para fotos: El Día Internacional de las Cooperativas en la ONU

El Comité para la Promoción y Avance de las Cooperativas (COPAC) está aceptando fotos para ser consideradas para la inclusión en una exposición en la sede de las Naciones Unidas en Nueva York. La exposición, "Las Cooperativas, el poder de actuar para un futuro sostenible", estará en exhibición del 4 al 20 de julio en celebración del Día Internacional de las Cooperativas de 2016. Leer más



El diario de la presidenta: la visita a Londres

Durante una visita ocupada de tres días a Londres, el 17-19 de febrero, la presidenta de la Alianza, Monique Leroux, se ha reunido con lideres cooperantes de Europa y Asia. Una visita agradable en la compañía de la antigua presidenta de la Alianza, Dama Pauline Green, fue una buena oportunidad para ponerse al día sobre las últimas noticias e intercambiar opiniones. Leer más
Nuevo informe: La cuestión del capital para las cooperativas

Un informe nuevo realizado por la Comisión Blue Ribbon de la Alianza, analiza ideas y opciones disponibles para las cooperativas que necesitan un capital adecuado y para el largo plazo. El documento examina la relación entre el capital cooperativo y los Principios Cooperativos y analiza en detalles las cuestiones que todas las cooperativas se preguntan a si mismos y a sus miembros cuando buscan o utilizan el capital para crecimiento y expansión. Leer más
Estados Unidos: La Ley Electrificar la África recalca el papel de las cooperativas eléctricas rurales

Una nueva ley aprobada por el presidente Barack Obama dice que los Estados Unidos trabajarán y consultarán con los países de la región del sur de Sahara, tanto como instituciones financieras internacionales, el sector privado y las cooperativas, para promover el acceso por primera vez a electricidad y servicios eléctricos para 50 millones de personas para el 2020. Leer más
¿Qué quieren las mujeres socios de las cooperativas?

Las mujeres de las cooperativas quieren oportunidades iguales, escribe Balu Iyer, director general de la oficina de la Alianza para Asia y el Pacífico. A principios de este mes el Sr Iyer participó en la Tercera Conferencia Tagaytay+20 sobre el estatus de las mujeres en las cooperativas en las Filipinas. Las mujeres miembros de las cooperativas que participaron dijeron que quisieran que las cooperativas vencieran los estereotipos, les proporcionaran entrenamiento, las alentaran a participar en elecciones y proveer facilidades y apoyo al comienzo. Leer más
CECOP da la bienvenida al compromiso de hacer la economía social y solidaria el centro del nuevo proyecto Europeo

Más de 200 personas han participado en el Foro Económico sobre la Economía Social y Solidaria, "Transformando los paradigmas economías y culturales", que se llevó a cabo el 28 de enero en el Parlamento Europeo. El Foro, que fue organizado por Europa Unida de Izquierda (European United Left)- el Grupo Nórdico de Izquierda (Nordic Green Left group - GUE/NGL), analizó los desafíos principales a los cuales se enfrenta Europa, incluyendo la exclusión social, el futuro de los bienes comunes, y los desafíos ecológicos. Leer más



Las cooperativas canadienses ayudan a los refugiados a instalarse

Ya que el gobierno de Canadá ha anunciado que dará la bienvenida a 25.000 Sirios desplazados debido a la guerra, las cooperativas han respondido donando fondos para ayudar dar la bienvenida a los refugiados. The Co-operators, una cooperativa de seguros Canadiense, anuncio en diciembre que alocará una beca de CAD $250.000 para apoyar las iniciativas de las organizaciones que preparan a los refugiados para obtener empleo en Canadá. Leer más
Cooperativas de las Américas adopta estrategia sobre incidencia en políticas públicas

El Consejo de Administración aprobó en su última reunión, realizada en diciembre en Santa Cruz de la Sierra, el documento estratégico elaborado por el Grupo de Trabajo sobre incidencia en las políticas públicas relacionadas con el cooperativismo en América Latina.

La estrategia pretende que Cooperativas de las Américas desempeñen un papel más proactivo y propositivo en lo que refiere a la defensa de los intereses de las cooperativas y la promoción de entornos de políticas públicas que favorezcan el crecimiento y el desarrollo del modelo en los países de la región, lo que complementaría las acciones de reacción frente a medidas restrictivas o perjudiciales que han sido las que han predominado en periodos anteriores. Leer más
El Quinto Foro Europeo sobre el Espíritu Empresarial coorganizado por CECOP en Bulgaria

Bulgaria será el país anfitrión del Quinto Foro Europeo sobre el Espíritu Empresarial para marcar el 120ª aniversario de la creación de la primera cooperativa de trabajo del país. El evento se llevará a cabo el 31 de marzo – 3 de abril en la ciudad de Plovdiv, en Bulgaria. Leer más
Curso de formación introduce los cooperantes Chinos al movimiento cooperativo Israelí

Israel y la China están fortaleciendo la relación entre los movimientos cooperativos en los dos países. Miembros de la Federación de Cooperativas de Marketing de China visitaron Israel recientemente donde han participado en un curso centrado en los diferentes aspectos de la experiencia cooperativa Israelí. Leer más
Las cooperativas Italianas colaboran para extender su alcance del mercado

Dos cooperativas agrícolas Italianas están trabajando juntas para alcanzar nuevos mercados. Apofruit Italia y Bio Meran han comenzado una colaboración que les permitirá vender manzanas orgánicas en el Oriente Medio, el sur del Mediterráneo, Asia y Latinoamérica. Leer más
Coop Netherlands aumenta la facturación en 2015

Coop Netherlands, una cooperativa Holandesa de consumidores formada en 1891, ha aumentado su crecimiento en 2015, con un aumento de un 7.5% en la facturación, de €1,007 mil millones en 2014 a €1,083 en 2015. Este crecimiento fue el resultado de la estrategia de inversión de la cooperativa, que vio nuevas tiendas abrir. Leer más
El empleo de calidad: uno de los principales retos en 2016 según la OIT

En 2016, la creación de empleo de calidad es uno de los principales desafíos a los que "todos los países y regiones del mundo se enfrentan", según el estudio publicado recientemente por Organización Internacional del Trabajo (OIT) "Perspectivas sociales y del empleo en el mundo – Tendencias 2016"1. El estudio plantea una serie de recomendaciones políticas como el "fortalecimiento de las instituciones del mercado de trabajo para asegurar que los sistemas de protección social están bien diseñados" con el fin de evitar más aumentos en el desempleo, el subempleo y la pobreza en el trabajo a largo plazo. Leer más
Está recibiendo este correo electrónico porque se ha suscrito al e-Boletín de la Alianza. Para contribuir con una noticia, evento o imagen al e-Boletín de la Alianza ponte en contacto con el equipo editorial; edigest@ica.coop
Derechos de autor © 2005-2015 la Alianza Cooperativa Internacional
Co-operative House, Avenue Milcamps 105, 1030 Bruselas, Bélgica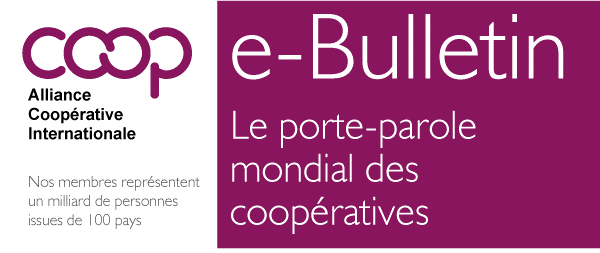 | | |
| --- | --- |
| | |
Chers coopérateurs,

L'e-Bulletin de ce mois-ci se penche sur quelques-unes des grandes réalisations de nos bureaux régionaux, ainsi que sur d'autres avancées importantes du mouvement coopératif dans différents pays.

Nous y apprenons qu'en Italie, deux coopératives ont conclu un nouveau partenariat qui leur permettra d'élargir leurs marchés. Et également, que la Chine et Israël mettent le principe six en pratique, la coopération entre les coopératives, en organisant des visites mutuelles pour permettre aux coopérateurs des deux États d'échanger des idées et des expériences.

Aux États-Unis, une nouvelle loi promulguée par le président Obama souligne le rôle des coopératives dans le processus d'électrification de l'Afrique. Il s'agit là d'une étape majeure pour les coopératives rurales d'électricité qui œuvrent déjà à développer le réseau électrique de l'Afrique.

L'Alliance déploie de vastes efforts afin de garantir que les coopératives soient prises en compte lors de l'élaboration non seulement des lois, mais aussi des politiques. Nous saluons la déclaration d'un ancien représentant des Nations Unies au changement climatique, dans laquelle il affirme que les assureurs coopératifs et mutualistes devraient être consultés lors de l'élaboration des politiques relatives au développement durable. Notre rapport sur la problématique des capitaux a également été publié récemment. Il identifie les options qui s'offrent aux coopératives ayant besoin de capital adéquat et à long terme.

Nous poursuivons nos efforts visant à influencer les travaux des gouvernements à travers le monde. Dans la région Amériques, Coopératives des Amériques a mis sur pied une stratégie qui examine les manières d'influencer les décideurs lorsqu'ils établissent leurs politiques publiques. De la même manière, Cooperatives Europe cherche à renforcer les liens qui unissent les coopératives et l'Union européenne. Les coopératives ont également été représentées par CECOP au Forum européen sur l'économie sociale et solidaire. Vous pouvez lire davantage d'informations ici.

À l'approche de la Journée internationale de la femme, nous souhaitons en outre renforcer le statut des femmes au sein des coopératives de la région Asie-Pacifique.

Bien sûr, pour que le mouvement convainque davantage, il nous faut démontrer l'impact des coopératives au niveau mondial. J'aimerais saisir cette occasion pour vous encourager à soumettre des données et à participer au sondage de l'Observatoire mondial des coopératives — www.monitor.coop.

Charles Gould
Directeur général
Alliance Coopérative Internationale
Chers coopérateurs,

Je vous transmets ce message depuis Sydney, en Australie, où le Conseil d'administration de l'Alliance est réuni. Nos directeurs se sont rassemblés ici afin de s'entretenir avec des représentants de grandes coopératives australiennes. Pour nombre d'entre elles, il s'agit là du premier véritable contact avec l'Alliance. Je suis fière de tous ces acteurs : ensemble, ils développent de nouvelles idées pour l'intercoopération. J'attends avec impatience de rencontrer les coopérateurs de Nouvelle-Zélande en cette fin de semaine. Je remercie M. Greg Wall et son équipe d'avoir créé cette occasion exceptionnelle.

Un peu plus tôt en février, au Canadian Club de Montréal, j'ai prononcé un discours sur l'économie verte. J'ai évoqué devant des entreprises et des responsables coopératifs présents les possibilités d'associer croissance et durabilité. Le monde est aujourd'hui en quête de stratégies environnementales mondiales, et les coopératives sont destinées à jouer un rôle majeur à cet égard. Notre secteur des assurances et des mutuelles a accompli d'importants progrès dans ce domaine, et je tiens à les féliciter pour leurs réalisations. Le Mouvement Desjardins conçoit de multiples projets visant au développement durable, notamment les prêts pour l'efficacité énergétique, l'assurance verte, l'investissement responsable et, à travers le plan de retraite, les investissements dans les actifs de production d'énergie renouvelable. Si vous connaissez des initiatives d'économie verte dans votre domaine, n'hésitez pas à nous en faire part ! - leroux@ica.coop.

J'ai, par ailleurs, rencontré en février de hauts dirigeants de banques coopératives à Londres. Desjardins, BPCE, DZ Bank, Crédit Mutuel, Norinchukin Bank, RZB, ainsi que des délégués du Groupement européen des banques coopératives étaient autour de la table. Nous avons également rencontré Mark Carney, le président du Conseil de stabilité financière, afin de débattre des nouvelles dispositions réglementaires en matière de solvabilité des banques. Je suis heureuse de pouvoir dire que cette réunion a été très productive ! Ces dernières années, l'Alliance a progressivement établi de nouveaux contacts, s'insinuant ainsi dans les sphères décisionnelles : cette approche porte aujourd'hui ses fruits.

Lors de mon passage à Londres, j'ai eu l'honneur de rencontrer le Dr Awasthi, le directeur général d'IFFCO, la plus grande coopérative d'engrais du monde. Je remercie et félicite l'IFFCO pour son approche dynamique et internationale, et pour son précieux soutien, accordé à notre campagne « Building a Better World Now » (Construire aujourd'hui un monde meilleur).

Nous avons en outre bénéficié de la présence de M. Ed Mayo, secrétaire général de Co-operatives UK et président du Comité pour les communications de l'Alliance. M. Mayo est un élément moteur du rajeunissement de la Journée internationale des coopératives. Accroître la visibilité des coopératives à travers le monde par une stratégie de marketing dynamique, en impliquant toutes nos régions, constitue l'une des priorités de mon programme. Mon séjour à Londres s'est clôturé par un dîner convivial en compagnie de Dame Pauline Green. Nous sommes tous ravis de jouir du soutien indéfectible de Dame Pauline.

Pour terminer, laissez-moi vous rappeler que le 2 juillet prochain, les coopérateurs célèbreront la Journée internationale des coopératives ! Nous invitons tous les coopérateurs à envoyer leurs photos pour notre exposition au siège de l'ONU de New York. Vous trouverez ici toutes les informations utiles.

Cordialement,

Monique Leroux
Présidente
l'Alliance Coopérative Internationale
| | |
| --- | --- |
| | |
| | |
| --- | --- |
| | |
| | |
| --- | --- |
| | |
En février, l'Alliance a accueilli un nouveau membre : la Bangladesh Sambaya Bank, qui fait désormais partie intégrante de l'organisation.

La BSBL est une banque coopérative dont les membres sont le gouvernement aux niveaux fédéral et du district, des sociétés nationales, des banques coopératives centrales, des sociétés coopératives centrales, toutes les sociétés coopératives de cultivateurs de cannes à sucre, toutes les banques coopératives de prêt hypothécaire, et d'autres sociétés coopératives centrales, ainsi que des individus, au cas par cas. En 2012, la coopérative comptait 475 membres individuels.

Les chiffres relatifs aux adhésions sont donc désormais les suivants : 292 organisations membres, dont 245 Membres effectifs et 47 Membres associés, issues de 97 pays.
| | |
| --- | --- |
| | |



Actualités des régions: l'Europe

Cooperatives Europe entraîne le mouvement coopératif mondial vers des partenariats avec l'UE

Au cours des huit dernières années, Cooperatives Europe a mis en avant le potentiel des entreprises coopératives en matière de coopération et de développement à travers l'Union européenne. Grâce aux travaux de la Plateforme de développement de Cooperatives Europe (PDCE) le mouvement coopératif est nettement plus visible dans ce domaine, et bénéficie désormais d'une reconnaissance politique explicite. Lire la suite



| | |
| --- | --- |
| | |



Actualité des secteurs: l'Assurance (février 2016)

Les assureurs doivent être inclus dans le cadre politique du développement durable, selon un ancien représentant des Nations Unies aux changements climatiques

Dans un entretien exclusif accordé à l'ICMIF, l'ancien Conseiller du Secrétaire général sur les changements climatiques Janos Pasztor évoque son évaluation du rôle joué par le secteur des assurances dans la conclusion de l'Accord de Paris. Lire la suite

La PDG de Lloyd's Inga Beale ouvrira la conférence des mutuelles de réassurance de l'ICMIF

La Fédération internationale des coopératives et mutuelles d'assurance (ICMIF) a annoncé que la directrice générale de Lloyd's, Mme Inga Beale (photo), prononcerait le discours d'ouverture de sa 23e Réunion des représentants de la réassurance. Lire la suite

Les investisseurs mondiaux sont sources d'initiatives au Sommet des investisseurs sur les risques climatiques

La Fédération internationale des coopératives et mutuelles d'assurance (ICMIF) a participé le 27 janvier au Sommet des investisseurs sur les risques climatiques : 1 000 milliards pour les énergies propres.

Organisé au siège des Nations Unies à New York (États-Unis), ce sommet a constitué le premier grand événement sur les changements climatiques qui a réuni investisseurs et entreprises dans le but de débattre des implications de l'accord historique sur le climat conclu lors de la Conférence des Nations Unies sur les changements climatiques (COP21) à Paris. Lire la suite

L'ICMIF signe l'Appel de Paris en témoignage de son engagement en faveur de l'Accord de Paris de la COP21

Suite à l'adoption d'un nouvel accord universel sur le climat lors de la Conférence sur le changement climatique à Paris (COP21), afin de limiter la hausse des températures dans le monde à 2°C, la Fédération internationale des coopératives et mutuelles d'assurance (ICMIF) a rejoint l'Appel de Paris, affirmant par là son engagement en faveur de l'Accord de Paris de la COP21. Lire la suite

Assurance mutuelle : un nouvel horizon en Chine ?

Shaun Tarbuck, directeur général de l'ICMIF, a rejoint les conférenciers experts de l'Association des Assurances de Chine pour une journée de formation le 15 janvier 2016. Lire la suite
| | |
| --- | --- |
| | |
Envoyez vos photos : Journée internationale des coopératives au siège de l'ONU

Le Comité pour la promotion et le progrès des coopératives (COPAC) a lancé un appel en vue de collecter une série de photos qui seront présentées lors d'une exposition au siège des Nations Unies de New York. L'exposition, intitulée « Coopératives : le pouvoir d'agir pour un avenir durable », sera installée du 4 au 20 juillet, à l'occasion de la Journée internationale des coopératives (JIC) 2016. Lire la suite
Journal de la présidente : visite à Londres, banques, rencontre avec des coopérateurs indiens et... essai du Fairphone

Au cours de trois journées très denses à Londres, du 17 au 19 février 2016, la présidente de l'Alliance Monique Leroux a rencontré des dirigeants coopératifs d'Europe et d'Asie. Un dîner convivial en compagnie de l'ancienne présidente, Pauline Green, a fourni une occasion rêvée de se tenir informé des dernières nouvelles et d'échanger des points de vue. Lire la suite
Les coopératives canadiennes aident les réfugiés à s'installer

Alors que le gouvernement canadien a annoncé qu'il accueillerait 25 000 Syriens déplacés par la guerre, les coopératives ont réagi en débloquant des fonds afin d'aider à accueillir les réfugiés. La coopérative d'assurances The Co-operators a annoncé en décembre qu'elle apporterait un soutien financier d'un montant de 250 000 dollars canadiens pour les initiatives qui renforceront la capacité d'insertion professionnelle des réfugiés au Canada. Lire la suite
États-Unis : nouvelle loi souligne l'importance des coopératives rurales d'électricité

Une nouvelle loi promulguée par le président Barack Obama stipule que les États-Unis consulteront les gouvernements des pays d'Afrique subsaharienne ainsi que les institutions financières internationales, le secteur privé et les coopératives, et s'associeront avec tous ces acteurs afin que 50 millions de personnes supplémentaires accèdent, d'ici 2020, à l'électricité et à des services énergétiques. Lire la suite
Quelles sont les aspirations des femmes membres de coopératives?

Les femmes des coopératives veulent des règles du jeu équitables, écrit Balu Iyer, le directeur général du bureau Asie-Pacifique de l'Alliance. Plus tôt ce mois-ci, M. Iyer a participé à la troisième Conférence régionale Tagaytay+20 sur la condition de la femme dans les coopératives aux Philippines. Les femmes membres de coopératives présentes ont déclaré souhaiter que les coopératives dépassent les stéréotypes, leur proposent des formations, les encouragent à se présenter à des élections, leur fournissent des équipements et soient les premières à les soutenir. Lire la suite
CECOP salue l'engagement du GUE/NGL de mettre l'économie sociale et solidaire au cœur du nouveau projet européen

Plus de 200 personnes ont participé au Forum européen sur l'économie sociale et sodidaire "Transformer les paradigmes économiques et culturels » qui a eu lieu le 28 Janvier au Parlement européen. Organisé par la Gauche unitaire européenne - Gauche verte nordique (GUE / NGL), il a abordé les principaux défis des sociétés européennes actuelles : l'exclusion sociale, l'avenir des biens communs et les défis écologiques, entre autres. Lire la suite
Nouveau rapport : la problématique fondamentale des capitaux pour les coopératives

Un nouveau rapport publié par la Commission d'experts de l'Alliance explore les idées et les solutions dont disposent les coopératives ayant besoin d'un capital adéquat sur le long terme. Le document analyse la relation entre les capitaux des coopératives et les principes coopératifs, et traite en profondeur des questions que toutes les coopératives se posent - et posent à leurs membres - à l'heure de rechercher et / ou d'utiliser des capitaux pour leur croissance ou leur expansion. Il éclaire en outre les défis et les opportunités découlant de l'évolution des réglementations. Lire la suite
Coopératives des Amériques adopte une stratégie relative à l'impact des politiques publiques

Lors de sa dernière réunion à Santa Cruz de la Sierra, le conseil d'administration de Coopératives des Amériques a approuvé une stratégie relative à l'impact des politiques publiques sur les coopératives en Amérique latine. Cette stratégie, élaborée par le groupe de travail, fixe comme objectif pour Coopératives des Amériques de prendre davantage d'initiatives dans la défense des intérêts des coopératives, ainsi que dans la promotion d'un cadre de politiques publiques favorable à la croissance et au développement du modèle coopératif dans les pays de la région. Lire la suite



5ème Forum européen sur l'entrepreneuriat social co-organisé par CECOP à Plovdiv, Bulgarie

A l'occasion des 120 anniversaires de la création de la première coopérative de travail associé en Bulgarie, le cinquième Forum européen sur l'entrepreneuriat social se tiendra du 31 Mars au 3 Avril 2016, à la ville de Plovdiv, en Bulgarie. Ce Forum comprend une foire internationale avec plus de 100 coopératives et entreprises sociales de plus de 16 pays européens, des conférences et de tables rondes sur des questions actuelles concernant l'économie sociale, entre autres. Lire la suite
L'emploi de qualité : un des principaux défis à relever déclare l'OIT

En 2016, la création d'emplois de qualité est l'un des principaux défis auquel « tous les pays et toutes les régions du monde sont confrontés » selon l'étude qu'a récemment publiée l'Organisation internationale du Travail (OIT) « Emploi et questions sociales dans le monde – Tendances 2016 (WESO en anglais) ». Une série de recommandations politiques – y compris le « renforcement des institutions du marché du travail afin d'assurer que les systèmes de protection sociale sont bien conçus » – ont été abordées afin d'éviter de nouvelles hausses du chômage, le sous-emploi et les travailleurs pauvres. Lire la suite
Une formation présente le mouvement coopératif israélien à des coopérateurs chinois

La Chine et Israël renforcent les liens entre les mouvements coopératifs de leurs deux pays. Des membres de la Fédération des coopératives commerciales de Chine (All China Federation of Supply and Marketing Co-operatives, ACFSMC) se sont récemment rendus en Israël, où ils ont suivi une formation présentant les différentes facettes de l'expérience coopérative israélienne. Lire la suite
Augmentation du chiffre d'affaires de Coop Netherlands en 2015

Coop Netherlands, une coopérative de consommateurs fondée en 1891, a connu une forte croissance en 2015, avec une augmentation de son chiffre d'affaires de 7,5%, passant de 1,007 à 1,083 milliard d'euros entre 2014 et 2015. Cette croissance provenait de la stratégie de placement de la coopérative, qui a ouvert de nouveaux magasins, ce qui a conduit à une augmentation du nombre de clients. Lire la suite
Les coopératives italiennes collaborent afin d'accroître leur présence sur le marché

Deux des principales coopératives agricoles italiennes travaillent main dans la main pour accéder à de nouveaux marchés. Apofruit Italia et Bio Meran ont ainsi noué un partenariat qui leur permettra de vendre des pommes issues de l'agriculture biologique au Moyen-Orient, en Méditerranée méridionale, en Asie et en Amérique latine. Lire la suite
Travailler à la Coopérative d'aide à domicile les Moulins

Les employés de la Coopérative d'aide à domicile Les Moulins font la différence! Regarder en YouTube

BURKINASARA: Une coopérative des femmes en Burkina-Faso

Présentation de la coopérative pour femmes de BURKINASARA. Regarder en YouTube
Vous avez reçu cet e-mail parce que vous vous êtes abonné(e) à l'e-Bulletin de l'Alliance. Pour contribuer au bulletin de l'Alliance avec une nouvelle, un évenement ou une photo, veuillez contacter l'équipe de rédaction: edigest@ica.coop
Copyright © 2005-2015 Alliance Coopérative Internationale, Co-operative House,
Avenue Milcamps 105, 1030 Bruxelles, Belgique
| | |
| --- | --- |
| | |
Dear Co-operators,

This month's eDigest looks at some of the key achievements of our regional offices as well as other important developments made by co-operatives movements in different countries. And, our "Capital Conundrum" report has now been published, which identifies options available to co-operatives that need suitable, long-term capital.

In Italy two co-operatives have formed a new partnership to extend their market reach. China and Israel are also putting principle six in practice, co-operation among co-operatives, by organising exchange visits to enable co-operators from the two states to exchange ideas and experiences.

In the USA a new law passed by President Obama highlights the role of co-ops in electrifying Africa. This is a milestone achievement for rural electric co-operatives that are already working to help electrify Africa.

Along with legislation, the Alliance is making sure that co-operatives are taken into account when policies are drafted. We welcome the statement made by former UN Climate Change official, who said that co-operative and mutual insurers, should be included when sustainable development polices are being developed.

In the Americas region Co-operatives of the Americas has put together a strategy to influence public policy. Similarly, Cooperatives Europe builds a stronger relationship between co-operatives and the European Union. Co-ops were also represented by CECOP at the European Forum on Social and Solidarity Economy.

In order to build a stronger case for the movement, we need to show the economic impact of co-operatives. I encourage you take part in the World Co-operative Monitor survey – www.monitor.coop.

Charles Gould
Director-General
International Co-operative Alliance
Dear Co-operators,

I am sending you this note from Sydney, Australia, where the Alliance's board is meeting. Our directors have travelled here, to speak to executives from leading Australian co-operatives. This is this the first real engagement many Australian co-ops have with the Alliance, and I am proud of all of them, as they work out ideas for inter co-operation. I look forward with great anticipation, to meeting New Zealand Co-operators later this week. My thanks to Mr Greg Wall and his team for organising this unique opportunity.

Earlier in February, at the Canadian Club of Montreal, I have delivered a speech on the green economy. I have shared with the audience of businesses and officials co-operatives' potential to combine growth with sustainability. The world today is looking into global environment strategies, and co-operatives are to play a key role in this. Our Insurance and Mutuals sector is achieving great progress in this area and I would like to compliment them with their achievements. Desjardins Group's projects towards sustainable development, including energy efficient loans, green insurance, responsible investing and, through the pension plan, investments in renewable energy assets. If you have knowledge of green economy initiatives in your area, please let us know! leroux@ica.coop.

In February I also met in London with senior executives of co-operative banks. With us were Desjardins, BPCE, DZ Bank, Credit Mutuel, Norinchukin Bank, RZB, as well as delegates from the European Association of Co-operative Banks. We met with the chair of the Financial Stability Board, Mark Carney, to discuss new solvency regulations for banks. I am glad to say that we had a very productive meeting! The Alliance has been steadily reaching out over last years, making its way into global decision making fora and this approach is now bearing fruit.

While in London, I had the honour of being joined by Dr Awasthi, the Managing Director of IFFCO, the largest fertiliser co-operative in the world. My compliments and gratitude to IFFCO for their dynamic, international outlook and its valued support of our Building a Better World Now campaign.

Mr Ed Mayo, Secretary General of Co-operatives UK and chair of the Alliance's Communications Committee next joined us. Mr Mayo is a driving force behind the rejuvenation of the International Day of Co-operatives. Building co-operatives' profile worldwide through a dynamic marketing strategy involving our regions and sectors is indeed one of the priorities of my programme. My time in London ended with a convivial dinner in the company of Dame Pauline Green. We are all pleased to have Dame Pauline's enduring support.

Finally, I wish to remind you that on 2 July co-operators celebrate the International Day of Co-operatives! Co-operators are invited to send in photos for our exhibition at the UN in New York. Find all the details here.

Best regards,

Monique Leroux
President
International Co-operative Alliance
| | |
| --- | --- |
| | |
| | |
| --- | --- |
| | |
| | |
| --- | --- |
| | |
The Alliance welcomes a new member, Bangladesh Sambaya Bank Limited from Bangladesh.

In February the Alliance has welcomed one new member, the Bangladesh Sambaya Bank as a member.

BSBL is a co-operative bank whose members are the government at the district and federal levels, national societies, central co-operative banks, central co-operative societies, all central sugarcane grower co-operative societies, all co-operative mortgaging banks, and other central co-operative societies and individuals on a case-by-case basis. In 2012 they had 475 individual members.

The current membership stats are therefore: 292 member organisations of which 245 are full members and 47 are Associate Members from 97 countries.
| | |
| --- | --- |
| | |
News from regions: Europe (February 2016)

Cooperatives Europe leads global cooperative movement towards partnership with the EU

For the last 8 years Cooperatives Europe has been promoting the potential of cooperative enterprises in development & cooperation towards the European Union. Thanks to the work of its Cooperatives Europe Development Platform (CEDP) the profile of the cooperative movement in this field has been significantly raised and a strong political recognition has been achieved. Read more
| | |
| --- | --- |
| | |
News from sectors: Insurance

Former UN Climate Change official says insurers must be included in the policy architecture of sustainable development

In an exclusive interview with ICMIF, former United Nations Assistant Secretary-General on Climate Change, Janos Pasztor, talks about his assessment on the role of the insurance sector in delivering the Paris agreement. Read more

Lloyd's CEO Inga Beale to headline ICMIF mutual reinsurance conference

The International Cooperative and Mutual Insurance Federation (ICMIF) announced that Lloyd's chief executive, Inga Beale (foto), would deliver the keynote address at its 23rd Meeting of Reinsurance Officials (MORO). Read more

Global investors mobilise action at Investor Summit on climate risk

On 27 January the International Cooperative and Mutual Insurance Federation (ICMIF) participated in the Investor Summit on Climate Risk: Advancing the Clean Trillion.
Shaun Tarbuck, chief executive, ICMIF, took part in the panel on Insurers investing in climate solutions: Managing risk and return. Read more

ICMIF signs up to the Paris Pledge for Action

Following the adoption of the new, universal climate agreement at the COP21 Climate Change Conference in Paris (December 2015) to limit global temperature rise to less than 2 degrees Celsius, the International Cooperative and Mutual Insurance Federation (ICMIF) has joined the Paris Pledge for Action, affirming the organisation's commitment to the COP21 Paris Agreement. Read more

Mutual insurance: A new frontier in China?

ICMIF chief executive, Shaun Tarbuck, joined the expert speaker line-up at the Insurance Association of China (IAC) one-day training seminar on 15 January 2016. Read more



| | |
| --- | --- |
| | |
Call for photos: International Day of Co-operatives at the UN

The Committee for the Promotion and Advancement of Cooperatives (COPAC) is accepting photos to be considered for inclusion in an exhibition at United Nations headquarters in New York City. The exhibit, 'Co-operatives: The power to act for a sustainable future', will be on display from 4-20 July in celebration of the 2016 International Day of Co-operatives (IDC). Read more
President's journal: London visit, banking, meeting Indian Co-operators and ... testing the Fairphone

In a busy three-day visit to London, on 17-19 February 2016, Alliance president Monique Leroux met with leading co-operators from Europe and Asia.

The focal point of Ms Leroux' visit was a high level meeting between senior executives of co-operative banks Desjardins, BPCE, DZ Bank, Credit Mutuel, Norinchukin Bank, RZB, delegates from EACB, and the chair of the Financial Stability Board (FSB), Mr Mark Carney. Read more
Obama signs Electrify Africa Act, which mentions rural electric co-operatives

A new law enacted by President Barack Obama states that the United States would partner and consult with governments of sub-Saharan countries as well as international financial institutions, the private sector and co-operatives, to promote first time access to power and power services for 50m people by 2020. Read more



What do women co-operative members want?

Women in co-operatives want a level playing field, writes Balu Iyer, director general of the Alliance's Asia-Pacific office. Earlier this month Mr Iyer took part in Tagaytay+20 Third Women Conference on Status of Women in Cooperatives in the Philippines. Women members of co-operatives that took part said they wanted co-operatives to overcome stereotypes, provide training for them, encourage them to stand for elections and provide facilities and start up support for them.

"The common view from co-operatives is that we don't discriminate, we give women all the opportunity. This was not good enough for the women in the conference. They said, prove it! Let's have more accountability from board and senior management. We have a ready model from the Philippines where co-operatives have to submit a gender report to their board and to their regulatory authority. How about all co-operatives committing to it?," writes Mr Iyer. His full article is available here (in English).

Canadian co-operatives help refugees settle in

With the Canadian government announcing it would welcome 25,000 Syrians displaced by the war, co-operatives have responded by donating funds to help welcome the refugees.The Co-operators, an insurance co-operative, announced in December it would allocate a grant of CAD $250,000 to support organisations' initiatives that will prepare refugees for employability in Canada. Read more
Italian co-operatives collaborate to extend market reach

Two Italian agricultural co-operatives are working together to reach new markets. Apofruit Italia and Bio Meran have formed a partnership that will enable them to sell organic apples in the Middle East, Southern Mediterranean, Asia and Latin America. While Apofruit has a 50 years' history, Bio Meran was set up in 2013 by a group of 15 farmers in South Tyrol all involved in biodynamic farming. Read more
CECOP welcomes commitment to place the Social and Solidarity Economy at the heart of the new European project

More than 200 people participated in the European Forum on Social and Solidarity Economy, "Transforming the economic and cultural paradigms", held on 28 January in the European Parliament.

The Forum, which was organised by the European United Left - Nordic Green Left group (GUE/NGL), addressed the main challenges currently being faced by Europe including social exclusion, the future of common goods and ecological challenges. Read more
New report: The Capital Conundrum for Co-operatives

A new report released by the Alliance's Blue Ribbon Commission explores ideas and options available to co-operatives that need suitable, long-term capital. The paper examines the relationship between co-operative capital and the Co-operative Principles and it delves deeply into the questions all co-operatives ask of themselves and their members when seeking and/or using capital for growth and expansion. It also sheds light on the challenges and opportunities arising from changing regulations.

Co-operatives face challenges in terms of access to capital; for example, the withdrawable nature of co-operative membership shares and the purported economic unattractiveness of co-operatives relative to other forms of enterprise.

The authors of the report identify three approaches, which require further debate and exchange. One option maintains that the Co-operative Principles provide the framework via which co-operatives ought to seek and engage with capital, even beyond member capital. Another suggests adapting tactically and pragmatically accepting the realities of a market-oriented framework while preserving the current Co-operative Principles. A third school of thought suggests co-operatives change the dominant market-oriented paradigm while also adapting or transforming the Co-operative Principles to reflect the changing context. The report is available to download here.
Co-operatives of the Americas adopts strategy on the impact on public policies

At its last meeting in Santa Cruz de la Sierra the Administrative Council of Co-operatives of the Americas approved a strategy on the impact of public policies on co-operatives in Latin America.

The strategy, which was elaborated by the working group, sets the objective for Co-operatives of the Americas to play a more proactive role in defending the interests of co-operatives and the promotion of public policy environments that favours the growth and development of the model in the region's countries. Read more
5th European Forum on Social Entrepreneurship co-organised by CECOP in Bulgaria

Bulgaria will be hosting the fifth European Forum on Social Entrepreneurship to mark the 120th anniversary of the establishment of the country's first worker co-operative. The Forum includes the Fifth European Fair of Enterprises and Cooperatives in Social Economy, where more than 100 co-operatives and social enterprises from over 16 countries are expected, as well as a European conference with round tables on current issues regarding the social economy. Read more
Training course introduces Chinese co-operators to the Israeli co-operative movement

China and Israel are strengthening the relationship between the co-operative movements in the two countries. Members of the All China Federation of Supply and Marketing Co-operatives visited Israel recently where they took place in a course that looked at the different aspects of the Israeli co-operative experience. Read more



Coop Netherlands increased turnover in 2015

Coop Netherlands, a consumer co-operative founded in 1891, has boosted its growth in 2015, with an increase of 7.5% in turnover, from €1.007bn in 2014 to €1.083bn in 2015. The growth was the result of the co-op's investment strategy, which saw it open new stores. Read more



ILO study: quality employment will be a top challenge for 2016

In 2016, the creation of quality employment is one of the main challenges "all countries and regions of the world are confronting", according to the recently published International Labour Organisation (ILO) study, 'World employment and social outlook: Trends 2016'.

"Industrial and service cooperatives are particularly concerned by this challenge as they have, as their core mission, to provide sustainable jobs or economic activities to their members," said Bruno Roelants, secretary general of CICOPA. Read more
The Young European Cooperators Network Assembly

The Young European Cooperators Network Assembly took place on 22-23 September 2015 in Bologna, Milan. Watch the video from the event

The Evergreen co-operatives: providing employment for people in Cleveland

In Cleveland, Ohio, Evergreen co-operatives are offering employees a five year pan to home ownership. Watch on YouTube
To contribute to the Alliance's e-Digest with news, event announcements or photos please contact
the editorial team at edigest@ica.coop.
Copyright © 2005-2016 International Co-operative Alliance, Co-operative House, avenue Milcamps 105, 1030 Brussels, Belgium
Pages