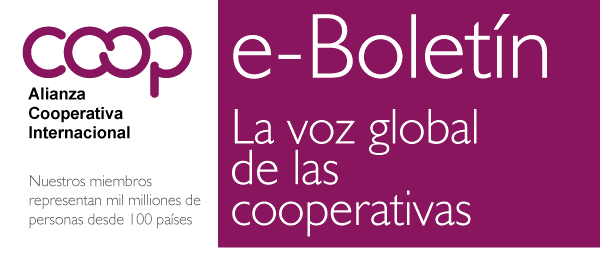 | | |
| --- | --- |
| | |
| | |
| --- | --- |
| | |
Señoras y Señores Cooperativistas,

Este mes tuve el placer de visitar colaboradores en la región de Asia y Pacífico. Junto con Balu Iyer, director regional de la Alianza para la oficina de Asia y el Pacífico, me embarqué en un viaje de cuatro días entre Japón, Corea y China.

Mientras que en Japón, nos encontramos con cooperativistas de Fukushima, quienes describieron cómo las cooperativas han ayudado a las comunidades locales a recuperarse después del terremoto de 2011, especialmente a través de programas de capacitación de agricultores. La visita finalizó con una reunión con el Comité de las cooperativas de Japón, seguida de una llamada de cortesía al Señor Hiroshi Moriyama, ministro de agricultura, silvicultura y pesca del gobierno de Japón. Él estaba interesado en la campaña de la Alianza de plataformas globales para el reconocimiento de las cooperativas como fuente de crecimiento sostenible, empleo de calidad y base para la seguridad alimentaria.

En Corea se discutió sobre la importancia de la autonomía cooperativa y de autoayuda con el Señor Byenog-Won Kim, recién nombrado Presidente de la Federación Nacional de Cooperativas Agrícolas (FNCA). La Federación también tiene uno de los mayores centros de distribución de productos agrícolas y marinos, la sucursal Nonghyup Hanaro Mart Goyang. Además de tiendas físicas, la FNCA ha estado ampliando su presencia en Internet a través de la NHaMarket, un mercado en línea diseñado para conectar a los agricultores y cooperativas a los clientes.

Nuestro último día incluyó una visita a la oficina de China E Coop, una plataforma nacional de comercio en línea apoyada por la Federación China de Abastecimiento y Comercialización de Cooperativas (Co-op de China).

La plataforma tiene la intención de vincular a todas las cooperativas primarias de China Co-op, centros de servicios rurales y cooperativas de nivel regional. Más tarde nos reunimos con miembros de la Comisión Internacional para la Promoción de Cooperativas Industriales Chinas (ICCIC-Gung Ho). El Comité trabaja para promover la legislación y políticas que permiten a las cooperativas para prosperar.

Nuestra siguiente parada fue en las instalaciones de la Federación China de cooperativas artesanales y de industria (ACFHIC). Supimos por el Vicepresidente Wang Shicheng que el sector registró un crecimiento del 7% el año pasado.

Nuestro compromiso oficial final fue una cena con la Sra. Wang Xia, presidenta de China Co-op, que tuvo un papel importante que desempeñar a través de su fuente y red de comercialización para modernizar la agricultura y mejorar la economía rural del país.

La visita nos dio la oportunidad de aprender sobre proyectos cooperativos inspiradores. Me gustaría agradecer a los colaboradores de Japón, Corea y China por su cálida bienvenida.

En el mes de junio viajaré a Estocolmo, Suecia (19-20 junio), y a Helsinki, Finlandia (21-22 de junio). Espero reunirme con cooperativistas en los dos países, y espero invitaciones para reunirnos allí.

Monique Leroux
Presidenta
Alianza Cooperativa Internacional
El eslogan para el Día Internacional de las Cooperativas de 2016 es: «Cooperativas: el poder de actuar para un futuro sostenible». El eslogan se eligió para hacer hincapié en la contribución cooperativa sobre los Objetivos de Desarrollo Sostenible de las Naciones Unidas (u ODS).

Las cooperativas son socios importantes para alcanzar los ODS, debido a que fomentan la democracia, practican la inclusión social y operan respetando el medio ambiente, todo ello teniendo un impacto económico significativo sobre la economía mundial. El 2 de julio, el Día Internacional de las Cooperativas de 2016, ¡nos comprometemos a brindar nuestro apoyo a los ODS!

La Alianza hace un llamamiento a los cooperadores de todo el mundo para celebrar el Día de 2016 demostrando el grado en que los principios y valores cooperativos ayudan en la ejecución de los Objetivos de Desarrollo Sostenibles. ¡Informe a las cooperativas de su zona sobre el Día! Leer más
I Foro Internacional de Derecho Cooperativo

El Comité de Derecho Cooperativo (CDC) de la Alianza Cooperativa Internacional realizará el I Foro Internacional de Derecho Cooperativo del 16 al 18 de noviembre de 2016 en la ciudad de Montevideo (Uruguay). El Foro tendrá lugar en coincidencia con el Congreso Continental de Derecho Cooperativo organizado por la Comisión de Derecho Cooperativo de Cooperativas de las Américas. Leer más
| | |
| --- | --- |
| | |
Presentación de un miembro de la Alianza: All China Federation of Marketing Cooperatives

All China Federation of Supply and Marketing Cooperatives (ACFSMC) es la organización que agrupa a todas las cooperativas de suministro y marketing del país y es la mayor organización de cooperativas de China. La ACFSMC ha supuesto un impulso importante en el desarrollo de la economía rural y ha desempeñado un papel clave a la hora de garantizar suministros de producción agrícola, de activar la circulación de productos agrícolas, de fomentar la gestión industrial de la agricultura y de revitalizar el mercado rural. A finales de 2014, la ACFSMC representaba a 32 federaciones de cooperativas de suministro y marketing a nivel provincial, 342 a nivel de prefectura, 2377 a nivel de condado, a 20.050 cooperativas primarias, 19.431 empresas cooperativas y a 312 institutos a distintos niveles, con un total de 3,47 millones de trabajadores. Descubra más (en inglés)
| | |
| --- | --- |
| | |
| | |
| --- | --- |
| | |
La Alianza da la bienvenida a un nuevo miembro

Cooperativa d'épargne et de crédito de Nyawera (COOPEC NYAWERA) (República Democrática del Congo) como miembro. COOPEC NYAWERA es una cooperativa de ahorro y crédito (SACCO), que incluye seis agencias y dos puntos de servicio.

Su visión es convertirse en una institución financiera importante a nivel nacional, rentable y sostenible al servicio de sus miembros. Su misión es fortalecer las capacidades socioeconómicas de las empresas micro, pequeñas y medianas, comunidades y grupos voluntarios involucrados en una producción a nivel urbano, semiurbano y rural, proporcionándoles mejor acceso a servicios, productos financieros y no financieros calidad, variado, innovadoras y rentables, gracias a una institución financiera sostenible. Tenían más de 34.000 miembros en el año 2015.

Por lo tanto las estadísticas de afiliación más recientes son: 291 organizaciones miembros de los cuales 245 son miembros de pleno derecho y 46 son miembros asociados de 100 países.
| | |
| --- | --- |
| | |
Noticias de los sectores: las viviendas

Nicholas Gazzard – Presidente de CHI y director ejecutivo de la Federación de vivienda cooperativa de Canadá

Cooperativa de Vivienda Internacional (Co-operative Housing International) – un plan para el 2016

El déficit global de vivienda es un problema crónico multigeneracional y representa un gran reto para los actores globales en la vivienda. Existe una brecha enorme, en el mundo desarrollado y en desarrollo, entre la necesidad de vivienda digna y asequible, y su disponibilidad. Leer más

Las cooperativas llevan una revolución de la vivienda en el Reino Unido

Un nuevo informe por la Confederación de Cooperativas de Vivienda del Reino Unido (CCH) pone de relieve cómo las cooperativas están liderando una revolución de la vivienda. La investigación incluye estudios de caso de 1.001 viviendas cooperativas y comunitarias de Inglaterra y Gales. Leer más
Informe sobre como hacer negocios cooperativos

Este es el informe fundamental para el proyecto de Cooperativa Empresarial (DCB) de la Alianza, que evaluaría el entorno favorable para las cooperativas en países alrededor del mundo. Mientras que los efectos de las medidas de política y legislación sobre las cooperativas deben evaluarse sobre una base de caso por caso y país por país, existen ciertas correlaciones entre la vitalidad de la economía cooperativa y el entorno institucional en lo cual opera. Un resumen con los resultados está Igualmente disponible. Lea el informe (en ingles)
| | |
| --- | --- |
| | |
Los coanfitriones de la Cumbre Internacional de las Cooperativas revelan 100+ ponentes

Un gran nombre de ponentes de alto nivel, entre ellos Joseph Stiglitz - economista, premio nobel y profesor de la Universidad de Columbia, Jeremy Rifkin, económista social, autor y asesor político, presidente de la Foundation on Economic Trends, Robert REICH - Profesor de la canciller política pública de la Universidad de California, Berkeley, y Secretario del Trabajo en la administración Clinton, proporcionarán retratos sobre las principales tendencias económicas y financieras, junto con una perspectiva para el futuro. Leer más
Viajes con la Presidenta

Por Balu Iyer, Por Balu Iyer, director de la región Asia-Pacifico de la Alianza

Viajar durante cuatro días por tres países (Japón, Corea y China) con la segunda Presidenta mujer de la Alianza Cooperativa Internacional (la Alianza), Monique Leroux, ha sido una experiencia muy estimulante. La ventaja de viajar con la Presidenta es que, además de disfrutar de una alfombra roja a tus pies, te brinda la oportunidad de conocer de primera mano su visión de la Alianza, así como los problemas, las preocupaciones y las medidas que prevén tomar los responsables de las cooperativas. Lire la suite
La colaboración con la Comisión Europea creará una mejor comprensión sobre las cooperativas

Por Marc Noel, gerente de desarrollo cooperativo de Cooperatives Europe

En marzo de 2016, representantes de la Alianza Cooperativa Internacional y la Comisión Europea firmaron un acuerdo marco de asociación para un programa de desarrollo global para beneficiar y promover el sector cooperativo a nivel mundial (descargue el comunicado de prensa de la Asociación de la Sociedad Civil). Leer más
Solicitud de papeles: Conferencia de Investigación sobre las cooperativas de Asia y el Pacífico

Las cooperativas y el desarrollo sostenible es el tema de la 11ª Conferencia de Investigación Regional de la Región de Asia y el Pacífico de la Alianza Cooperativa Internacional. La conferencia será centrada en los 17 Objetivos de Desarrollo Sostenible anunciados por las Naciones Unidas el año pasado.

El evento, que tendrá lugar el 15 de noviembre en Nueva Delhi, está organizado por el Comité de Investigación de la Región de Asia y el Pacífico de la Alianza. Leer más
Los miembros del Parlamento Europeo discuten la digitalización de las uniones de crédito

Los miembros del Parlamento Europeo se reunieron con representantes de cooperativas de crédito para explorar nuevas oportunidades brindadas por la digitalización. Discutieron sobre el papel de las cooperativas de crédito en el aumento de la inclusión financiera en Europa, sobre todo a través de plataformas electrónicas, tales como aplicaciones de banca. Leer más
Cooperativas agrícolas europeas advierten sobre una crisis inminente

Cooperativas agrícolas y organizaciones de la agricultura de toda Europa están preocupadas sobre el estado del sector agrícola, que, a su juicio, está en un estado crítico. Copa-Cogeca, entidad que representa a los agricultores europeos y las cooperativas agrícolas, está instando a la Comisión de la UE a intensificar sus esfuerzos para volver a abrir el mercado ruso a las exportaciones agrícolas de la UE. Read more
Encuesta de la red de jóvenes: ¿Una plataforma de medios sociales para colaboradores?

La Red de jóvenes de la Alianza está buscando en las redes sociales cómo podría conectar y movilizar a jóvenes cooperativistas de todo el mundo. En colaboración con CDS consultoría Coop, la red está llevando a cabo un estudio de viabilidad para averiguar si los cooperativistas utilizarían una plataforma de medios de comunicación social dedicada a las cooperativas. Leer más
El Gobierno de Estados Unidos cambia reglas para incentivar a los estados para pagar la fianza de las CO-OPs de salud

La fianza de los Planes de Salud Administrados y Orientados hacia los Consumidores (CO-OPs) en los EE.UU. podría ser pagada por los estados, como resultado de los cambios anunciados por el gobierno del Presidente Obama. Para incentivar a los estados a salvar las cooperativas, el gobierno les está dando la oportunidad de nombrar a los empleados o funcionarios del Estado con experiencia en la junta directiva de las cooperativas. Leer más
GRACE16 examina como las cooperativas pueden trabajar juntas en un ecosistema colaborativo

CIBP esta encantada de presentar GRACE16, una investigación global sobre la Economía Colaborativa Integrada para evaluar los retos intersectoriales y explorar la manera como diferentes cooperativas pueden trabajar juntas en un ecosistema colaborativo.

Para participar en la encuesta, clic aquí: http://sgiz.mobi/s3/GRACE16 contraseña: CIBP16. Leer más
Cooperativas de videojuegos son creadas en Quebec

Un grupo de desarrolladores de videojuegos de Quebec ha formado una cooperativa para apoyar su crecimiento. Piensan que el modelo cooperativo les ayudará a reunir recursos preservando su autonomía creativa. Leer más
BCCM lanza un manifiesto de la cooperativa en el período previo a las elecciones en Australia

Con sólo dos meses para las elecciones federales en Australia, el Consejo empresarial de cooperativas y mutuales (BCCM) sugiere una serie de cambios de política a los partidos políticos en el país. BBCM sugiere reducir la burocracia para permitir que más empresas nuevas se registren como cooperativas y mutuales. Leer más
Ministra Sudafricana se propone utilizar cooperativas para luchar contra el desempleo

La Ministra sudafricana para el Desarrollo Social, Bathabile Dlamini, está tratando de establecer cooperativas de base comunitaria para abordar la falta de empleo en el área de Motherwell, Puerto Elisabeth. El Departamento se ha involucrado con las mujeres de la zona, la mayoría de ellas siendo desempleadas y madres solteras incapaces de sostener a sus familias. Leer más
Un dia a la Federació de Cooperatives Agràries de Catalunya

Presentación del equipo de la Federació de Cooperatives Agràries de Catalunya. Ver en YouTube

¿Qué es para ti una cooperativa de trabajo asociado?

Entrevistas a varios cooperantes de España. Ver en YouTube
Está recibiendo este correo electrónico porque se ha suscrito al e-Boletín de la Alianza. Para contribuir con una noticia, evento o imagen al e-Boletín de la Alianza ponte en contacto con el equipo editorial; edigest@ica.coop
Derechos de autor © 2005-2015 la Alianza Cooperativa Internacional
Co-operative House, Avenue Milcamps 105, 1030 Bruselas, Bélgica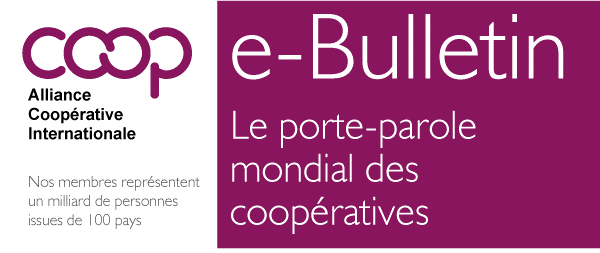 | | |
| --- | --- |
| | |
Chers coopérateurs,

La révolution numérique modifie la façon dont les organisations interagissent avec les parties prenantes. Pour les coopératives, cela constitue peut-être une occasion d'interagir avec leurs membres et d'en attirer de nouveaux. Dans l'e-Bulletin de ce mois, vous pourrez découvrir l'étude de faisabilité du Réseau jeunesse de l'Alliance, dont le but est de déterminer si la création d'une plate-forme de réseaux sociaux pour les coopératives serait utile à nos membres.

Les entreprises de différents secteurs à travers le monde se servent également du modèle coopératif comme d'une plate-forme d'innovation. Au Québec, un groupe de développeurs de jeux vidéo a monté une coopérative afin de mettre en commun leurs ressources tout en préservant leur autonomie créative.

En Europe, des coopératives de crédit sont également intéressées par l'utilisation de plateformes numériques afin d'améliorer leurs services. Le sujet a récemment été abordé au Parlement européen, puisque les parlementaires ont examiné la possibilité de dématérialiser les coopératives de crédit en les numérisant.

En octobre, le conseiller en innovation Navi Radjou et l'économiste Jeremy Rifkin se joindront aux délégués lors du Sommet international des coopératives au Québec. Vous pouvez en apprendre plus sur ces deux orateurs dans cet e-Bulletin.

Les gouvernements ont également un rôle clé à jouer dans la promotion du développement coopératif. En Australie, le Conseil commercial des coopératives et des mutuelles (Business Council for Co-operatives and Mutuals) appelle tous les partis politiques à soutenir un programme coopératif lors de la course à l'élection fédérale. En Afrique du Sud, les représentants du gouvernement ont mis en avant les coopératives en tant qu'actrices importantes dans la lutte contre le chômage, tandis qu'en Uruguay un cadre étatique propose des opportunités de créations de coopératives ouvrières. Aux États-Unis, l'administration Obama a modifié les règles de gouvernance concernant les plans opérés et orientés vers le consommateurs, dont certains sont des coopératives, afin de permettre aux agences gouvernementales et aux investisseurs de placer des représentants de rang inférieur dans les conseils d'administration des coopératives. Plus d'information sur ce sujet dans cet e-Bulletin.

Les coopératives agricoles européennes sont aussi évoquées dans la newsletter de ce mois-ci. Les coopératives agricoles et les organisations d'agriculteurs de toute l'Europe ont signalé que le secteur agricole faisait face à une crise imminente.

Je voudrais également vous inviter à soumettre des propositions de documents pour la 11e Conférence de recherche de l'Alliance pour l'Asie et le Pacifique, qui aura lieu le 15 novembre à New Delhi. Vous pouvez en apprendre davantage sur la conférence dans cet e-Bulletin. L'étude de l'Alliance sur les capitaux coopératifs est à présent également disponible en coréen. Cliquez ici pour consulter l'étude.

Charles Gould,
Directeur général
Alliance Coopérative Internationale
Chers coopérateurs,

Ce mois-ci, j'ai eu le plaisir de rendre visite à des coopérateurs dans la région Asie-Pacifique . Avec Balu Iyer, le directeur régional de l'Alliance pour le bureau Asie-Pacifique, j'ai embarqué pour un voyage de quatre jours au Japon, en Corée et en Chine.

Au Japon, nous avons rencontré des coopérateurs de Fukushima qui ont décrit l'aide apportée par les coopératives aux communautés locales pour se remettre du tremblement de terre de 2011, en particulier grâce à des programmes de formation des agriculteurs. La visite s'est terminée par une réunion avec le Comité mixte japonais pour les coopératives, suivie par une visite de courtoisie à M. Hiroshi Moriyama, ministre de l'Agriculture, des Forêts et de la Pêche du gouvernement japonais. Il était intéressé par la campagne de l'Alliance sur les plates-formes mondiales pour la reconnaissance des coopératives en tant que source de croissance durable, d'emplois de qualité et de fondement pour la sécurité alimentaire.

En Corée, nous avons discuté de l'importance de l'autonomie et de l'entraide coopératives avec M. Byenog-Won Kim, nouvellement désigné président de la Fédération coopérative agricole nationale (NACF). La fédération dispose également de l'un des plus grands centres de distribution de produits agricoles et marins, la Nonghyup Hanaro Mart Goyang Branch. Outre ces magasins physiques, la NACF a étendu sa présence en ligne à travers le NHaMarket, un marché en ligne conçu pour connecter les agriculteurs et les coopératives aux consommateurs.

Pour notre dernière journée, nous avons effectué une visite au bureau de China E Coop, une plate-forme d'e-commerce nationale soutenue par la Fédération chinoise des coopératives d'approvisionnement et de marketing (China Co-op). La plate-forme vise a établir un lien entre toutes les coopératives primaires de China Co-ops', les centres de service ruraux et les coopératives des comtés. Plus tard, nous avons rencontré des membres du Comité international pour la promotion des coopératives industrielles chinoises (ICCIC-Gung Ho). Le comité travaille à la promotion de législations et de politiques qui permettent aux coopératives de prospérer.

Nous nous sommes ensuite rendus dans les locaux de la Fédération chinoise des coopératives d'artisanat (ACFHIC). Le vice-président Wand Shicheng nous a indiqué que le secteur avait enregistré une croissance de 7% l'année passée.

Notre dernier engagement officiel était le dîner avec Mme Wang Xia, présidente de China Co-op, qui a un grand rôle à jouer dans la modernisation de l'agriculture et l'amélioration de l'économie rurale du pays, grâce à son réseau d'approvisionnement et de marketing.

La visite nous a donné l'occasion de découvrir des projets coopératifs stimulants. Je voudrais remercier les coopérateurs du Japon, de Corée et de Chine pour leur accueil chaleureux.

En juin, je me rendrai à Stockholm, en Suède (19-20 juin) et à Helsinki, en Finlande (21-22 juin). Je suis impatient de travailler avec les coopérateurs de ces deux pays et je serai ravi de vous rencontrer lors de mon séjour là-bas.

Monique Leroux
Presidente
Alliance Coopérative Internationale
| | |
| --- | --- |
| | |
| | |
| --- | --- |
| | |
Le slogan de la Journée internationale des coopératives 2016 est « Les coopératives : Le pouvoir d'agir pour un avenir durable ». Le slogan a été choisi pour mettre en valeur la contribution des coopératives aux objectifs de Développement durable des Nations Unies ou ODD.

Les coopératives sont des partenaires essentiels dans l'atteinte des ODD car elles favorisent la démocratie, pratiquent l'inclusion sociale et prennent l'environnement en compte dans leur fonctionnement, tout en tout en ayant un impact considérable sur l'économie mondiale. Le 2 juillet, lors de la Journée internationale des coopératives 2016, nous nous engageons à soutenir les ODD !

L'Alliance appelle les coopérateurs du monde entier à célébrer la Journée 2016 en montrant comment les valeurs et principes coopératifs ont une action en faveur des Objectifs de développement durable. Informez les coopérations de votre région sur la Journée ! Lire la suite
1er Forum international sur le droit coopératif

Du 16 au 18 novembre 2016, le Comité du droit coopératif (CLC) de l'Alliance Coopérative Internationale (l'Alliance) organisera le 1er Forum international sur le droit coopératif, en collaboration avec le CLC des Coopératives des Amériques, dont le Congrès continental sur le droit coopératif aura lieu au même moment. Plus d'informations (en anglais)
Vitrine des membres de l'Alliance: All China Federation of Marketing Cooperatives

La Fédération chinoise des coopératives d'approvisionnement et de marketing (ACFSMC) est l'organisation faîtière de toutes les coopératives d'approvisionnement et de marketing (SMC) de tout le pays. Elle constitue la plus grande organisation coopérative de Chine. Représentant une force majeure dans le développement de l'économie rurale, l'ACFSMC joue un rôle important dans l'approvisionnement en moyens de production agricoles, dans la stimulation de la circulation des produits agricoles, dans la promotion de la gestion industrielle de l'agriculture et dans la stimulation du marché rural. Fin 2014, l'ACFSMC représentait 32 fédérations provinciales de SMC, 342 fédérations départementales de SMC, 2.377 fédérations régionales de SMC, 20.050 coopératives primaires, 19.431 entreprises coopératives et 312 instituts de différents niveaux, avec un total de 3,47 millions d'employés. En savoir plus
| | |
| --- | --- |
| | |
L'Alliance accueille un nouveau membre

Coopérative d'épargne et de Crédit de Nyawera (COOPEC NYAWERA) du Congo (République démocratique du) en tant que Membre

COOPEC NYAWERA est un réseau d'entreprises coopératives de crédit et d'épargne (SACCO) qui comprend six agences et deux points de service.

Son objectif est de devenir une institution financière majeure dans tout le pays, à la fois rentable et durable dans les services à ses membres. Sa mission consiste à renforcer les capacités socio-économiques des micro-, petites et moyennes entreprises, des groupes communautaires et volontaires impliqués dans la production aux niveaux urbains, semi-urbains et ruraux, en offrant un meilleur accès aux produits et aux services financiers ainsi qu'à la qualité non financière, variée, innovante et rentable grâce à une institution financière durable. En 2015, ils avaient plus de 34 000 membres.

Les dernières statistiques d'adhésion sont donc : 291 organisations membres dont 245 sont des membres à part entière et 46 sont des Membres associés de 100 pays.
| | |
| --- | --- |
| | |
Actualités des secteurs : les logements

Nicholas Gazzard – président du CHI et directeur général de la Fédération de l'habitation coopérative du Canada

Habitation coopérative internationale – un plan pour 2016

La pénurie mondiale de logements est un problème chronique qui concerne toutes les générations et représente un énorme défi pour les acteurs mondiaux du logement. Un énorme fossé reste à combler, dans les pays développés comme dans ceux en développement, entre les besoins en logements décents et abordables, et leur disponibilité. Lire la suite

Les coopératives mènent une révolution dans le secteur du logement au Royaume-Uni

Un nouveau rapport de la Confédération des coopératives d'habitation (CCH) du Royaume-Uni décrit la révolution menée par les coopératives dans le secteur du logement. L'étude comprend des études de cas provenant de 1 001 maisons coopératives gérées par la communauté en Angleterre et au Pays de Galles. Lire la suite
Rapport « Doing Co-operative Business »

Ce rapport est le rapport fondateur du projet de l'Alliance « Doing Co-operative Business (DCB) », qui vise à évaluer le caractère propice de l'environnement pour le développement des coopératives dans les pays du monde entier. Si les effets des mesures politiques et législatives relatives aux coopératives doivent être évaluées au cas par cas et pays par pays, il existe des corrélations entre la vitalité de l'économie coopérative et le cadre institutionnel au sein duquel elle fonctionne. Également disponible : « Co-operatives and the enabling environment - Key findings » (Coopératives et environnement propice au développement - Conclusions importantes). Lire la suite (en anglais)
| | |
| --- | --- |
| | |
Le Sommet International des Coopératives dévoile le nom de plus de 100 conférenciers

Le Sommet international des coopératives, le principal événement mondial sur le développement des affaires dans le milieu coopératif et mutualiste, aura lieu du 11 au 13 octobre, à Québec, au Canada. Durant ces trois jours, les participants, provenant ou non du milieu coopératif, se pencheront sur les nouvelles réalités socioéconomiques et géopolitiques en compagnie de quelques-uns des plus grands spécialistes de leurs domaines. Lire la suite
Voyages avec la Présidente

Voyager pendant quatre jours à travers trois pays (le Japon, la Corée et la Chine) avec la deuxième femme Présidente de l'Alliance Coopérative Internationale (Alliance), Monique Leroux fut une expérience exaltante. Les avantages de voyager avec la Présidente sont que non seulement on vous déroule le tapis rouge, mais vous avez également l'opportunité d'être au premier rang lorsqu'elle évoque sa vision pour l'Alliance et lorsque les directeurs des coopératives leader parlent de leurs questions, leurs préoccupations et des actions qu'ils souhaiteraient voir mises en place. Lire la suite
GRACE16 explore comment les coopératives devraient interagir dans un écosystème collaboratif

La CIBP est ravie de lancer GRACE16, une étude mondiale sur l'économie collaborative augmentée mise sur pied pour explorer comment les coopératives devraient interagir dans un écosystème collaboratif. Pour accéder au questionnaire, cliquez sur le lien http://sgiz.mobi/s3/GRACE16 et entrez le mot de passe suivant : CIBP16. Les conclusions de l'étude seront présentées lors du 3e Sommet international des coopératives (11-13 octobre 2016 à Québec). Lire la suite
Les MPE discutent de la numérisation des coopératives de crédit

Des Membres du Parlement européen se sont joints à des représentants de coopératives de crédit pour découvrir les nouvelles opportunités offertes par la numérisation. Ils se sont intéressés au rôle que jouent les coopératives de crédit dans l'amélioration de l'inclusion financière en Europe, particulièrement à travers les plateformes électroniques comme les applications bancaires. Lire la suite
Le partenariat de l'Alliance avec la Commission européenne permettra une meilleure compréhension des coopératives

Par Marc Noel, directeur de développent coopératif

En mars 2016, les représentants de l'Alliance Coopérative Internationale et la Commission européenne ont signé un accord cadre de partenariat pour un programme de développement mondial devant bénéficier et promouvoir le secteur coopératif mondial (Téléchargez le communiqué de presse du Partenariat de société civile). Ce partenariat renforcera la capacité de l'Alliance Coopérative Internationale à représenter et promouvoir le modèle coopératif sur la scène internationale du développement. Lire la suite
Appel à chercheurs : Conférence régionale sur la recherche coopérative de la région Asie-Pacifique

Les coopératives et le développement durable seront au cœur de la 11e Conférence régionale sur la recherche coopérative de la région Asie-Pacifique de l'Alliance Coopérative Internationale. La conférence sera en effet axée sur les 17 Objectifs de développement durable dévoilés l'année dernière par les Nations Unies. Lire la suite
Les coopératives agricoles européennes mettent en garde contre une crise imminente

Les coopératives et organisations agricoles de toute l'Europe sont préoccupées par l'état du secteur agricole, qui, selon eux, se trouve dans une situation critique. Copa-Cogeca, un organisme qui représente les agriculteurs européens et les coopératives agricoles, presse la Commission européenne d'intensifier ses efforts pour réouvrir le marché russe aux exportations agricoles de l'UE. Lire la suite
Une coopérative de jeux vidéo créée au Québec

Un groupe de développeurs de jeux vidéo du Québec a formé une coopérative pour soutenir leur croissance. Ils estiment que le modèle coopératif leur permettra de mettre en commun des ressources, tout en préservant leur autonomie créative. La coopérative, qui se nomme La Guilde des développeurs de jeux vidéo du Québec, est la plus grande au monde, avec 75 membres en studios indépendants. Lire la suite
Le gouvernement américain modifie la réglementation afin d'inciter les États à renflouer les coopératives de santé

Les plans exploités par le consommateur et pensés pour le consommateur de soins de santé (coopératives) aux États-Unis pourraient être renfloués par les États, une conséquence des changements annoncés par l'administration Obama. Afin d'inciter les États à sauvegarder les coopératives, le gouvernement leur donne la possibilité de nommer des employés ou des représentants disposant d'une expertise acquise dans les conseils d'administration des coopératives. Lire la suite
La ministre sud-africaine prévoit de se servir des coopératives pour combattre le chômage

La ministre sud-africaine pour le Développement social, Bathabile Dlamini, cherche à créer des coopératives communautaires pour pallier le manque d'emplois dans la zone de Motherwell à Port Elisabeth. Le ministère travaille avec des femmes issues de cette zone, la majorité d'entre elles étant des mères célibataires sans emploi dans l'incapacité de subvenir aux besoins de leur famille. Lire la suite
BCCM dévoile son manifeste coopératif dans la dernière ligne droite vers les élections australiennes

À deux mois seulement des élections législatives en Australie, le Conseil commercial des coopératives et des mutuelles (BCCM) a formulé une série de propositions à l'attention des partis politiques du pays visant à modifier leurs politiques. Lire la suite
Enquête réalisée par le réseau jeunesse : quid d'un réseau social destiné aux coopérateurs ?

Le réseau jeunesse de l'Alliance explore actuellement les possibilités de connecter et de mobiliser les jeunes opérateurs du monde entier par le biais des réseaux sociaux. De concert avec CDS Consulting Coop, le réseau jeunesse est actuellement en train de réaliser une étude de faisabilité visant à déterminer dans quelle mesure les coopérateurs seraient prêts à utiliser une plateforme sociale qui leur serait entièrement consacrée. Lire la suite
| | |
| --- | --- |
| | |
| | |
| --- | --- |
| | |
Laiterie Coopérative de Pamplie - Top des entreprises Deux Sèvres 2015 laiterie de Pamplie

La laiterie Coopérative de Pamplie a été créée en 1905. Elle est située dans le département des Deux-Sèvres, en Gâtine, région renommée pour sa production laitière et pour son appellation d'origine protégée Charentes-Poitou. Regarder en YouTube

L'agence de communication RC2C transmise à ses salariés

Michel Lacroix, dirigeant fondateur de l'agence de communication RC2C, a décidé de céder son entreprise à ceux qui ont contribué à sa réussite : ses salariés. Regarder en YouTube
Vous avez reçu cet e-mail parce que vous vous êtes abonné(e) à l'e-Bulletin de l'Alliance. Pour contribuer au bulletin de l'Alliance avec une nouvelle, un évenement ou une photo, veuillez contacter l'équipe de rédaction: edigest@ica.coop
Copyright © 2005-2015 Alliance Coopérative Internationale, Co-operative House,
Avenue Milcamps 105, 1030 Bruxelles, Belgique
| | |
| --- | --- |
| | |
| | |
| --- | --- |
| | |
Dear co-operators,

This month I had the pleasure of visiting co-operators in the Asia and Pacific region. Along with Balu Iyer, the Alliance's regional director for the Asia-Pacific office, I embarked on a four-day journey to Japan, Korea and China.

While in Japan, we met with co-operators from Fukushima, who described how co-ops helped local communities recover after the 2011 earthquake, particularly through farmer training programmes. The visit ended with a meeting with Japan Joined Committee for Co-operatives, followed by a courtesy call on Mr Hiroshi Moriyama, minister of Agriculture, Forestry and Fisheries of the Government of Japan. He was interested in the Alliance's campaign on global platforms for the recognition of co-operatives as a source of sustainable growth, quality employment and basis for food security.

In Korea we discussed about the importance of co-operative autonomy and self-help with Mr Byenog-Won Kim, newly appointed chair of the National Agricultural Co-operative Federation (NACF). The federation also has one of the biggest distribution centres of agricultural and marine products, Nonghyup Hanaro Mart Goyang Branch. In addition to physical stores, NACF has been expanding its online presence through the NHaMarket an online market designed to connect farmers and co-operatives to customers.

Our final day featured a visit to the office of China E Coop, a national e-commerce platform supported by the All China Federation of Supply and Marketing Co-operatives (China Co-op). The platform intends to link all of China Co-op's primary co-operatives, rural service centres and county level co-operatives. Later on, we met with members of the International Committee for the promotion of Chinese Industrial Cooperatives (ICCIC-Gung Ho). The committee works to promote legislation and policies that enable co-operatives to thrive.

Our next stop was at the premises of the All China Federation of Handicraft Industry Cooperatives (ACFHIC). We learned from vice-president Wang Shicheng that the sector had registered 7% growth last year.

Our final official engagement was dinner with Ms Wang Xia, president of China Co-op, which had an important role to play through its supply and marketing network to modernise agriculture and improve the country's rural economy.

The visit gave us the opportunity to learn about inspirational co-operative projects. I would like to thank co-operators in Japan, Korea and China for their warm welcome.

In June I will be travelling to Stockhold, Sweden (19-20 June) and Helsinki, Finland (21-22 June). I look forward to engaging with co-operators in the two countries and I welcome invitations to meet while there.

Monique Leroux,
President
International Co-operative Alliance
The slogan for the 2016 International Day of Co-operatives is 'Co-operatives: The power to act for a sustainable future'. The slogan was chosen to emphasize the co-operative contribution to the United Nations' Sustainable Development goals, or SDGs.

Co-operatives are important partners to achieve the SDGs, because they foster democracy, practice social inclusion and operate with concern for the environment, all while having a significant economic impact on the world economy. On July 2, the 2016 International Day of Co-operatives, we commit our support to the SDGs!

The Alliance calls on co-operators worldwide to celebrate the 2016 Day by showing how the co-operative principles and values act in support of the Sustainable Development Goals. Read more on www.coopsday.coop - and tell co-ops in your area about the Day!
Member showcase: the All China Federation of Marketing Cooperatives

The Alliance is pleased to announce the launch of its Member Showcase platform- a new service which is free for members. Members can display a profile and business proposition for their co-operative, on the Alliance's website. Pictures as well as contact details can be added. In a series of e-digest articles, we put Alliance members using the showcase platform in the spotlight. This month: the All China Federation of Supply and Marketing Cooperatives.

All China Federation of Supply and Marketing Cooperatives (ACFSMC) is the apex organisation of all supply and marketing co-operatives (SMCs) nationwide, and represent the largest co-operative organisation in China. An important force in developing the rural economy, ACFSMC has played a major role in ensuring the supplies of agricultural means of production, activating circulation of farm produce, promoting industrial management of agriculture, and boosting the rural market. By the end of 2014, ACFSMC represents 32 provincial, 342 prefecture, 2377 county federations of SMCs, 20050 primary co-operatives, 19431 co-operative enterprises and 312 institutes at different levels, with totally 3.47 million employees. Read more
| | |
| --- | --- |
| | |
| | |
| --- | --- |
| | |
The Alliance welcomes a new member

Cooperative d'épargne et de Credit de Nyawera (COOPEC NYAWERA) from Congo (Democratic Republic of) as a Member

COOPEC NYAWERA is a saving and credit co-operative society (SACCO) network that includes six agencies and two service points.

Their vision is to become a major financial institution nationwide, profitable and sustainable in the service of its members. Their mission is to strengthen the socio-economic capacities of micro, small and medium enterprises, community and voluntary groups involved in production at the urban, semi-urban and rural levels, by providing better access to financial products and services and non-financial quality, varied, innovative and profitable thanks to a sustainable financial institution. In 2015 they had over 34,000 members.

The newest membership statistics are therefore: 291 member organisations of which 245 are full members and 46 are Associate Members from 100 countries.
| | |
| --- | --- |
| | |
| | |
| --- | --- |
| | |
Co-operative Housing International – a plan for 2016

By Nicholas Gazzard – president of CHI and executive director of Co-operative Housing Federation of Canada

The global housing deficit is a chronic multi-generational problem and represents a huge challenge for global actors in housing. There remains an enormous gap, in both the developed and the developing world, between the need for decent, affordable housing and its availability. This gap cannot be filled by market forces in the way that the prices of commodities are determined, for example, because of absent non-market intervention, the price of housing is largely determined by the one factor of production whose supply is fixed, land, and where the land is located. Read more

Co-operatives are leading a housing evolution in the UK

A new report by the UK's Confederation of Co-operative Housing (CCH) is highlighting how co-ops are leading a housing revolution. The research includes case studies of 1,001 co-operative and community led homes in England and Wales. Read more
| | |
| --- | --- |
| | |
| | |
| --- | --- |
| | |
| | |
| --- | --- |
| | |
Doing Co-operative Business Report

This report is the foundational report for the Alliance's Doing Co-operative Business (DCB) project, which would evaluate the enabling environment for co-operatives in countries around the world. While the effects of policy measures and law on co-operatives must be assessed on a case-by-case and country-by-country basis, certain correlations exist between the vitality of the co-operative economy and the institutional environment in which it operates. A "key findings" summary is also available. Read the report
Travels with the President - Asia visits May 2016

Article by Mr Balu Iyer, Director of the Alliance's Asia and Pacific Region

Traveling for four days through three countries (Japan, Korea and China) with the second International Cooperative Alliance (Alliance) woman President Monique Leroux was one exhilarating experience. The perks of traveling with the President is that you experience not only the red carpet laid out but also the opportunity it provides to hear directly about her vision for the Alliance and from the heads of leading cooperatives about their issues, concerns and actions they would like to see taken. Read more
Alliance partnership with European Commission will create better understanding of co-ops

By Marc Noel, co-operative development manager at Cooperatives Europe

In March 2016, representatives from the International Co-operative Alliance and the European Commission signed a framework partnership agreement for a global development programme to benefit and advance the co-operative sector worldwide (Download the Civil Society Partnership press release). This partnership will strengthen the capacity of the International Co-operative Alliance to represent and promote the co-operative model within the international development scene. Read more
Call for papers: Asia Pacific Co-operative Research Conference

Co-operatives and sustainable development is the topic of the 11th Regional Research Conference of the Asia and Pacific Region of the International Co-operative Alliance. The conference will focus on the 17 Sustainable Development Goals announced by the United Nations last year.

The event, which takes place on 15 November in New Delhi, is organised by the Alliance's Research Committee for Asia-Pacific. Read more
MEPs discuss digitisation of credit unions

Members of the European Parliament joined credit union representatives to explore new opportunities brought by digitisation. They looked at the role of credit unions in increasing financial inclusion in Europe, particularly through electronic platforms such as banking apps.

Participants argued that credit unions can respond to the challenge of digitisation by using shared platforms. An example is Cornerstone Mutual Services in the UK, a credit unions organisation that provides back office services for credit unions to help them grow. Read more
Youth Network Survey: A social media platform for co-operators?

The Alliance's Youth Network is looking at how social media could connect and mobilise young co-operators from around the world. In collaboration with CDS Consulting Coop, the network is carrying out a feasibility study to find out whether co-operators would use a social media platform dedicated to co-ops. Read more
BCCM launches co-operative manifesto in the run up to elections in Australia

With only two months left until the Federal election in Australia, the Business Council of Co-operatives and Mutuals (BCCM) is suggesting a number of policy changes to political parties in the country.

BBCM is suggesting reducing red-tape to enable more start-up businesses to register as co-operatives and mutuals. "Recognising co-operative and mutual enterprises and ensuring that these structures are as accessible in the business registration process as any other corporate structure is a very simple way to add to resilience and diversity in the economy," says Melina Morrison, chief executive of BCCM. Read more
US government changes rules to incentivise states to bail out healthcare CO-OPs

Healthcare consumer oriented and operated plans (CO-OPs) in the USA could be bailed out by states, as a result of changes announced by the Obama administration. To incentivise states to save CO-OPs, the government is giving them the chance to appoint state employees or officials with expertise on the board of CO-OPs. Set up under the Affordable Care Act, these CO-OPs are consumer owned, though not all of them work as co-operatives. Read more
European agricultural co-ops warn about imminent crisis

Agricultural co-operatives and farming organisations from across Europe are worried about the state of the agricultural sector, which, they believe, is in a critical state. Copa-Cogeca, a body that represents European farmers and agri-co-operatives, is urging the EU Commission to step up efforts to re-open the Russian market to EU agricultural exports. Read more
Video games co-operative set up in Quebec

A group of video games developers from Quebec have formed a co-operative to support their growth. They think the co-operative model will help them pool resources while preserving their creative autonomy. The co-op, named the Guild of Video Games Developers of Quebec, is the largest in the world, with 75 independent studios members. These studios employ 600 people with a total of CAD $18m in salaries. Read more



South African minister plans to use co-ops to fight unemployment

South Africa's minister for Social Development, Bathabile Dlamini, is looking to set up community based co-operatives to address the lack on jobs in the area of Motherwell, Port Elisabeth. The department has engaged with women in the area, majority of them unemployed single parents unable to provide for their families. Forming co-operatives can help them secure sustainable sources of income. Read more
GRACE16 explores how co-ops would interact within an Augmented Collaborative Economy

CIBP is excited to launch GRACE16, a global research designed to explore the way different Coops would interact within an Augmented Collaborative Economy. To take part in the study click here: http://sgiz.mobi/s3/GRACE16; and use the following password: CIBP16. The findings of the study will be presented at the 3rd International Summit of Cooperatives. Read more
| | |
| --- | --- |
| | |
| | |
| --- | --- |
| | |
EU co-operators introduce their agri co-operatives

Co-operators introduce their agri-cooperatives in different EU member states and explain how EU agri co-operatives increase the value output of their farm in the market, while active member participation in the governance of their co-operative, ensures that all actions of the co-operative are in the best interest of members and that they deliver additional benefits to them. Watch on YouTube

Electric co-operatives in the USA

Co-operative leaders from across the USA explain the value of cooperatives participating in the Co-ops Vote campaign. Watch on Youtube
To contribute to the Alliance's e-Digest with news, event announcements or photos please contact
the editorial team at edigest@ica.coop.
Copyright © 2005-2016 International Co-operative Alliance, Co-operative House, avenue Milcamps 105, 1030 Brussels, Belgium
Pages